Investing In Gen Next
ENTREPRENEURIAL BUG
While growing up in the capital city of India, Narinder Wadhwa attended the University of Delhi from where he earned a Bachelor's degree in Commerce. He then went on to complete his Chartered Accountancy, and then earn an LLB from the Faculty of Law at Delhi University. Later he participated in a number of Executive Education Programs at the Harvard Business School. Upon completing his Chartered Accountancy, Mr. Wadhwa took a job with Citigroup's Investment Advisory Services in New Delhi.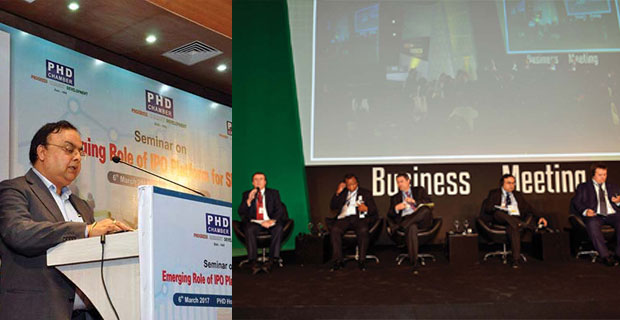 LEFT: Mr Wadhwa who plays a leadership role in several chambers speaks at a seminar on Emerging Role of IPO Platform for SMEs at PHD Chamber. RIGHT: Mr Wadhwa spoke at the business council meeting at the 6th BRICS Summit in Fortaleza, Brazil (July 2014) which was attended by Prime Minister Mr Narendra Modi. This was Mr Modi's second foreign visit as PM
The son of an IRS Officer, Mr. Wadhwa was bitten by the entrepreneurial bug at an early age. He dreamt big and wanted to be his own boss. He started his own CA practice after leaving his first job. His passion for the financial markets and being an active investor himself led him to form SKI Capital Services in 1993. The company has since expanded from a pure advisory investment bank to a broad-based capital market firm. SKI was among the first members to take membership in the major exchanges such as NSE, BSE, NCDEX, and MCX.