Modi - Trump Can Boost One Another
US President Donald Trump's mantra of "Buy American" and Prime Minister Narendra Modi's 'Make in India' are not mutually exclusive
The policies of Trump and Modi to give priority to their respective country's job growth and investment does not mean a freeze or a shutout of trade with the other nation, Kumar said. Both countries have mutual needs and the US can increase exports of equipment in the defence, energy, nuclear and technology areas and India can grow its exports of services and manufactured products. If trade increases bilaterally, it will create more jobs in the US and in India, he said.
A big donor, Kumar personally gave $898,000 to the Trump Victory fund, a joint programme of the Trump campaign, the Republican National Committee and state organisations to help his election effort. He is on Trump's transition committee for finance and the inaugural committee.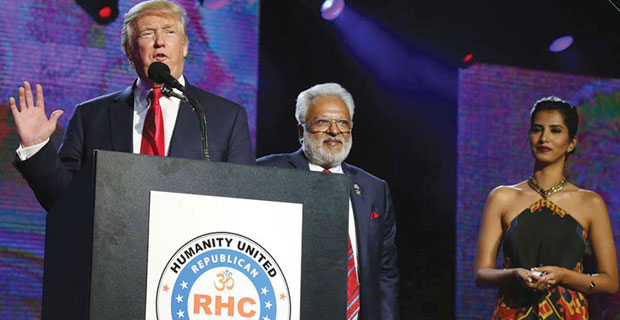 Kumar was the prime mover of the RHC rally in October at which Trump campaigned on a promise of being a friend of Indian Americans and Hindus and praised Narendra Modi. He is close to former Speaker Newt Gingrich, who mentored the RHC and serves as its honorary chairman.