AMONG CAMEL NOMADS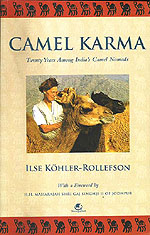 Camel Karma
Twenty Years Among India's Camel Nomads
Publisher: Tranquebar Press
Author: Ilse Köhler-Rollefson
Price: INR 595/-
Pages: 378
The camel is an inextricable part of our Marwari heritage and Rajasthani identity. When Pabuji Rathore brought the first she-camels to Marwar some seven hundred years ago, these animals revolutionized transportation, communication and warfare in the harsh and waterless environment of the Thar Desert. In order to breed and manage them, the unique camel culture of the Rebari or Raika developed. For centuries, this Hindu caste took care of the breeding camel herds of my ancestors and other royal families. They did not only developed an amazing body of traditional knowledge around all aspects of camel husbandry, but also felt responsible for the welfare of this animal.
The humane and ethical relationship between the Raika and the camel is one of its kind in the world. It cast a spell over Ilse Köhler-Rollefson when she first came to Rajasthan in 1990 to study camels and their keepers and motivated her to come back again and again and eventually make Rajasthan her permanent home. By now, she has spent almost a quarter of a century living among and listening to the Raika, turning from a researcher into an advocate for the Raika and other traditional livestock keepers. During this period, she was able to witness first-hand how camels lost their meaning as transport animals, how the herds declined and how a unique human-animal relationship began to unravel. In 2005, she, Hanwant Singh Rathore and a Raika team undertook an arduous 800 km long yatra on camelback to draw attention to the situation. In this book, she chronicles this journey as well as many other adventures in a manner that also provides deep insight into rural Rajasthani culture.
Ilse's book comes at the right time, just when the Rajasthan government has decided to declare the camel as state animal and to accord it special heritage protection. It provides important pointers on how Rajasthan's camel population can be saved from the future and remain part of our Rajasthani identity even in the twenty-first century — for real and not only on glossy photographs: by making full use of its potential for a range of eco-friendly products from its milk, hair and dung, by respecting and protecting it as part of the Thar Desert eco-system, and as a patient and reliable companion animal.
I do hope that this book will help the camel to be revived in a new avatar so that it can be cherished by countless future generations as well.
-----------------------------------------------------------------------------------------------------------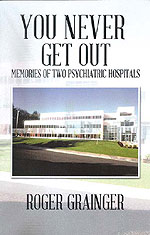 You Never Get out
Memories of Two Psychiatric Hospitals
Publisher: Trafford Publishing
Author: Roger Grainger
Pages: 124
Roger Grainger was admitted to a mental hospital in Northern England at age 18 and later trained as an Anglican minister before working as a chaplain of a large mental hospital. Currently, Grainger is an Associate Fellow of the British Psychological Society and a registered psychologist.
Pulling from his own experiences in mental hospitals, Grainger focuses on the gaps of institutional life as well as the humanity of the patients in the semi-autobiographical "You Never Get Out."
"It's time to take a fresh look at the old hospitals," said Grainger. "This will help us to answer the question of 'Were these places just easy answers to mental illness or did they have something of real value to offer?"