Editor's Desk
The world loves history-makers. Narendra Modi is the latest, and most talked-about, in that hallowed league. All eyes are on India, and their cynosure—the country's new Prime Minister. Whatever he does from now will alter the course of India's 21st century progress. But for his rare charisma, his impactful oratory and capacity for extreme labour, the story at India's general elections may have been different. He must be credited for almost single-handedly seeing the Bharatiya Janata Party home, by securing an absolute majority in the Lower House of Parliament—Lok Sabha.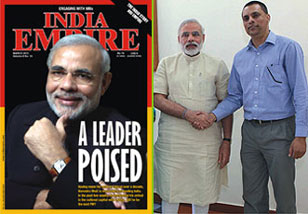 Most of Mr Modi's opponents were decisively punched out by the electorate. Several of them lay in ruins, completely routed from the very turf they had made their own. Narendra Modi may have majorly played the development card during the elections, but the backing of the RSS from whose cadres he once rose to political stardom, certainly helped. Purveyors of appeasement and caste were the biggest losers. Narendra Modi had altered the rules of the game, perhaps forever.
He has started off with a compact cabinet—46 ministers, including 24 cabinet ministers. As a top cabinet minister, Mrs Sushma Swaraj gets External Affairs and Overseas Indian Affairs (see interview). India's former Army Chief, General V.K. Singh, a new entrant to politics, will be the Minister of State for Overseas Indian Affairs.
Our cover story looks at the phenomenal NaMo wave, and all that it swept under. It also has reactions from prominent overseas Indians who are hoping for a more proactive and sincere engagement with India's diaspora.
There are several other articles in this issue and an interview by Assistant Editor Misha Singh with author Anuj Dhar on the mystery behind the disappearance of the man who had given new meaning to the word Azaadi—Netaji Subhas Chandra Bose.
Please do send me your comments.
Happy reading.


(sayantanc@gmail.com)