"Tourist arrivals in Bulgaria from India have gone up sharply"
I could not agree with you more. 2014 was a year of particular...
Please talk us through some of the high-level visits between both countries in recent times…
Recent years have been marked by several visits at the level of minister and deputy minister. The exchange of high-level visits has also been on the agenda. A planning is underway for the preparation and conduct of a visit by the Honourable President of India to Bulgaria in the second half of this year. Should such a visit become a fact of life it would certainly give a very strong impetus to our political dialogue but it would prompt as well the cooperation in all other areas of mutual interest.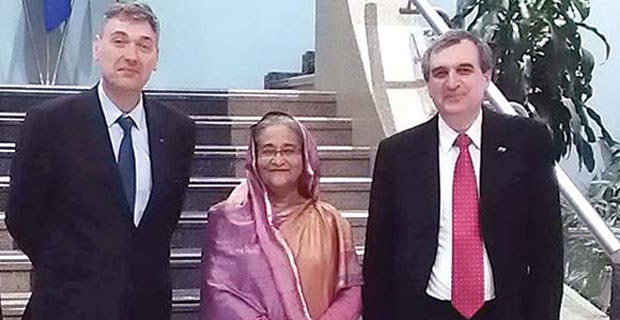 Ambassador Doykov with H.E. Sheikh Hasina, Prime Minister, of the People's Republic of Bangladesh
We understand there is a scope of extending the current bilateral trade basket. Please let us know about the quantum of bilateral trade and the identified growth areas...
The bilateral turnover has shown four times growth for the last decade. According to our statistics, in 2016 the bilateral trade reached approximately USD 250 million and Bulgarian exports to India reached their peak, surging to USD 114 million. In the period from January to November 2017 only, trade between Bulgaria and India totaled USD 247.7 million posting a 17.8 per cent increase y-o-y. These figures do not cover one of the most important sectors in the Bulgarian export to India—defence equipment. Else, the number would be different. Furthermore, part of Bulgarian exports to India goes via third countries thus not being included in the bilateral trade statistics. Nevertheless, we seek new opportunities for further expanding Bulgarian exports to India. There is a good potential in different sectors in which bilateral trade can be pushed up by high value-added products—IT products (Bulgaria is the second best outsourcing destination in Europe in 2016), agricultural and food products (Bulgaria ranks first in the world in the production of lavender and is the third largest exporter of sunflower seeds worldwide in 2016), perfumery and cosmetics, medicines, engineering goods, high-tech machinery and equipment, auto components industry (eight of every ten cars in Europe are equipped with some auto parts produced in Bulgaria), defence industry, etc.