"Tourist arrivals in Bulgaria from India have gone up sharply"
I could not agree with you more. 2014 was a year of particular...
What are the major items of exports from Bulgaria to India, and vice versa?
Bulgarian export to India includes wheat, instruments and apparatus for chemical analysis, different kind of machines, medicines, paper, pumps, scrap etc. Bulgarian import from India includes mainly chemicals and their derivatives, medicines and aluminium. Bulgaria would like to expand the exports to India of goods such as foodstuffs, grain, coriander, wine, essential oils, cosmetics, chemicals, pharmaceuticals, food-processing machines, auto components, etc.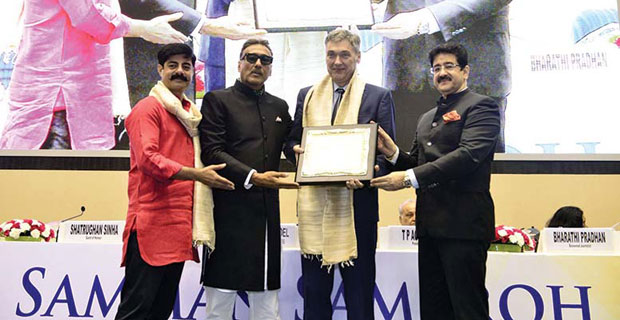 Ambassador receiving Hindi Cinema Award 2018
What sectors in Bulgaria would you say provide ample investment opportunities for Indian business?
We currently have lots of successful Indian investments in Bulgaria in the fields of agriculture, pharmaceuticals, cinema industry, IT and outsourcing, tourism industry etc. We stand ready to support new business initiatives as well as the expansion of Indian investments in Bulgaria in the sectors of auto components, IT, manufacturing etc. Our special legislation includes a number of encouragement measures for the investors. Bulgaria has introduced a favourable corporate tax of only 10% and an investment regime which makes us an attractive and a competitive investment destination in Europe.
What is the presence of Indian business in Bulgaria like, and vice versa?
We greatly appreciate the activities of Indian companies in Bulgaria in such fields as IT and BPO, agriculture, pharmaceuticals, cinema industry, tourism industry etc. On the other hand, Bulgaria attaches great importance to its investment relations with India. Special attention is paid to the various programs launched by the Indian government like "Make in India", "Smart Cities" and "Clean India". We are proud to speak about success stories related to Bulgarian companies present in India among which are one of the fastest growing Internet providers in New Delhi and a plant for manufacturing of veterinary medicines in Pune. Under the initiative "Make in India" Bulgarian and Indian companies initiated in 2017 ambitious investment projects in the fields of production of bio-toilets and construction of a solar plant in the state of Bihar.