FRANCE COURTS INDIA
VISIT TO LODI ART DISTRICT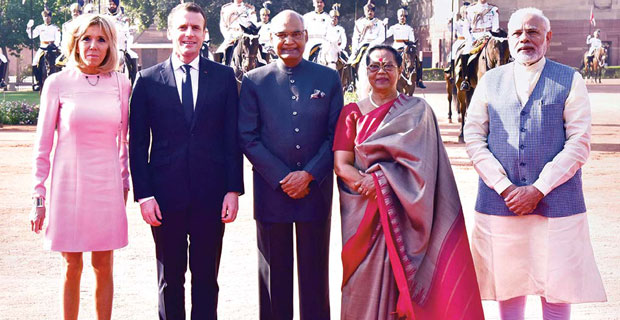 French President Emmanuel Macron seen with Indian President Ram Nath Kovind and Prime Minister Narendra Modi during the ceremonial reception at Rashtrapati Bhavan in New Delhi on March 10, 2018
The Lodi Colony area of Delhi was on March 12 transformed into India's very first open public art district as French First Lady Brigitte Macron graced the place. Senior architect Pierre Guyot who conducted the special tour for Ms Macron walked with her for an hour and a half across the Art District. Macron was very impressed by the diversity of techniques used by artists. She was particularly impressed by the creation of an open air art museum that offers art to all in the most relatable and engaging manner. "It was a great honour for the organisation to receive the first lady of France at the Lodi Art District for a special curated tour. Mrs Macron's momentous visit reaffirms our strong partnership with the French Government in India and we hope to continue this partnership for many years to come," said Arjun Bahl, co-founder and director St+art India Foundation, organizers of the festival.
The visit also highlights the collaboration between St+art India Foundation and the French institutions in India (Embassy of France, Institute Francaise, Alliance Francaise), which recently culminated in 4 projects across Mumbai, Hyderabad, Calcutta and Chandigarh as part of the Bonjour India project.
AN AFFAIR WITH THE TAJ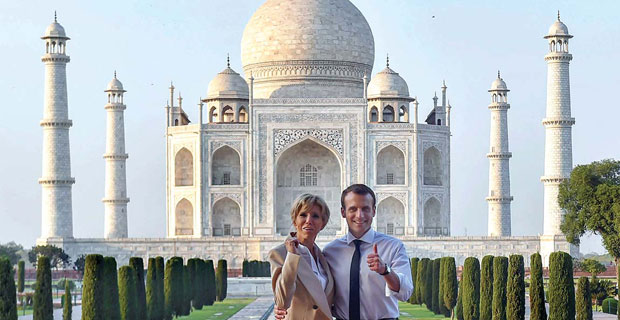 Mr and Mrs Macron at the Taj Mahal
Earlier on March 11, 2018, Mr Macron visited the Taj Mahal. Archaeological Survey of India (ASI) officials said President Macron spent over an hour, evincing keen interest in the exquisite inlay work of the 17th century monument. Guide Lalit Chawla told an agency that the President also watched the sunset from the Taj.