"GURU-ENVOY"
Early the 1980s the Mongolian government...
Over the years Bakula Rinpoche extensively travelled the length and breadth of Mongolia often for days and weeks, staying among the common people in their ghers(traditional dwelling). Their interactions helped him develop a genuine personal rapport with ordinary Mongolian people. He played a major role in maintaining peace and tranquility in the country these critical period of transition. Thus, he used to be revered as Envoy and Guru amongst Mongolians. While fellow diplomats and foreigners posted in Ulaanbaatar were often itching to get out of Mongolia, Bakula Rinpoche was entirely at ease there. His personal needs were minimal like a true Bodhisattva, he never abandoned his chosen people and was content to remain in the country, despite the numerous hardships, right from severe climatic condition up to scarcity of electricity and running water.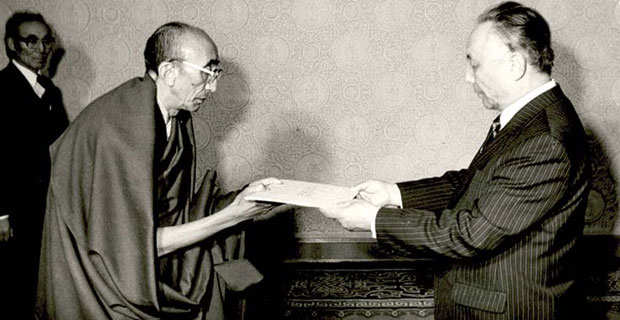 As the largest democracy in the world in which by and large 550 million voters casted their ballots in the 2014 national elections India closely followed Mongolia's transition towards political pluralism and helped in every way. When Mongolia had first-ever multiparty elections on July 29, 1990 India along with other countries sent its observers so as Ambassador Bakula himself visited some polling stations to get acquainted with voters casting their ballots.