Bangla Nobo Borsho (Bengali Calendar) and its celebration in Bangladesh
Bangladesh celebrated the Pahela Baisakh...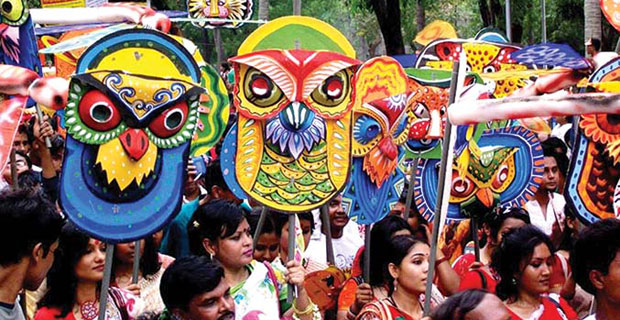 Traditional Mangal Shobhajatra on the street of Dhaka by students of the faculty of Fine Arts of Dhaka University
After partition, the then Pakistan government continued with the British practice of maintaining all official business on the basis of Gregorian calendar but the financial year was changed to the period first of July to thirtieth June. They discouraged celebration of Bengali calendar by dubbing it as a Hindu tradition. Nevertheless, the traders and peasants continued to follow the Bengali calendar.
After the Language Movement, the Bengalis made a determined move to uphold their language and cultural tradition and started observing the day through various cultural events. The prominent cultural group "Chhayanaut" took the initiative to institutionalize our celebration by organizing a musical program at the dawn of Pahela Baishakh where they presented an array of Tagore, Nazrul and folk songs depicting the significance of the day. This cultural program which formally started in 1967 became the centerpiece of our cultural functions.