FACES OF AFRO-ECUADORIANITY
At the opening ceremony of the photographic exhibition...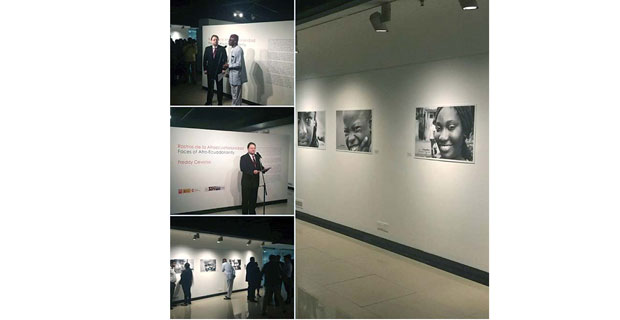 At the opening ceremony of the photographic exhibition entitled Faces of Afro-Ecuadorianity was held in early April at the auditorium of the Cervantes Institute in New Delhi. The Ecuadorian photographer of the exhibition Mr. Freddy Cevallos was also present on the occasion. The exhibition remained open to the public until April 17, 2018.
The event was attended by Ambassadors and other members of the Diplomatic Corps accredited in India, as well as students and the general public, who had the opportunity to learn more about the ethnic diversity of Ecuador. Dr. Patricio Garcés Ramírez, the Chargé d' Affaires a.i., in his speech highlighted the main characteristics of the Afro-Ecuadorian people, as well as their contributions for the consolidation of the Ecuadorian nation. On this occasion, Dr. Garces also highlighted the breakthrough advancements incorporated into Ecuadorian legislation in 1998, when constitutional rights were established. He also drew attention towards the earnest efforts of the National Government to comply with the mandates of the United Nations and other legal bodies of international law of which Ecuador is a signatory.
It is worth mentioning that during the opening ceremony, the Ambassador of Nigeria, General (retd) Chris Eze, said a few touching words of thanks to the Embassy and to Ecuador for the realization of this type of events that recognize and make the African diaspora more visible. In this way the Embassy of Ecuador in India paid tribute to the Afro Ecuadorian people, who have been living in Ecuador for nearly five centuries and have played an important role in the development of our nation.