PM visits Singapore and Indonesia
Stating that political relations between India and Singapore are among the warmest and closest...
PM ADDRESSES INDIAN DIASPORA IN INDONESIA
Showcasing India's achievements over the last few years, Prime Minister Narendra Modi on May 30, 2018 addressed the Indian diaspora in Jakarta in Indonesia and hailed the historic relations between the two countries. Hailing how the Indian diaspora, while being proud citizens of Indonesia, remained connected to their Indian roots, Mr Modi said they should take pride in the way India had progressed in the recent past.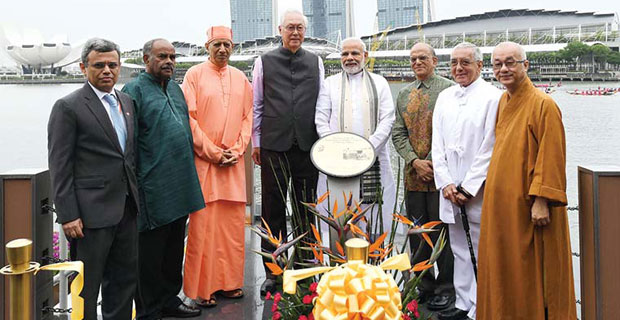 PM Modi unveiled the plaque marking the immersion site of Mahatma Gandhi's Ashes at Clifford Pier, Singapore in June 2018. Mr Goh Chok tong, Emeritus Senior Minister of Singapore is also seen.