Captivating the coasts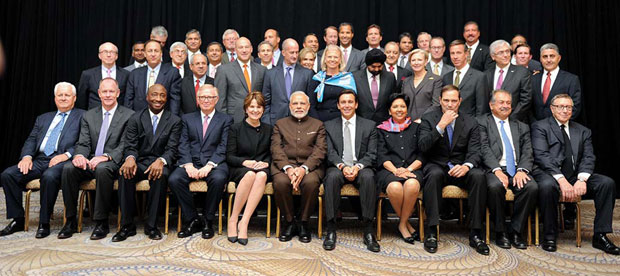 Prime Minister Mr Modi in a group photograph with the leading Fortune 500 CEOs at a special event in New York on September 24, 2015
After interacting with Mr Musk and Mr Zuckerberg, Indian Prime Minister Narendra Modi wrapped up yet another hugely successful visit to the US with a warm hug for President Barack Obama, a courtship with Silicon Valley and a love fest with the Indian diaspora. Mr Obama after an hour-long meeting in New York with "good friend" Modi, building on his "wonderful visit" to Delhi in January said, "We have elevated our ties. We have committed ourselves to a new partnership between our two countries." Mr Modi agreed they had "achieved significant progress in our bilateral cooperation and international partnership" and welcomed "the progress in giving shape to our joint strategic vision on Asia Pacific and Indian Ocean region".
But beyond the power meetings with Mr Obama and other world leaders, the real measure of Mr Modi's success was writ in his wooing the big business and winning over the tech titans of Silicon Valley. From Satya Nadella and Sundar Pichai, Indian-American chief executives of Microsoft and Google to Apple's Tim Cook and Facebook's Mark Zuckerberg everyone seemed keen to get behind Modi's digital dream.
If Mr Pichai offered to bring wireless Internet or Wi-Fi to 500 railway stations across India, Mr Nadella outlined Microsoft's plan to help Indian government take low-cost broadband to half a million villages. And selling his dream of turning India's USD 8 trillion economy into a USD 20 trillion economy at a Facebook Townhall with a promise of four Ds – demography, democracy, demand and now de-regulation, the PM told investors, "Want to Invest? I Have an Address—India."
Prime Minister Narendra Modi said that the 21st century belongs to India and the world has begun to acknowledge the fact, as he addressed an 18,000-strong cheering crowd of Indian community members at the SAP Centre here. Mr Modi, in an over hour-long address to a "Modi, Modi" chanting crowd, also said that terrorism and climate change are the main challenges facing the world and urged all nations to unite in facing the twin threats.