"PM's interactions have increased diaspora confidence"
Dr D.N. Mulay who has overseen the preparations of the 15th PravasiBharatiya Divas Convention in Varanasi spoke to India Empire Magazine's Editor and Publisher SayantanChakravarty on a range of issues concerning overseas Indians. This is the second PBD in a row under his charge as Secretary in the MEA ...
In addition to that we have held regular bimonthly/quarterly conferences. At these conferences we have invited members of the Indian diaspora and experts from India to discuss the specific subjects such as waste management, artificial intelligence (AI), youth and their contribution to India. They have proved to be very useful and productive. All recommendations have been sent to the concerned ministries and action taken reports (ATRs) submitted. These recommendations and ATRs will be presented by the same panelists at PBD 2019 and put forward for discussions where everybody can participate. The maximum time will be given for interaction. Then the final recommendations will be sent back to the relevant ministries.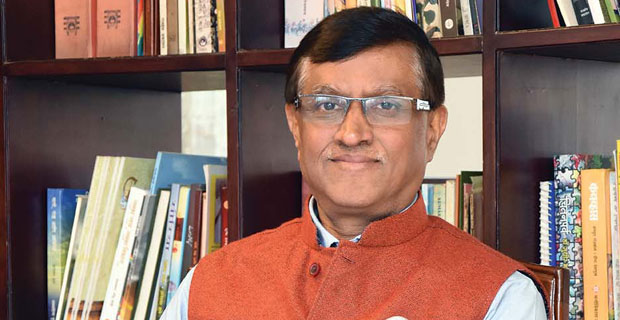 We have created new mechanisms and frameworks for students going abroad, workers in the Gulf, academicians, recruitment agents for workers who will be going overseas, helping out women who have been suffering particularly because of abandonment by the partner. We have taken up various issues with the ministries concerned such as Women and Child Development, Home Affairs, HRD, Skill Development. So our engagement is not just restricted to the diaspora but has been going on with central ministries, state Governments, NGOs, academicians, universities. It is a very different engagement that has taken place.
We understand that the IDF has played a significant part in this engagement process with the diaspora. Can you please talk us through it?
Rather than go for one kind of philanthropy, we now try to see that more experts and expertise in technology is brought back. For instance one of our bimonthly conferences was on solar energy. There experts who came also offered the technology at a very reasonable rate with state of the art technology. This is not available to anyone else, it is only offered to India. So this is also giving back by the Indian diaspora. Artificial Intelligence experts had come, they met with Union Minister Ravi Shankar Prasad. They also met the NitiAyog people and are now contributing or making suggestions for policy making. So this type of giving back is transformational in nature.