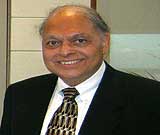 Inder Singh
The Pioneer
Inder Singh has been involved with the Indian community since his university days. His involvement in the Indian American community has continued along with his professional advancement. "And it has been a great journey in life," says Inder Singh.

The National Federation of Indian American Associations (NFIA) is the largest national body of people of Indian origin in the US of which Inder Singh was the president in 1989 when NFIA organised the first global convention of people of Indian origin. Delegates from 22 countries, including many community and political stalwarts of Indian origin from various parts of the globe, came to participate in the convention. Until then there had never been any attempt to bring India's forgotten children settled overseas on one platform and under one banner. A few dedicated and committed volunteers from different countries but mostly from NFIA jointly organised the first ever gathering of people of Indian origin. Many years later in 2003, the Indian Government organised a large convention of overseas Indians and called it Pravasi Bhartiya Divas which has become an annual tradition now.
| | |
| --- | --- |
| | Congressman Daryl Issa presenting the American flag to GOPIO President Inder Singh at the rededication ceremony of Temucla post office building to Dalip Singh Saund Post Office Building |
Since taking over as the president of GOPIO International in 2003, GOPIO has opened many chapters, organised eight international conferences and regularly sends GOPIO's electronic bulletin to thousands of people all over the globe. Some notable achievements during the last few years, include:
In 2004, the Government of Fiji nominated Sitiveni Rabuka, a former coup leader, to be Fiji's ambassador to the US. GOPIO campaigned against his appointment. Rabuka never became ambassador of Fiji to the US.
The Government of Trinidad and Tobago had been giving the Trinity award to their highly accomplished and successful people annually. However, the award insignia contained the "cross" symbol, which the Hindu nominees were reluctant to accept. GOPIO objected to the "cross" symbol in the award emblem. In 2006, the T&T government formed a high level committee to design a new logo without the "cross" symbol in it.
In 2001, Singh with the support of some committed community activists, formed the Global Punjabi Diaspora, to recognise the contributions of Punjabis to their new homeland.
Besides involvement with the Indian American community, Singh has held leadership positions in Asian community organisations. He co-founded the Asian & Pacific American Republicans Coalition which became an officially chartered organ of the California Republican Party.
Inder Singh has spent many years of his life on issues dear to the Indian American community. He has been a community architect, a social entrepreneur and dedicated and committed community activist.
---
Thomas Abraham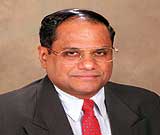 Top Man
Thomas Abraham deserves considerable credit for rallying the Indian American community movement in the last three decades. The greatest achievement of Dr Abraham, the chairman of GOPIO, is initiating and building several NRI/PIO Indian community institutions in the last 33 years. They are:
1. Federation of Indian Association (FIA) of New York, New Jersey and Connecticut - 1977
2. National Federation of Indian-American Associations (NFIA) - 1980
3. Global Organization of People of Indian Origin (GOPIO) - 1989
4. Indian American Kerala Cultural and Civic Center - 1993
5. National Indian American Association for Senior Citizens (NIAASC) - 1998
6. South Asian Council for Social Services (SACSS) - 2000
| | |
| --- | --- |
| | Thomas Abraham at the Kerala Center Annual Gala Award |
Abraham and GOPIO campaigned with elected officials in the New York, New Jersey and Connecticut area to have the Nuclear Energy Cooperation Bill passed in Congress. His public and Indian community involvement started in 1974 at Columbia University where he was a graduate student. Abraham became president of the Federation of Indian Association (FIA) of New York in 1976, '77, '78, '79 and '80; president of NFIA in 1980, '82, '84 and '86, and chairman of its Board of Trustees in 1988 and '90.
In 1980 Dr Abraham took the initiative to organise the First Convention of Asian Indians in North America in New York City and formed NFIA, the largest Indian organisation in America, which has over 200 Indian organisations as its members.
In 1989, Dr Abraham initiated and served as the convener for the First Global Convention of People of Indian Origin. Subsequently, he was honoured as the Man of the Year by India Times. The convention resulted in the formation of GOPIO. Dr Abraham was its founder president and served the organization as it chief executive from 1989 to 2004. He is also the founder president of The Organization for Universal Communal Harmony (TOUCH) which debuted in 1990.
In 1992, the Indian community in New York and the Indian embassy jointly took an initiative to establish a chair for Indian studies at Columbia University. Dr Abraham was asked to co-chair this effort. The India chair was inaugurated in 1997. Dr Abraham is also the founder member of the Indian American Kerala cultural and Civic Center and currently serves as its chairman of board of directors.
A graduate of Columbia University's School of Engineering, Dr Abraham is president of Innovative Research and Products (iRAP), a leading industry and market analysis company.
---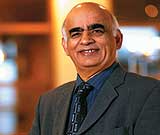 LORD DILJIT RANA
Coming Home
After winning hearts in the UK, Lord Diljit Rana, who was born in a little village called Sanghol, Punjab, has decided to tap the potential lying across unrecognised villages in Punjab. In order to realise his dreams, Rana, a successful entrepreneur in the UK, has set up the Sanghol Educational complex at Sanghol. The complex was inaugurated by former President A.P.J. Abdul Kalam on August 17, 2006.

The journey back home started 44 years ago. Rana arrived in Britain in 1963 and moved to the highly volatile Northern Ireland in 1966. Today, he is a successful property developer, hotelier and president of the Northern Ireland Chamber of Commerce and Industry.

Rana's is a tale of extraordinary success. In 1981 he became founder and CEO of Andras House, a property development and hospitality management company which employs 300 people.
In 1990 he opened the first hotel to be built in Belfast for nearly 20 years. The 82 room Plaza Hotel was among the first internationally branded hotels in Belfast. Two years later he opened Renshaws, a 22 room hotel on University Street. In 1996 he opened Express by Holiday Inn (International Brand) with 114 rooms.

Rana is the recipient of NRI of the Year Award, Gopio Award, and Pravasi Samman Award. Plus, he has been president, Northern Ireland Chamber of Commerce. He is the first Honorary Indian Consul for Northern Ireland. In 2004, he was elevated to the House of Lords as a Cross Bench Peer.

He continues to support a slew of local charities, including the Lord Mayors Fund, Action Cancer, PHAB, Trocaire, N.I. Growth Challenge, N.I. Millennium Company, and Bid for Belfast European City of Culture.
ASHOOK K. RAMSARAN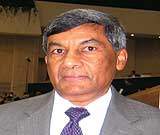 The Caribbean
Born in Guyana, Ashook Ramsaran's forefathers came as indentured labourers from India. He received his primary and secondary education in Guyana, worked in Guyana as a school teacher and then in the judiciary courts before emigrating in 1968 to the US to pursue higher technical education. In the US he worked as an electronics engineer after graduation. He established Ramex Inc, his own electronics manufacturing enterprise in College Point, New York. He has been named among the Top 100 Indian Owned Businesses in the US for eight consecutive years.

Ramsaran is the secretary general of GOPIO and chairperson of its Tracing Our Roots Committee. He is also the co-founder and director of the Guyanese East Indian Civic Association, and director general of the Caribbean Indian Business Development Centre.

Ramsaran also collaborates with New York City Mayor's Office of Immigrant Affairs (MOIA) on annual events on immigrant experiences in New York City. He is very active in his local New York community.

As secretary general, Ramsaran has contributed significantly to GOPIO's structural and organisational improvements, applying his expertise and acquired management and organisational skills to refinement of GOPIO's by-laws, definitions of policies, guidelines and mission statements of all GOPIO's councils, development of chapter and council reporting formats, comprehensive criteria for GOPIO's annual awards, as well as functional and operational procedures for ita Human Rights Council.

He has been named as a speaker at the PBD 2008 session titled "Engaging the Diaspora—The Way Forward: The Americas". He works with India's Ministry of Overseas Indian Affairs on diaspora interests and PBD sessions consistent with issues of diaspora interest.
---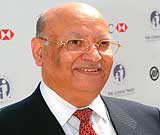 RAJ LOOMBA
High Achiever
Widely known as the pioneer of widows' rights and the man behind Inter-national Widows Day, Raj Loomba's campaigning achievements are founded on a successful business career as founder of Rinku Group, one of the most highly regarded companies in the UK fashion and clothing industry.
Loomba started his business in 1964 from a market stall in Widnes, Cheshire. The Rinku Group also supplies major multiples with own label product. The group employs more than 300 people in the UK and China and has its own factory in Delhi.

As a longstanding supporter of business and cultural relations between India and the UK, Loomba has worked with politicians and business people in both countries to create ongoing opportunities for the future.

In 1997, Loomba chaired the organising committee for the British Indian Golden Jubilee Banquet to celebrate the 50th anniversary of India's independence. The Prince of Wales was a guest of honour at this glittering event, and other speakers and guests included Tony Blair, and three of his predecessors. The banquet raised £240,000, which was donated to five leading universities in the UK.

As chairman of India First PLC, Loomba plays a key role in building closer ties between London and Delhi, and has organised events, supported by mayor Ken Livingstone and Delhi's chief minister Sheila Dikshit.

In 2002, Loomba became the first Indian to be elected to the Council of the Royal Society of International Affairs, which is a leading think-tank in the world, widely known as Chatham House. He initiated a research project on India, which has become part of Asia Programme. In 2004, Loomba conceptualised the Chatham House Prize, which is awarded to a world leader every year.
---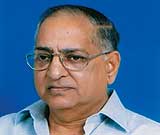 Kriesnadath Nandoe
Team Player
Kriesnadath Nandoe is one of the leading figures in Suriname's large Indian diaspora. A career diplomat, from 1989-1996 he was Suriname's permanent representative to the UN, vice-president of the 47th General Assembly, and was ambassador to Brazil and Chili. This diplomat played a key role in improving trade relations and intensifying bilateral relations in the context of the Amazon Treaty and Mercosur.

A member of Parliament during from 1963-1968, Nandoe was economic counselor at Surname's permanent mission to the UN between 1976 and 1983. He represented Suriname at several financial and economic UN conferences in India, Gautemala, Jamaica, Bolivia, Cuba, Switzerland, Austria, Argentina, Venezuela and the Philippines. He participated in negotiations dealing with GATT, World Bank, UNIDO and UNCTAD. Nandoe helped formulate UN resolutions in the field of development finance under the auspices of UNDP.
---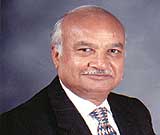 Dr. Piyush C. Agrawal
The Educator
Piyush Chandra Agrawal represents a rare combination of a professional expert in education, a successful business entrepreneur, and a well-respected community service activist.
From 1955 to 1998 his career spanned over four continents, from Asia to Europe to Africa to North America. His broad range of education-related assignments extended from being a classroom teacher to a superintendent of schools.

During his educational career, he served as a consultant/advisor to numerous organisations including UNDP, UNESCO, National Science Foundation (NSF), and the New American Schools Development Corporation (NASDC)—an organisation created to support President Bush (41st) education initiative.

Agrawal has served on several task forces and panels like the National and State Selection Panels for the Presidential Awards for Excellence in Science and Mathematics Teaching; Middle States Association of Colleges & Schools (accreditation body for Colleges & Schools); Maryland Public Television; National Council of Supervisors of Mathematics; National Summit on Mathematics Assessment; and the Florida Speaker's Task Force on Mathematics, Science & Computer Education.

In 1994 he was appointed to the US 2000 Census Advisory Committee on the Asian and Pacific Islander Populations. During the nine-year period on that committee, he served as its chairman for five one-year terms.

On September 9, 2003, Agarwal had the honour of meeting President George W. Bush and asked him to start hosting Diwali festival at The White House. As a result, the first ever Diwali event was celebrated at The White House on October 23, 2003 and since then it is celebrated every year.
---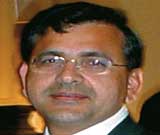 Rajindre Tewari
The Capitalist
Rajindre Tewari is the MD of Cordares Diensten B.V., part of Cordares Capital, an Amsterdam based asset manager providing investment and asset administration services for pension funds. Cordares manages €26 billion assets under management (AUM) and offers fiduciary management services and other technology driven innovative pension scheme arrangements.

Tewari joined Cordares in its strive for capital and market growth in order to become a pan-European player. As a former chief information officer and change management consultant, his experience and interests focuses on the area of investment management, technology/operations and mergers and acquisitions.

Rajindre is the co-founder of Capital Contacts Intl. and Riviera Capital Partners, a real estate focused investment fund. He is also member of the executive board of Inovita and Inotime Ltd.
The entrepreneur is the president of the Amsterdam Chapter of GOPIO International. The GOPIO team comprises both NRI's and PIO's and organises debates on various socio-economic themes related to the contributions and growing role of Indians globally.

Rajindre has studied at the Delhi University (Hindu College), University of Antwerpen (Bachelor of Political & Social Science) and University of Leiden (MA), where he graduated in 1985 with honors in Organisation Studies & Sociology of Organisations.

He then pursued post-graduate studies in Strategy (Insead), E-Commerce (RSM), Management Accounting and Corporate Finance (London/Amsterdam). He can be reached at gopioamsterdam@gmail.com or rcpmanagement@yahoo.co.in.