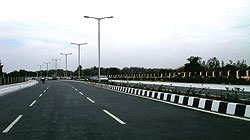 The Commonwealth Games 2010 will be the single largest sporting event New Delhi has ever hosted. Bigger than the Asian Games it hosted in 1951 and 1982, bigger than any one single sporting tournament. It is because of the Asiad 82 that Delhi got a huge facelift. Up came flyovers, roads were broadened and roadsides were greened, a few hotels cropped up, sporting arenas were built, old ones got new looks, and the city received a much needed momentum for refurbishing itself.

The CWG 2010 provides just that kind of opportunity once again. In her quest to make it a huge success, Chief Minister Sheila Dikshit has several plans on the anvil. We take a look at some of them which are critical to hosting the Games.

Construction and upgradation of competition venues: Work at the Thyagaraja Sports Complex that will field netball and provide track facilities to athletes for training was started in September 2007. The project completion is scheduled for September 2009. Present Status: 45 per cent of the basic structure is complete. Cost: Rs. 297 Crores (US $ 66.25 million). Work at the Talkatora stadium, venue for boxing events, started in November 2007. Target completion is December 2009. Present status: 10 per cent complete. Cost: Rs. 105 crore (US $ 24.65 million).

Training venues: Work at the Chhatrasal Stadium that will field athletic events commenced in June 2008. The expected completion is in August 2009. The estimated cost of the project is Rs 85 crore (US $ 19.95 million).

Ludlow Castle: This venue will host wrestling events. Work at the venue commenced in June 2008 and the projected completion is in October 2009. The project cost is Rs.30 Crore (US $7.04 million).

Shivaji Stadium: This will field hockey matches. The project was started in April 2008 and the expected time of completion is March 2010. The cost of the project is Rs 100 crore (US $23.47 million).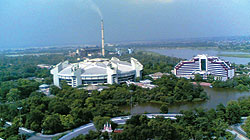 Flyovers, Bridges and Upgraded Roads: A total number of 24 such projects have been initiated at a cost of Rs 5,000 crore (US $ 1,174 million). Sixteen of the projects will be completed before the commencement of the CWG. The bridges will bring about better intracity connectivity and facilitate smooth movement of athletes, officials and spectators during the Games. And, of course, improve the city's infrastructure for times to come. Part of this large project is a sub-project that includes the construction of 31 over-bridges and under-passes at a cost of Rs 241 crore (US $ 50.24 million).
Widening and Beautification of Roads (2007-2010)
This is a project to widen 150 lane kilometers at a cost of Rs 283 crore (US $ 66.44 million) and strengthening and resurfacing 917 lane kilometers at a cost of Rs 467 crore (US $ 109 million). The project includes widening of the Patparganj bridge, Maa Anand Mayee Marg and a road section on NH 24.

Transport Metro Connectivity
Name of Corridor
Kms
Starting Date
Completion Date
Present Status
New Delhi - Airport
19.2
20.04.07
Aug-10
7 nos. civil contracts and one concessionaire contract awardad, work in progress 7.6% work completed
Central Secretariat – JLN Stadium - Badarpur
19.55
20.04.07
Sep 2010
8 nos. civil Contractsawarded, work in progress.7.7% work completed
Vishwavidhalya –Jahangirpuri
6.36
23.11.05
Oct 2009
20%
Central Secretariat – AmbedkarColony - Gurgaon
26.80
01.11.06
Jun 2010
10%
Shahdra – Dilshad Garden
3.9
07.04.06
Dec 2008
100%
Indraprashtha – New AshokNagar - Noida
15.10
01.09.05
Jun 2009
10%
Yamuna Bank – Anand Vihar
6.16
01.08.06
Dec 2009
15%
Inderlok – Klrti Nagar - Mundka
18.50
12.04.06
Mar 2010
15%
Dwarka Sector 9-21
5.0
06.03.06
Dec 2009
15%
Total Length :
120.57 Kms
Estimated Cost :
Rs. 16887 Cr (US $ 3965 million)