PUNJABI DIASPORA

US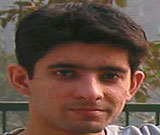 IMAGINE HAVING the ability to view the activity of any chosen gene in real time through a special camera.
A new study correlates real-time gene expression with movement and behaviour. The proof-of-concept experiment in fruit flies opens a new door for the study of genes' influence on behaviour.
The authors, from the University of Southern California and Cambridge University, tagged genes with a harmless molecule known as Green Fluorescent Protein.
When a gene was active, the flies gave off a fluorescent glow. A camera fitted with a special filter detected the glow, whose intensity was then measured automatically.
At the same time, a multiple-camera system designed by first author and USC graduate student Dhruv Grover tracked the movement of each fly in three dimensions.
The result: an exact picture of gene activity at every point and time of a fly's life.
"We can correlate behaviour with certain genes and find genes that may be responsible for certain behaviours," Grover said.
As a Stanford undergraduate in computer science, Grover took no biology courses. After earning a master's at USC in computer science, he switched to the doctoral program in molecular and computational biology.



UK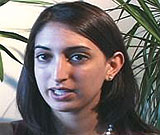 REVA BHALLA, director of geopolitical analysts at Stratfor—a private intelligence company in Austin, Texas—says the Mumbai terror attacks will force India to change the way it has been dealing with Islamic terrorists and their Pakistani backers.
Bhalla says the sheer scale of the attack and the targetting of westerners, Israelis, corporate executives, diplomats and other high value targets will make it difficult for the Indian government to step around the issue of Islamic terrorism in India.
In several recent terror attacks, for instance, after the Mumbai train bombings in 2006, the Congress government would issue a condemnation, blame Pakistan and life would go on as usual. There was no big reaction. And literally days after the attack, India was enaged in peace talks with Pakistan as planned.
Bhalla says the intent of the terrorist attacks in Mumbai was to strike at India's blooming economy by creating fear among tourists and business people, but adds that India will suffer no great harm because it does not rely on tourism. Much of India's economic gain is in the communications field.

PUNJABI DIASPORA

UK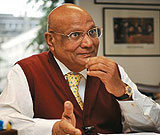 SWRAJ PAUL has become the first Asian to be appointed deputy speaker of the British House of Lords.
Lord Paul said he was honoured that a person from a freedom fighter's family of India has been given the post.
Paul was born in Jalandhar in 1931 and graduated from Punjab University, then obtained a bachelor's and master's degree in mechanical engineering from MIT, USA.
He went to London in 1966 in search of treatment for his daughter Ambika who suffered from leukemia, and after she died, he stayed on in the UK.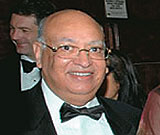 RAJ LOOMBA received the 'Commander of the British Empire' title from Prince Charles at a ceremony in Buckingham Palace in London.
The honour was in
recognition of his charity work in looking after widows and the education of their children.
The Loomba Trust works in India, Uganda, Kenya, Syria, Nepal, Bangladesh, Sri Lanka and Columbia. In India 4000 children of widows are being educated by the charity group that raises funds through Loomba's Trust, which is also doing charity work with 'Youth Business International' supported by the Prince.

NAMI KAUR of Leicester recently celebrated her 105th birthday. She moved to the UK from India in 1967 and says her weekly appetite for sarson da saag, (mustard leaf curry) has given her longevity.
Mrs Kaur has three children, eight grandchildren and 10 great grand children and says looking after them has kept her fit and active at her age.
Her grandchildren say they are privileged to have been blessed with their gran's love, kindness, care and advice and the wealth of knowledge she has passed on to them.
Kaur arrived in the UK with her youngest son, Surjit Singh. They lived in Coventry, before moving to Newcastle, and settled in Leicester in 2001. She helped out in her son's shop in Newcastle.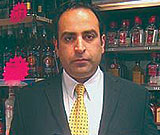 BOB SINGH of Port Talbot, South Wales, finds his jokes are no laughing matter.
For the last 10 years Singh has included jokes on his festive flyers which are delivered door to door.
But he has been told by police he could face prosecution if he did not stop printing the jokes.
Singh was baffled at first and thought it was a joke, but realised it was not and says police would not tell him which of his jokes were found offensive, if they were, and who complained to police about them.