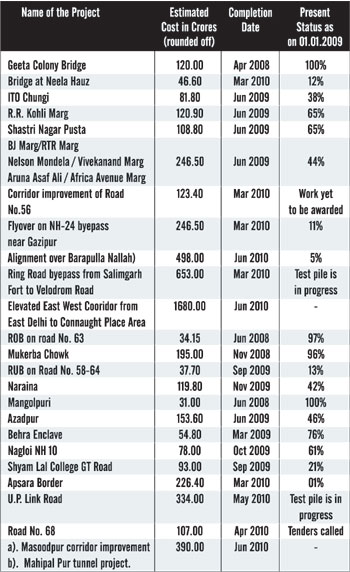 Like any Metropolitan City, Delhi is experiencing lot of problems related with traffic congestion with the over increasing number of vehicles on Delhi Roads. Whereas the numbers of vehicles plying in Delhi has gone more than the vehicles plying on the roads of Kolkata, Mumbai and Chennai taken together; for hassle free traffic movement, constructing flyovers, bridges and improvement of road network appears to be the most feasible option.
The Government of Delhi has been working towards making Delhi a well managed and clean city to show case it as an example to the world. To achieve the above goals, constructive and effective steps have been taken. This is also in line with the priority fixed by Chief Minister to make the Ring Road and Outer Ring Road, the two main life lines of Delhi, signal free.
At present, the construction of 26 numbers of new flyovers and bridges is going on to improve intra-city connectivity and uninterrupted movement of traffic. Considering the Commonwealth Games 2010, these projects have been kept on fast track mechanism and are being regularly monitored to ensure the completion of these projects well before the Commonwealth Games. The work of all the flyovers and bridges except two has been started and is in progress. The East and West corridor has been recently approved by DUAC in part and is now in the designing stage. The Mahipalpur Bypass is under planning stage.

For details of flyovers/bridges and cost is the adjoining table.

Road Under Bridges & Road Over Bridges
Because of large Railway network spread all over the city, traffic flow is also interrupted and affected by Railway crossings. To ensure better traffic management and signal free movement, it has been decided to construct 18 new Road Over Bridges and new Road Under Bridges across the Railway tracks.Apart from that 6 nos. of ROB/RUB are also being constructed by PWD as part of flyover/bridges projects.

Road Improvement Measures
PWD is also working on the improvement of existing roads by way of widening, strengthening and resurfacing of selected roads. The new technologies such as Micro-surfacing, porous bituminous concrete, in situ recycling, bituminous Macadam using Plastic Waste and Cement Concrete pavement Roads being used for the purpose, will definitely improve the quality of existing roads.