"I always had a few questions in my mind on AIDS and related subjects …but I hesitated to seek answers from others. Now my encounter with the Red Ribbon Express turned out to be a big revelation as the answers that I was seeking were there". This was how Sumathy a teenage student from a Madurai school reflected after disembarking from Red Ribbon Express on its first day of sojourn in Madurai last month. 'The exhibition train not only explained about HIV and AIDS but also shed ample light on issues related to adolescents", Sumathy said with a satisfied look.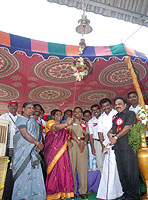 The Red Ribbon Express, a unique project of 'campaign on the wheels' aimed at widening awareness about HIV, promoting safe behavioural practices and fighting the stigma attached to it arrived at Tamil Nadu's temple town of Madurai on March 18, 2010. Madurai Corporation Mayor Thenmozhi Gopinathan inaugurated the exhibition by ringing a bronze bell, symbolizing the clarion call to the society 'to be informed'. As the bell rang, waiting people, quite a large number of them students, flocked to the train. It was not for a physical journey… but for a journey of mind and thoughts through various facets of AIDS, perhaps the most disquieting health concern of the recent times.
All the eight coaches of the train were packed. Packed with a wide variety of information and educative tools on AIDS besides wide and related subjects. They include bio-medical aspects of HIV/AIDS with interactive touch screens, 3D models, educational material with the focus on support and treatment services, messages on need for creating 'enabling environment 'and getting rid of stigma, information on general health, hygiene and communicable diseases like swine flu, tuberculosis and reproductive and child health services and so on. The whole effort was not just confined to exhibition and exhibits.
Organizers added wider meaning and essence to the exhibition on the wheels by offering or sensitization sessions to the visitors. One coach had an auditorium-cum-conference hall where sessions were being held for representatives from Panchayat Raj Institutions, Anganwadi Workers, Self Help Groups and youth. The train has four counselors, and two doctors on board who are eager to provide counseling and offer syndromic treatment for Sexually Transmitted Infections and Reproductive Tract Infections cases besides testing for HIV.
"I was told an exhibition train is coming… I was curious to see it. The volunteers in the train were explaining the details on AIDS in simple manner which could be understood by illiterates like me" said grandma Pandiammal from Karupayurani. Tamil Nadu state AIDS control Society (TANSACS) Project Director Shambu Kallolikar, Dy. Police Commissioner Thenmozhi, Kasthuribai Jayaraj, Chief Medical Officer, Railway Hospital, representatives from various Government departments, NGOs working in the field of HIV, members of the network of people living with HIV along with hundreds of young people were also present during the inaugural function.
Dillu Dura Campaign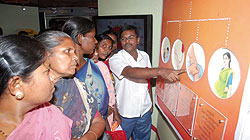 In a fitting complement to the Red Ribbon Express "Dillu Dura", a state level campaign by Tamil Nadu Government also took place simultaneously. 12 vans consisting of 10 cultural performers in each van reached out to the villages in Madurai district during the duration of the trains stay in the temple city. The campaign motivated the most vulnerable population to access the "Nambikkai Maiyam" (Integrated Counseling and Testing Centre - ICTC) to seek answers to their doubts on HIV.
As part of the second phase of the "Dillu Dura" campaign these vans will be traveling along with the Red Ribbon Express and will be reaching out to the rural areas to address the myths and misconceptions associated with HIV.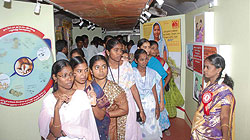 It is estimated that 1,84,000 people are living with HIV in Tamil Nadu (as on 2007) and around 40,000 people are currently receiving free Anti Retroviral Treatment (ART) through the 37 ART centres that are available all over the state. Scaling up of HIV programmes across Tamil Nadu, motivating people to come forward and access services freely with out fear of any stigma has turned out to be a success. "Dillu Dura" seeks to promote access to ICTC centres (Nambikkai Maiyam) as the gateway to access other HIV related services. The train entered Tamilnadu on March 14, 2010 at Nagercoil. A total of 15,000 visitors turned up to see the train during its halt at Nagercoil and more than 10,000 people visited the train at Virudhunagar.
The Red Ribbon Express, conceived by Rajiv Gandhi Foundation (RGF), National AIDS Control Organisation (naco) and Nehru Yuva Kendra Sangatan was launched on December 1, 2009 World AIDS Day.
The broad objectives of the Red Ribbon Express are to provide communication and a service package to rural population and reach un-reached areas in rural areas. The Red Ribbon Express is a comprehensive multi- sectoral, multi-media, multi-theme and unique campaign ever in the areas of HIV/AIDS communication. There were a lot of cultural programmes that were performed by cultural performers and NGO representatives at the junction during the arrival of the RRE.
It has been green lights all through for the Express during its traverse through Delhi Rajasthan, Gujarat, Maharashtra, Karnataka, Kerala and now in Tamil Nadu. It will continue its journey till April 2, 2010 in the state. The train is traveling to 10 districts of Tamil Nadu including Nagarcoil, Virudhunagar, Madurai, Rameswaram, Tanjore, Coimbatore, Salem, Cuddalore, (Virudhachalam), Kanchipuram (Chengalpet) and Chennai. The RRE will cover 3442 villages and approximately 1300 kms during its journey through Tamil Nadu.
—Courtesy PIB
(K.M. Ravindran, Additional DG and
V Geetha, Media and Communication Officer)