For the first time ever, a bright young group of global Indians came together under the banner of GYIPS (Global Young Indian Professionals and Students) and sought out a fundamental issue: ways to find spaces for young Indians in Government. No, this isn't a bunch of job-seekers, actually, very far from it. GYIPS is a group of over 1,000 members worldwide that seeks to connect with India's grass-root issues, and contribute the knowledge skills its members have acquired. Many of the members are professionals who work in some of the top finance, banking, legal and public firms of the world. A significant number has graduated from Ivy League universities and such institutions as the LSE, Oxford and the premier Indian institutions such as the IITs, IIMs and top Indian colleges. The group now seeks ways in which to contribute to the Indian growth story, cutting across sectors.
| | |
| --- | --- |
| | FINE START: GYIPS in partnership with INDIA EMPIRE has made a fine beginning. At New Delhi's India International Centre on July 3, a conference on finding ways for young Indians to work with Government saw a packed house. In the picture above are (from left) Laxman Narasimhan, Mukhmeet Bhatia, M S Srikar, Varad Pande and Shah Faesal |
Along with partner INDIA EMPIRE, GYIPS put together a conference that could accommodate about 80 top professionals, and student groups, but the actual numbers that wanted to participate were around 200. The conference was broken up into two sessions, and both sessions were moderated very articulately by Laxman Narasimhan, director with McKinsey and Company. Panelists who spoke on the day included Karan A Singh, an IAS officer presently serving as Protector General of Emigrants at the Ministry of Overseas Indian Affairs, Mukhmeet Bhatia, an IAS officer presently OSD to Minister of State for Finance N.N. Meena, M.S. Srikar, an IAS officer presently private secretary to Nandan Nilekani, the chairman of the Unique Identification Authority of India, Shah Faesal, a medical doctor from J and K who topped the civil service examinations in 2009, Varad Pande, a communication specialist presently OSD to Union Minister for Environment, Jairam Ramesh, Anirudh Suri, the founder and global coordinator of GYIPS who is currently pursuing a joint degree in business and public administration (MBA-MPA) at the Harvard Kennedy School and the Wharton School at the University of Pennsylvania, Gazal Kalra of GYIPS, an IIT Delhi graduate presently attached to Jindal Foundation run by Congress MP Naveen Jindal, and Ankit Wadhwa also from GYIPS who had a four year stint with McKinsey and is presently Gazal's colleague at the Jindal Foundation.
| | |
| --- | --- |
| | ALL EARS: A cross section of the audience in rapt attention |
Narasimhan set things in motion by saying that every person that had gathered in the room was in search of a meaning, a higher purpose. He pointed out that half the participants were from the private sector, 15 per cent came from the public sector, 11 per cent from the non-profit sector and the rest were mostly students. "Each one of you has a remarkable background, and it is a real honour to be here," Narasimhan said. One of the participants actually headed an organization called Making a Difference, Differently, and that summed up the spirit of the entire conference.
| | |
| --- | --- |
| | SETTING THE AGENDA: The second panel set the agenda on the proposed fellowship programme. Seen in the picture above (from left) are Laxman Narasimhan, Anirudh Suri, Karan A Singh, Gazal Kalra and Ankit Wadhwa |
The conference goals were established early on by Anirudh Suri who pointed out that there has been a growing desire among young Indians in India and abroad to work with Government to bring a change. "The basic premise is how to bring young Indians in the Government fold, work with Ministers, MPs, civil servants, or in other ways," he said. He spelt out that GYIPS was seeking to begin a fellowship programme that would enable young Indians to get a feel of what governing India involves, and then with that larger perspective of policy making behind them, set about their careers in the private and non-profit sectors, and as entrepreneurs.
| | |
| --- | --- |
| | GROUPING TOGETHER: GYIPS core team poses with some of the speakers |
Mukhmeet Bhatia made some pertinent points about the sphere of influence in one's role in Government. "If you can understand your sphere of influence, you can make a huge impact, no doubt," he said. At the same time it was important to appreciate that Government was structured, and worked in a hierarchy. It was not possible to step out of jurisdictions. But he said that the Government was now more open and consultative in its approach, and, therefore, professionals had a greater role to play in Government in coming years.
Varad Pande who worked in the election room during the Congress' Lok Sabha election campaign in 2009 with his current boss said that while choosing roles in the Government, people from outside also needed to know who they would work with. If the person you work with is willing to take a risk, listen to new ideas, and was open to experimenting a bit more, then it was worth one's while in doing a stint in Government. "You need someone who is willing to see things differently. Someone with the Why Not mindset helps."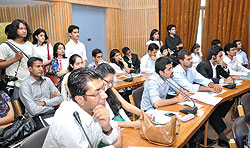 Srikar said there was little space for "free radicals" in Government. True there was red tape, hierarchy, bureaucracy, and even inefficiency at certain levels. There was a sense of stagnation in Government. Yet, there was accountability. When outsiders come in, they ought to be aware that they cannot "have all the fun, but no accountability". In the end, the Government is accountable, so bringing in outsiders without accountability was still resisted. "In fact, it is true that as an IAS officer I feel insecure, it is only human to feel so if an outsider is brought in. But at the same time, the Government is now changing. A new breed of professionalism is entering the Government." His own institution, he said, had created policies to encourage individuals to serve as volunteers, interns and there was also a sabbatical policy in place.
Shah Faesal said that he truly thought that if one entered the Government then it was imperative to keep the larger good in mind, and think of the poorest man to whose life a difference could be made. "In the end, to make the largest impact to the largest number one needed the Government. The Government is an agent of change. So there was a lot of potential if one was really looking to do good," he said. At the same time he pointed out that one had to be wary about the institution of nepotism. To get things done, one had to work with the people who could make an impact. In this sense, it was essential to find the right people in Government to work with, otherwise making an impact was not an easy task.
GYIPS CORE TEAM

Anirudh Suri

Swati Sahni

Ankit Wadhwa

Priyanka Sinha

Rajika Seth

Gazal Kalra

Farhan Naqvi

Ankur Singla
Karan Singh pointed out that the MOIA was truly interested in engaging with young groups that represented the diaspora. He said several institutions had been created by the MOIA over the past few years that could deal in a pragmatic and meaningful way to engage overseas Indians in the growth process of the country. He said that the fellowship programme talked about by GYIPS (detailed can be obtained at GYIPS website) was commendable. What was imperative, though, was to narrow it down to relevant areas where impactful partnerships could be built.
INDIA EMPIRE's editor Sayantan Chakravarty reiterated that his magazine was committed to providing more information on opportunities that exist for diaspora organizations to work in closer cooperation with the Government. The magazine itself was pleased to be a partner to GYIPS for the July 3 conference.
—with Anuradha Verma