CITATIONS OF AWARDEES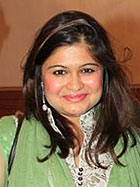 Ms Nishma Gosrani
United Kingdom
INDIA EMPIRE NRI AWARD
FOR BEING THE MOST PROMISING OVERSEAS YOUNG INDIAN (FEMALE).
Ms Nishma Gosrani is young and outstanding, driven and ambitious. She is one of the rising stars in the world of financial consultancy. Hers is a well-recognized name among international business leaders, key political figures and the international Media. A magazine produced by the firm she consults, Pricewaterhouse Coopers in London, has described her future in these many words, "the only way for her is up". She happens to be on the steering committee of PWC's Ethnic Forum and India Interest and Emerging Markets Group.
At the Asian Women of Achievement Awards in 2008, she was described by a jury member as one of the "high fliers to watch out for in coming times."
She has been given the Professional of the Year Award at the Asian Achievers Award in 2008. She is the youngest to be appointed to the Fellow of the Royal Society of Arts by Prince Philip in 2007. She has been featured in the Movers and Shakers' Survey as one of Britain's most influential young women. She has been quoted by Management Today as a rising star under 35. In 2008, she was selected as an Ambassador on the Shell Women of Achievement Ambassadors Programme that promotes emerging leaders to inspire today's youth.
Indeed, we found her to be a good role model for the younger generation that aspires to combine leadership qualities with a high level of integrity in whatever they aspire to do.
---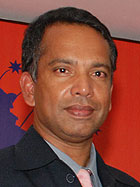 Mr Jean Regis Ramsamy
ReUnion Islands
INDIA EMPIRE NRI AWARD
FOR BEING THE MOST PROMISING OVERSEAS YOUNG INDIAN (MALE)
Mr Jean Regis Ramsamy belongs to the ReUnion Islands, a French territory in the Indian Ocean. It has among others 150,000 people of Indian Origin whose ancestors went mainly from Tamil Nadu as indentured workers in the 19th century. The majority people of this country do not speak any English, they are Francophonic. They are isolated from their Motherland, and are desperate to establish ties with India.
Mr Ramsamy, born of Tamil parents, is a dynamic radio and TV journalist. He has been the voice of the diaspora. He has represented them at the Pravasi Bharatiya Divas several times as a speaker.
He is attempting to bring an isolated outpost into modern India's consciousness. He is attempting to end six generations of separation and trying to keep his country's Indian fabric intact. He talks of a time when people's first names were changed from Tamil to French and absolutely all connection with India was lost.
His rallying cry has been, "Please Wake Up, ReUnion needs India." His is a voice for other distant outposts that are Francophonic such as Guadaloupe and Martinique in the Caribbean.
But according to him, his people are not demanding any favours. "Don't ask what India can do for you but what you can do for India?" is his appeal to Reunionese Indians.
---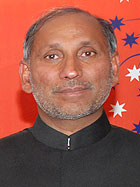 Dr Ajit Swaran Singh
New Zealand and Fiji
INDIA EMPIRE NRI AWARD
FOR COMMUNITY LEADERSHIP IN THE ASIA PACIFIC REGION
In 2002, Dr Ajit Swaran Singh was sworn in as a Judge at the District Court in Manukau in New Zealand on the Holy Guru Granth Sahib. It had never happened before in New Zealand.
He continues to serve the judiciary with honour and distinction. Apart from that he serves the community whole-heartedly by speaking on subjects like domestic violence, youth crime, hate crime, drug and alcohol-related offences, and issues that concern senior citizens. He encourages the youth in his country to contribute in a big way to society and to work for humanitarian causes. He also is a mentor to Indian lawyers, many of whom are today motivated to take up community service.
His was born in Fiji, a country to which his grandparents arrived as indentured workers. He post-graduated in law from New Zealand in 1976 and then went back to Fiji to practice. Then he won a Canadian Government fellowship to complete his doctorate from the McGill University in Montreal. On his return, he rose to be Crown Solicitor and Deputy in Fiji.
In 2008, he received the Pravasi Bharatiya Samman Award from the President of India at the Pravasi Bharatiya Divas.
For the dedicated work towards the community, he has been chosen for the Community Leadership Award from the Asia Pacific Region.
---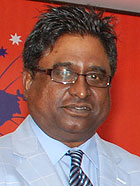 Mr Logie Naidoo
South Africa
INDIA EMPIRE NRI AWARD
FOR COMMUNITY LEADERSHIP IN THE AFRICAN REGION
Mr Logie Naidoo is the Deputy Mayor of Durban in South Africa. He is also the Chairman of Durban's recently formed Economic Development Committee. He wants to turn Durban into the next Singapore or Dubai.
Durban, you will recall, was host to many Indian Premier League matches in 2009, when at very short notice the IPL had to be moved out of India in the aftermath of 26/11. In 2010, Durban will host some of the matches of the FIFA World Cup Soccer. In 2010, it should also be the venue of the next regional Pravasi Bharatiya Divas to mark 150 years of the first arrival of Indians in South Africa.
During the Apartheid Era in South Africa, his association with the great Nelson Mandela and the African National Congress lasted, underground, for 10 years. He was also detained and held in solitary confinement in 1986. Although that ordeal was traumatic, it made him realize even more strongly that the divide of man against man through the colour of the skin must end. In the end, the ANC's battle was won and apartheid was removed.
Mr Naidoo has taken relations between South Africa and India to a new level. He has done a considerable amount of work in promoting ties between the cities of Durban and Chennai. In January 2009, the Southern India Chamber of Commerce and Industry honoured him for his significant contributions as a Person of Development.
---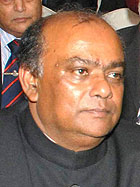 Mr Mahyendrah Utchanah
Mauritius
INDIA EMPIRE NRI AWARD
FOR COMMUNITY LEADERSHIP IN THE AFRICAN AND INDIAN OCEAN REGION
Mr Mahyendrah Utchanah is a former Minister of Energy in Mauritius. After a long political stint lasting well over a decade, he has dedicated himself to community services. He is presently the President of GOPIO Mauritius, and Chairman of GOPIO International.
It must be placed on record that it has been largely through the initiatives of Mr Utchanah who has consistently raised the voice of the Francophonic diaspora that a translation in French was agreed upon for the very first time by the Government for French speaking delegates in the just concluded PBD 2010.
Mr Utchanah has planned and headed several GOPIO Conventions for the benefit of the diaspora in the Indian Ocean and African region. The diaspora in these regions are mostly the descendants of indentured workers, and, therefore, their needs and expectations out of India is different from the newer diaspora that has migrated to the West post 1960s. There is a deep need for this diaspora to connect with India to keep its roots, its language, its culture and its ancient heritage alive as they are generations removed. The younger members of this diaspora face a challenge in terms of keeping their connectivity with India alive. It is in these areas that Mr Utchanah has motivated and inspired the diaspora.
Mr Utchanah also believes that the GOPIO should have one united voice for the diaspora worldwide. His initiative to bring the fractured groups of the GOPIO together is indeed very laudable.
---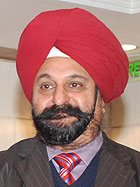 Mr Harmohan Singh Walia
Australia
INDIA EMPIRE NRI AWARD
FOR COMMUNITY LEADERSHIP IN AUSTRALIA
Mr Harmohan Singh Walia, better known as Harry Walia, is a doer. He has demonstrated significant and lasting contribution to the support of the Indian Diaspora in Australia.
He has guided the Indian community at a time when there has been a spate of attacks on Indian students in Australia. He has been able to provide this much-needed leadership in mentoring the community as GOPIO Sydney North West President. He has held this post since 1991.
At a time when India has raised serious concerns about attacks on students, he has liaised extensively with local authorities. He offers overseas students free guidance seminars on immigration, jobs and living and adjustment in Australia.
Mr Walia is also the first person of Indian descent in Australia who was unanimously pre-selected and contested the federal elections in October 2004 on a major party ticket. Though he lost in Mitchell constituency in New South Wales, Mr Walia created a big swing in favour of the Australian Labour Party.
He was the only person of Indian origin who was a torch bearer during the Sydney Olympics in 2000.
Mr Walia has been an asset to the community.
---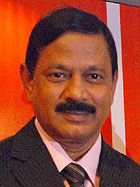 Mr Krishnamurthy Kumar
UAE
INDIA EMPIRE NRI AWARD
FOR COMMUNITY LEADERSHIP IN THE GULF COOPERATION COUNCIL
Mr Krishnamurthy Kumar is a very distinguished citizen from the UAE. He is a founding Governor of the highly-respected Indian Business and Professional Council, an organization that works under the umbrella of the powerful Dubai Chamber of Commerce and Industry. He has worked tirelessly for four decades for expanding Indian interests in the Gulf.
But it is through his service to the large overseas Indian community that Mr Kumar has made a lasting difference. Indians who have been imprisoned in the UAE have found it difficult to come out of lock-ups and jails. Many a time unscrupulous agents and dubious employers have taken away the passports and other papers of an Indian worker seeking to further his prospects in the Gulf. These people, mostly semi-skilled, are then imprisoned.
Mr Kumar has raised funds from the community to secure the release of such prisoners. It has meant that a large number of imprisoned Indians have been offered amnesty by the UAE Government, especially in 2007. Apart from visiting prisons to assure those incarcerated of a safer future, he has also helped bereaved families find proper avenues to cremate loved ones who have passed away. He has undoubtedly been a voice of strength and courage for thousands of Indians in the Gulf.
Recognizing his considerable leadership qualities, the President of India had conferred on him the prestigious Pravasi Samman Award in 2008 at the Pravasi Bharatiya Divas.
---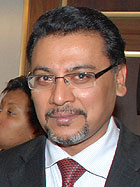 Dato' Professor Joseph Adaikalam
Malaysia
INDIA EMPIRE NRI AWARD
FOR BUSINESS LEADERSHIP IN SOUTH ASIA AND FAR EAST REGION
Dato Professor Joseph Adaikalam is a pioneering Educational Entrepreneur. He stands tall as the First Vice Chancellor of a university from the Indian Community in Malaysia. A pioneer in the private higher education sector, he made his debut in 1984 when private education industry did not exist. He is the first and only Person of Indian Origin in Malaysia to be awarded the license to operate a private University called the Binary University College of Management and Entrepreneurship.
His university produces a specialized breed of graduates called Industry Specialist Professionals or simply called ISPs. Today the UN, UNESCO and over 40 countries worldwide sponsor students to study at Binary University because of the ISP concept.
Significantly, he is a member of the prestigious Malaysia—India CEO Council.
Dato' Adaikalam is also well-known as a philanthropist who has given millions of dollars in scholarships to deserving students globally.
Dato' Adaikalam has been accorded numerous awards both locally and internationally. Among them are the ASEAN CEO Business Review Award, Golden Bull Leadership Award, MTI Entrepreneur of the Year Award, MAICCI Entrepreneur of the Year Award, Asia Pacific E-entrepreneur Award.
In recognition of his contribution to his country, he was knighted in 2007 which carries the title "Dato" or Sir, in English.
---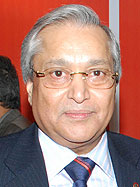 Dr Rami Ranger
United Kingdom
INDIA EMPIRE NRI AWARD
FOR BUSINESS LEADERSHIP IN THE U.K. AND EUROPE
Dr Ranger lost his father to the horrific violence of India's partition. He was born two months later. He grew up hearing his father's tales of courage. He was raised by his mother under very trying circumstances. In 1971, after graduating from the Punjab University, he left for the United Kingdom.
And in 1987, he started his company Sea Air and Land from a shed with a capital of 2 British Pounds. In 1990, he started Sun Oil. Very soon, a remarkable story of success and determination was scripted.
In 1999, his companies received the Queen's Award for Export Achievement. In 2009, his companies with a combined turnover of 60 million pounds, received the prestigious Queen's Award for Enterprise. His companies' products now reach out to nearly a half of the countries in the world.
He has received several awards including the Indian Association's Award for Community Services by Mrs Sarah Brown, wife of the British Prime Minister, and the Pride of India Award by the Punjabi Society of British Isles.
He was inducted as a Member of the British Empire (MBE) for services to British business and the British Asian community by the Prince of Wales.
In recent times he set up the Shaheed Nanak Singh Foundation in memory of his slain father whom he never saw, pledging a million pounds to recognize those who dedicate their lives to uphold India's unity and integrity.
---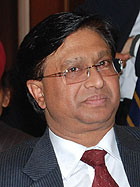 H.E. Mr Mookhesswur Choonee
Mauritius
INDIA EMPIRE NRI AWARD
FOR CULTURAL LEADERSHIP
H.E. Mookhesswur Choonee is a former Minister of Art and Culture in Mauritius. He has also been a Minister in charge of Leisure and Reform Institutions, Youth Development, Housing and Lands, Town and Country Planning, Local Government and Solid Waste Management.
His ties with India go back a long way when he came as a student to Chandigarh and acquired a Para Medical Degree in Radiography and Radiotherapy from PGIMER.
He has truly been a torch-bearer of the Bhojpuri-speaking diaspora in his country and has left no stone unturned to keep this language alive in his own country. He has organized Bhojpuri festivals at Mauritius, Patna, Harigaon, Champaran, Deoria and Rajokri. Seventy poets were taken to Mauritius to promote Bhojpuri. They accompanied the Bihar Chief Minister.
Under his initiative, there is now an expert from Patna attached to the Rabindranath Tagore Institute and the Mahatma Gandhi Institute in Mauritius for promotion of Bhojpuri folk culture, language and traditions.
He launched a Bhojpuri Book Festival in Patna organized by the NBT and a Bhojpuri seminar at the Banaras Hindu University. Even though generations removed from his motherland, Mr Choonee manages to address his audience in chaste Bhojpuri.
Truly he is not just an Ambassador of his country, he is also a true ambassador of culture and legacy.
---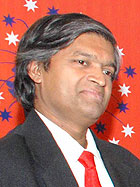 H.E. Pundit Maniedeo Persad
Trinidad and Tobago
INDIA EMPIRE NRI AWARD
FOR EXCELLENCE IN DIPLOMACY
His Excellency Pundit Persad has made a powerful impact in India in his six years as High Commissioner of the Republic of Trinidad and Tobago in India. He has brought his country into the consciousness of India by planning and executing two way Missions in trade and culture between India and TnT, and by holding a series of promotional events in India. The famous Steel Pan orchestra and Chutney music is now well known in India.
He is the Spiritual Leader and Founder of SWAHA Sri Raam Dhaam, a 4-storey Hindu Centre currently under construction in Diego Martin, Trinidad.
Pundit Persad, appointed a Government Senator in April 2002, was made High Commissioner to India in November 2003.
Many firsts in India-Trinidad and Tobago relations have been recorded during his tenure. They include, Diwali, Indian Arrival Day, Emanicipation Day, Carnival. A 600 per cent increase in business travel between India and TnT has been recorded. The largest investment from India, Essar Group's USD 1.8 billion dollar steel plant, has come during the last 3 years.
Indeed business and cultural ties between his country, which we refer to as his Janambhoomi, and his ancestral land, which today is his Karambhoomi, are forever strengthened.
---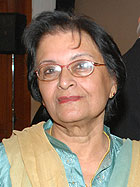 Mrs Leela Gujadhur Sarup
Indo-Mauritian
INDIA EMPIRE NRI AWARD
FOR ACADEMIC LEADERSHIP
Mrs Leela Gujadhur Sarup hails from the renowned Gujadhur family of Mauritius. She was educated in Calcutta, Mauritius and Oxford. She is a successful entrepreneur and manages many businesses. But it is for her scholarly research, patience and exactitude that she is being honoured tonight.
Her journey into the world of Colonial Emigration during the 19th and early 20th centuries began after she asked herself this one simple question; "How did my forefathers reach India and what ship did they come in?"
When she could not find details in family stories, she looked for them in libraries. In the end she not only found out about her own forefathers, but about thousands of others who had made the journeys. She spent over one decade in archives in Mauritius, Calcutta, New Delhi, Chennai and Mumbai. She acquired over 7,000 pages of information of unabridged text, maps and charts.
She has a dozen books that look at colonial emigration, acts and annual reports. These books tell us about specific voyages made to far away colonies in the Caribbean, Indian Ocean islands, Pacific Ocean islands among others. Each journey is tracked extensively in terms of diet, conditions on board, even atrocities on board. These are findings that are now used as primary sources of reference for research purposes.
---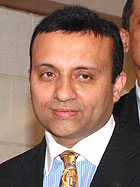 Dr Samir N. Shah
USA
INDIA EMPIRE NRI AWARD
FOR EXCELLENCE IN SOFTWARE AND INFORMATION TECHNOLOGY
Dr Samir Shah is an educator who has revolutionized the IT education industry. Dr Samir Shah is Director of Commonwealth Campuses India Initiative as well as a Faculty at the Information Sciences and Technology at Penn State York.
Through the India Initiative he has served both America and India. As part of this Initiative, Dr Shah has been able to develop Articulation Agreements between Penn State and colleges and universities in India. As a result, students in India can receive a baccalaureate degree of Penn State after completing the first two years of defined study in India and the last year at the Penn State campus in India. Presently, under this Initiative, 20 students from India are at Penn State, while close to 35 others are in the pipeline. Skills like global project management, communication, negotiations, cultural sensitivity, and the ability to accommodate radically different work patterns are an essential part of the learning process for the students in USA and India.
Shah was recently included in the 2009-10 edition of the Madison Who's Who Registry (New York) of Executives and Professionals who have demonstrated exemplary achievement and distinguished contributions to the business community.
---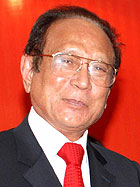 Dr Mani Bhaumik
USA
INDIA EMPIRE NRI AWARD
FOR EXCELLENCE IN SCIENCES
As a laser physicist, he announced the successful demonstration of the world's very first efficient excimer laser that lead to the Lasik Surgery. The procedure popularly known as Lasik takes less than a minute and has helped over fifteen million people worldwide get better eyesight. Academically he has been brilliant. He was the first person in India to receive a PhD from the IIT System in 1958. Today, he holds hundreds of patents.
As a child, Dr Bhaumik had to walk four miles barefoot to the nearest school. He endured famine and starvation. As an impressionable teenager, he and his family had the opportunity to live and work with Mahatma Gandhi.
Today, after the success of his scientific inventions, and million dollar earnings, he has left the dark days of his poverty behind. His Beverly Hills lifestyle has been chronicled in books written on the Lifestyles of the Rich and Famous. He has received many accolades and several awards.
He may have left the poverty of his childhood behind, but he has not forgotten his roots. He is today best known and internationally respected for his creation of the Bhaumik Educational Foundation, based in Calcutta. This provides full scholarships to the needy but brilliant students who wish to apply themselves to studies in science and technology.
It was only yesterday that Dr Mani Bhaumik was conferred the prestigious Pravasi Samman Award by the President of India.
---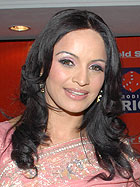 Dr Ruby Dhalla
Canada
INDIA EMPIRE NRI AWARD
FOR POLITICAL LEADERSHIP
Dr Ruby Dhalla is a Member of Canadian Parliament from the Brampton Springdale constituency. Dr Dhalla made history in 2004 by becoming the first woman of Indian origin to have been elected to a Federal Parliament in the entire Western World.
She is the youngest woman in Canadian Parliament. She was re-elected in 2006 and again in 2008. Her successful journey at a young age has made her a natural role model for women and youth throughout the globe. She has been a powerful voice in her country for issues on youth, women, and human rights.
A prominent supporter of human rights Dr. Dhalla made history on May 15, 2008 when her private members motion asking the Government of Canada to officially apologize to the Indo-Canadian community and the individuals impacted in the 1914 Komagata Maru racial injustice was passed. In August of 2008, an official apology to the Indo-Canadian community was given by the Prime Minister of Canada.
In what should encapsulate her journey, she says, "Politics is about the hopes, dreams, and desires of people. Politics is not about power but about empowerment in which all people have a voice to build a society in which there is equality, acceptance, and respect. Politics is about making people believe, achieve and succeed."
---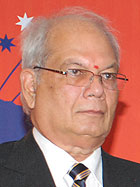 Dr Lenny K Saith
Trinidad and Tobago
INDIA EMPIRE NRI AWARD
FOR LIFETIME ACHIEVEMENT
Dr Lenny K Saith is an outstanding and distinguished citizen of Trinidad and Tobago. He is today not only one of the very experienced and long-standing members of the Cabinet of Trinidad and Tobago but is also the country's Acting Prime Minister in the absence of the substantive holder of the post.
Currently, he is Minister in the Office of the Prime Minister. He chairs several important Ministerial Committees appointed by the Cabinet to spearhead major developmental projects. He has held, in the past, vital portfolios of Energy, Finance, Trade and Industry among others.
Dr Saith has made an enduring contribution to the political life of Trinidad and Tobago. Elected chairman of the People's National Movement in 1987, he revitalized the party. The party has been in Government since 2001.
Dr Saith is a strong advocate of strengthening relations with India. He has made several visits to India in his official capacity and has been instrumental in encouraging Indian investment to Trinidad and Tobago.
It was only yesterday, ladies and gentlemen, Dr Saith received the prestigious Pravasi Samman Award from the President of India.
He is truly a worthy example for present and future generations.
---