Interview with logie Naidu

Deputy Mayor of Durban

"It is important to make a difference in the lives of the less privileged"

Deputy Mayor of Durban Logie Naidoo has been at the forefront of strengthening South Africa-India relations. A fourth generation PIO whose ancestors reached the shores of South Africa as indentured workers, Naidoo has come up the hard way. He has seen the despair of poverty in his younger times. But today, as deputy mayor of Durban and as chairman of its business and economic development programme, he is bringing in prosperity to this "Indian" town. For being at the forefront of public service, he was recognized for Community Leadership in the African Region at the INDIA EMPIRE NRI AWARDS Night on January 10 (see citation). He had earlier spoken to the magazine: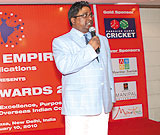 On public life…
The people of India have played a central role in South Africa. Today, we are at the centre stage in economic, legal and academic fields. It is important that we are seen everywhere, whether in the civil service, as politicians, in legislatures. We constitute just three per cent of the population, but there are several from the community who are ministers. It is important and we must be a part of the public process.

On the difference PIOs are making in South Africa…
It is important that we identify with the indigenous people of this country, work tirelessly towards alleviation of poverty and contributing to make a difference to those less privileged. It is important that we are not seen as just people who have come with skills to milk the economy. Indians are seen as South Africans first, and foremost.

On attracting businesses to South Africa…
Some big names have made an entry into South Africa. Apollo Tyres moved in after buying out Dunlop. Indian steel giant Tata Steel has started construction of a high-carbon ferrochrome plant in Richards Bay on the KwaZulu-Natal coast. Info-tech companies from India now have footprints in South Africa. They have developed software technology in the city of Durban. Revenue services, and collections are now more efficient thanks to state-of-the-art technology.