Indian workers abroad, particularly in the Middle East, constitute a major section of NRIs. The Emigration Act, 1983, provides the legislative framework for the regulation of emigration. The Ministry of Overseas Indian Affairs (MOIA) is working on a new Emigration Management Law that will make the process of emigration simple, transparent and efficient.

A comprehensive e-Governance project on emigration is being designed for the purpose. It will also help to establish appropriate linkages across stakeholders to prevent irregularities and malpractices. The e-Governance project has been undertaken with consultancy support from the National Institute for Smart Government (NISG), Hyderabad.

The project is aimed at achieving greater user convenience and effective protection and welfare of the emigrant. The subsidiary benefits would include greater levels of efficiency, transparency and accountability in the emigration system, facilitation of legal emigration and prevention of illegal emigration. The scheme is expected to automate emigration clearance, computerize registration of recruiting agents (RAs) and employers' permits, dispense with discretion, mitigate harassment of emigrants and remove corruption. It would also provide useful tools and data for policy analysis, information dissemination and speedy grievance redressal.
EMIGRANT LIFECYCLE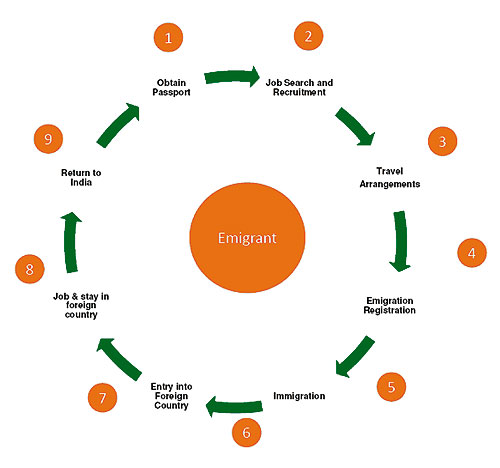 The comprehensive e-Governance scheme involves:
· Computerization of the functions of the offices of the Protector of Emigrants (POE) and the Protector General of Emigrants (PGE).
· Phased interlinking with recruiting agents, employers, immigration counters, Indian Missions abroad, insurance companies and state governments.

It envisages:
· Real-time capture and update of data.
· Quick access to reliable emigrant data.
· Customized management information system to support decision-making.
· Computerized management of recruiting agent system.
· Performance rating of recruiting agents and employers.
· Effective monitoring of emigration offences.
· Interlinking of stakeholders and online validation of information across stakeholders.

The project shall consider use of multiple service delivery channels based on their feasibility.

Project vision:
The vision statement driving this initiative is:
"To transform emigration into a simple, transparent, orderly and humane process"

Project objectives:
The objectives of the project are as follows:

1. Design and implement processes and applications that help emigration system achieve the project vision.
2. Bring changes in processes and technology which result in significant improvement in the overall experience of an emigrant worker by enhancing the quality of services available to such a worker.
3. Introduce systems that simplify different processes in the emigration cycle and improve their effectiveness.
4. Establish interfaces among key stakeholders that are easy to access and are interoperable.