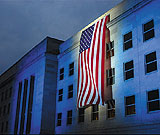 Terrorists pocketing millions of American dollars says report
The United States is indirectly paying tens of millions of dollars in protection money to Afghan terrorists, and potentially to the Taliban, to secure convoys carrying supplies to US troops in Afghanistan, congressional investigators said in a report.

The Pentagon's system of outsourcing to private companies the task of moving supplies in Afghanistan, and leaving it up to them to provide their own security, frees US troops to focus on counterinsurgency. But its unintended consequences undermine US efforts to curtail corruption and build an effective Afghan government, according to the report to be reviewed at a congressional hearing on Tuesday.

"This arrangement has fueled a vast protection racket run by a shadowy network of terrorists, strongmen, commanders, corrupt Afghan officials, and perhaps others," Representative John Tierney, chairman of a House of Representatives national security subcommittee, said in a statement. Tierney, a Democrat, said the system "runs afoul" of the Defence Department's own rules and may be undermining the US strategic effort in Afghanistan. The report by the subcommittee's Democratic staff called protection payments "a significant potential source of funding for the Taliban," citing numerous documents, incidents reports and emails that refer to attempts at Taliban extortion along the road.

Congressional investigators began looking into the Defense Department's $2.16 billion Host Nation Trucking (HNT) contract in November 2009. The contract covers 70 percent of the food, fuel, ammunition and other supply distributions to US troops in Afghanistan.

"HNT contractors and trucking subcontractors in Afghanistan pay tens of millions of dollars annually to local terrorists across Afghanistan in exchange for 'protection' for HNT supply convoys to support US troops," the report said. "The HNT contractors frequently referred to such payments as 'extortion,' 'bribes,' 'special security,' and/or 'protection payments,'" the document said.
---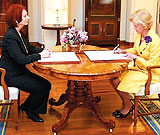 Oz gets first female PM, Rudd dumped
Julia Gillard had long been tipped as Australia's first woman prime minister, but the way it finally happened has shocked almost everyone.

Only last month she said she was more likely to become a football star than replace her boss. But in a brutally efficient move driven by bad opinion polls and the approach of a general election, the Labor party dumped Prime Minister Kevin Rudd for his 48-year-old deputy. On June 24, Gillard was sworn in.

At a news conference that capped one of the most abrupt transitions in Australia's often-bruising political history, Gillard said she accepted the job "with the greatest humility, resolve and enthusiasm." She immediately sought to refocus attention on the popular decisions of the government in which she served for the past 2 1/2 years, while distancing herself from mistakes attributed to Rudd. She sought to defuse a bitter dispute with mining companies over a proposed tax on profits.

"She's a good communicator and there's a warmth about Gillard that Rudd never had," said Norman Adjorensen, a political scientist at the Australian National University.
---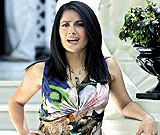 Hayek the ant eater
Hollywood star Salma Hayek said that she eats ants, worms and grasshoppers as she shared her odd tastes with US talk show host David Letterman. "These little ants fried are amazing - with a little guacamole...and the worms, there are many different recipes for those. The little grasshoppers have a smoky flavour to them. It's the way they cook them, and it's really good."