RECOGNITIONS

Liberty Bell Award for Parveen Chopra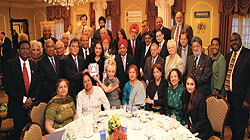 Chopra receives the prestigious Bell Award from Judge Susan Katz-Richman (sitting, 3rd from left)
The prestigious Liberty Bell Award has been conferred upon Parveen Chopra. The award honours an individual or organization whose community services help advance and strengthen the American system of freedom under law.
He is the first Asian-American to win the award. Chopra is a well-known American Civil and Human Rights leader. The award was presented by Supreme Court Justice Ira Warshawsky, chair of the Law Day 2010 Committee and Judge Susan Katz-Richman at the Nassau County Bar Association annual function. Among those present were over fifty of America's accomplished and acclaimed judges from the US courts (federal, Supreme, criminal, family, county, district). Several hundred representatives of law firms were also in attendance.
Justice Warshawsky said, "It is evident that your dedication to community service and championing of civil rights for so many groups make you the kind of person for whom such an award is intended." While accepting the Liberty Bell Award Dr. Parveen Chopra said that he was humbled and thankful to the Nassau County Bar Association Executive Committee and the many learned, well known and acclaimed Judges and experts of jurisprudence who were present there. He said, "Your prestigious award has its roots in the Declaration of Independence whose chief author was President Thomas Jefferson who on July 4, 1776 declared, 'We hold these truths to be self evident. That all men are created equal; that they are endowed by their Creator with certain inalienable rights; that among these are life, liberty and pursuit of happiness.' It was President Woodrow Wilson who said on July 4, 1914, at the beginning of World War I that 'Liberty does not consist in mere declarations of the rights of man. It consists in the translation of those declarations into definite actions.' It is you the honorable judges and police officers with the support of members of the bar that uphold the civil rights of a common man in America on a daily basis. It is because of this liberty, freedom of action, right to speech, right of assembly, right not to be discriminated based on age, sex, race, color, creed, marital status, national origin and disability as well as right to equality of opportunity that has made this nation of ours a magnet country in the world."

Sandhu bags prestigious science award
Sandhu (left) with Gary Workman, former chairman of the ANST Research Council
Jaswinder Singh Sandhu received the prestigious Research Award for Innovation 2010 from the American Society for Nondestructive Testing (ASNT) last month. He is the first Indian American to receive the award. The award was established to recognize highly distinguished individual breakthroughs in non-destructive testing (NDT) research. One such award is given each year, and only if there is an eligible candidate.
The ASNT's research council recognized Sandhu for his outstanding contribution and distinguished breakthrough in Acoustography. Sandhu's presentation was titled "Acoustography —Dawn of a New Era in Ultrasonic Inspection". Sandhu is the founder and president of Santec Systems, Inc with its world headquarters in Wheeling Illinois, and is best known for his pioneering work in developing acoustography, a novel ultrasound imaging method.
Commenting on the award, Rajinder Singh Mago, president of the Punjabi Cultural Society of Chicago, says, "It is a moment of great pride for our community that Sandhu has become the first Indian American to win this prestigious award. He is a solid role model and inspiration for generation next."

Entrepreneur Sen wins Global Green Award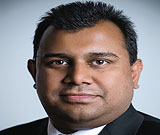 NRI entrepreneur Sourabh Sen has been awarded the prestigious Global Green Award in recognition of his leadership and success in promoting renewable energy solutions in emerging markets such as India.
Sen, co-chairman of the US-based renewable energy major Astonfield Renewables Inc, was presented the award at the World Trade Week in New York in May. "It makes me proud that Astonfield's first project allocations were awarded in West Bengal, which set the stage for our broader success across India," Sen said in a press statement.
The Global Green Award is an annual award that acknowledges exemplary leadership in promoting environmental sustainability and economic development around the globe. Astonfield was nominated for the award by the US Department of Commerce.
With a portfolio of nearly 1,000 MW of solar, biomass and waste-to-energy projects, Astonfield is the largest multi-modality renewable energy company in South Asia.

Anumulo gets America's highest civilian honour
Rao S. Anumolu, an Indian-American from Long Island in New York, has been conferred with the prestigious Ellis Island Medal of Honour—the highest civilian award in the US for immigrants—for his contribution in the development of his adopted country. Both the United States House of Representatives and Senate have officially recognized the Ellis Island Medals of Honour and the recipients are read into the Congressional Record.
Among the past medalists include six US Presidents, as well as Nobel Prize winners and leaders of industry, education, the arts, sports and government. CEO of Long Island (New York)-based ASR International Corporation, Anumolu received the prestigious award on May 8, at a ceremony held at Ellis Island in the presence of several dignitaries. The Medal recognizes recipients for outstanding contributions to their communities, to their nation and to the world.
Andhra Pradesh born Anumolu came to the US in 1969 and obtained a Masters degree in Industrial Engineering and also an MBA degree from the Illinois Institute of Technology, Chicago. He has attended several Advanced Management Programs at Defence Systems Management College, Harvard University and Wharton School of Business Management.
Recently he has graduated from the Owner/President Management Program (OPM) at Harvard Business School (HBS). In 2003, he was cited by the US Congress for the contributions made by him and ASR International Corporation towards homeland security in the USA. The cost—effective technology and systems deployed by ASR to protect the nation's airports, waterways, railroads and highways were specifically mentioned in the Congressional citation.

Rao gets recognized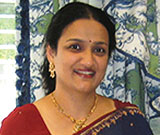 The Limca Book of Records has recognized Veena Rao as the first NRI woman to edit and publish a newspaper outside the India. NRI Pulse, a free publication in some of the southern US states, including Georgia, has taken on Rao on board because of her working experience in India. Rao, a diploma holder in journalism and communication from the Symbiosis Institute of Media and Communication in Pune, had done a stint with the Indian Express in the same city. Earlier during her days at Pune's Fergusson College she had been a contributor to magazines. It is during those days that her interest in journalism had come to the fore.
In an interview to the Indian Express, Rao has said that she felt there was a market for a news-oriented publication in southeast USA. "The market traditionally has been filled with feature magazines on the Indian community. Some of them have been doing a good job. But I felt Indian Americans were not represented strongly enough, and a newspaper could help fill in the gap." Quite rightly, she was on the pulse.

Ashook Ramsaran feted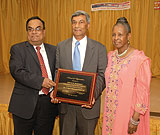 Indo-Guyanese born Ashook K. Ramsaran, a long time resident of New York, was the recipient of DC37 Asian Heritage Committee award at a gala ceremony held in New York on May 14 at the DC37 Headquarters in New York City. Currently serving as Executive Vice President of GOPIO International, Ashook K. Ramsaran was singled out for his outstanding services to the community and his numerous high profile accomplishments as a person of Indian origin in New York.
Ramsaran was one of 5 persons of Asian / Indian origin who were recognized for their respective contributions in service "to the Asian American community" as inscribed on the plaques of recognition. The others were: Fatima Shama (Commissioner, NYC Immigrant Affairs); Rana F. Chowdhury (Secretary, Bangladesh Society); P. T. Thomas (Rockland County CSEA); Suchot Paleewong (Thai Community Leader & Entrepreneur).
The awards were presented by Maf Misbah Uddin, Chairman, DC37 Asian Heritage Committee and by Lillian Roberts, Executive Director, DC37 Asian Heritage Committee. The mission of DC 37 Asian Heritage Committee states that "In recognition of the importance of Asian Pacific Americans within the work force and within the labor movement, the DC 37 Asian Heritage Committee works to unite union members, and to bring to their attention the needs and concerns of Asian Pacific American Workers".
In accepting the award, Ramsaran remarked that "it is indeed a privilege to be given such opportunity that New York provided to me and to all of us, and quite an honor to be recognized for community service that I consider very rewarding. It is a shared recognition among all of us who contribute time and effort towards making New York our home and a better place for all".

Lakhanpaul bags women's award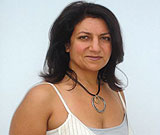 Monica Lakhanpaul, a consultant community paediatrician and senior lecturer at the University of Leicester has been honoured here at the Asian Women of Achievement Awards for 2010. The event brought together royalty, politicians, media professionals and sports personalities to mark the success and contribution of Asian women to Britain.
"I feel very humble to receive such a prestigious award which recognises the sacrifices my family and I have made to enable me to follow my passion of trying to improve the lives for children and young people. I have been very fortunate to have been surrounded by people who believed in me and what I can achieve. "I hope this award will show others that it is possible to overcome obstacles and follow your dreams," Lakhanpaul said after winning the Public Sector Award in the prestigious competition.

Businessman Gill to be honoured by Glasgow University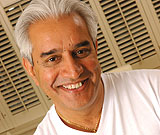 Charan Gill, who arrived in the UK in 1963, worked as a waiter in a restaurant and later went on to own a chain of restaurants in Glasgow, is set to be awarded an honorary doctorate by the University of Glasgow in June.
One of Scotland's best known entrepreneurs, Punjab- born Gill, will receive the degree in recognition of the contribution he has made to Glasgow, a university release said.
Charan came to Glasgow with his family in 1963 and worked in the Yarrow's shipbuilders yard before taking a job as a waiter. He then bought a share in the company in 1983 before acquiring it a year later. Charan then started acquiring restaurants and had a chain of 17 before selling them in 2005 for 17 million pounds to move into other projects including property development and investment.
Graham Caie, Clerk of Senate and Vice Principal of the University of Glasgow, said: "The University of Glasgow is delighted to recognise Charan for his contribution to the city. He reinforces the positive contribution that ethnic minorities have made to Glasgow's economy."
---
ACTIVISM

Passport U-Turn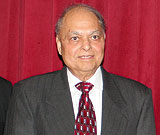 For the GOPIO international, some hectic online lobbying paid off, and fast. The lobbying started on May 23 after the Indian Government announced that it would retroactively enforce new rules and fees for surrender of Indian passports by naturalized citizens of other countries. Nearly 30,000 respondents from across the world filed petitions online, forcing the Indian Government to slash down the fees drastically, and amend the rules dramatically, within a matter of a week.
GOPIO Chairman Inder Singh said that he was overwhelmed by the response online from the global Indian community. "We believe that the massive levels of support made a tremendous difference to the outcome of our appeal, which eventually allowed retraction of the enforcement of the new rules."
The new notice posted on the website of the CGI New York and CGI San Francisco says, "In supersession of previous rules, Government of India has decided that PIOs who have already acquired foreign citizenship up until May 31, 2010 will not be required to pay renunciation fees of USD 175. He / she will be required to pay miscellaneous fees of USD 20 when getting the old Indian passport cancelled / surrendered."
On May 28, GOPIO International sent a letter to Prime Minister Manmohan Singh together with the first batch of over 19,000 signatures of people supporting the petition with requests to reconsider the retroactive enforcement of the new rules as many thousands of people could suffer undue and unnecessary hardship. Also Indians who have been naturalized for years should be given the same 90 days window to obtain "surrender certificates" as is being allowed to those Indians who become citizens of other countries now, without payment of fee or penalty. The letter further sought the reduction of service fee from $175 to a reasonable amount of $25 (USD) after the first 90 days.

---
CRIME AND PUNISHMENT

NRI thrashed in Punjab Government office
High drama was witnessed at the office of Director Public Instructions, Punjab, when an NRI and his brother were beaten up by an employee of the office in May. Gurtej Singh Jida (50), a citizen of the USA, along with his elder brother Darshan Singh Jida (60), had gone to the Sector-17 office of the DPI to get two-year leave sanctioned for his wife Amarjeet Kaur, who is a teacher at a government school in Bathinda.
They were reportedly thrashed by senior assistant Parminder Singh along with two other employees. Darshan Singh alleged that they had been trying to get the leave sanctioned for quite some time, and despite clearance from all the top officials, Parminder Singh was rejecting their case after raising objections randomly.

Indian jailed for faking racism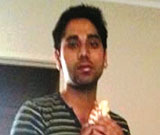 An Indian man, who claimed to be the victim of racial attack in Australia, was sentenced to eight-month in jail in May. He pleaded guilty to setting his car on fire to claim insurance.
Jaspreet Singh, 28, purchased a 15-litre can of petrol, poured it over his car, and set the vehicle alight on January 8. His motive was to claim $11,000 from insurance company, but in the process Singh sustained 30 percent burn injuries, requiring skin grafts and a one-month stay in the hospital, the Melbourne Magistrate's Court heard.
When questioned by police after the incident, Singh said he was randomly attacked by four racist Australian men—a story that would capture headlines and tap into community anxieties about racially motivated attacks on Indians.
Singh's false claim of racial attack came less than a week after 21-year-old Indian accounting graduate Nitin Garg was fatally stabbed outside a restaurant in Melbourne.
Monday, Singh pleaded guilty in the court to setting his Ford sedan alight for financial gain and to making a false report to police, The Australian reported. Escaping prison for his plea of guilty, Singh was sentenced to an eight-month jail term wholly suspended for two years.
Deputy Chief Magistrate Felicity Broughton said Singh acted with 'stupidity and superficiality and impacted both his family and his community.
"To have these difficulties, and to have you cynically feed into that—effectively racism—is a serious and cynical decision," Broughton said. "It was clearly a whole enterprise, a pre-meditated enterprise, that you entered into essentially for money."
Singh's lawyer, Paul McClure, said his client had moved to Australia in 2007 with his student wife on a spousal visa. The court heard that at the time of the incident, Singh was in "a dire financial situation", having made numerous attempts to increase his credit limit. Broughton said she was satisfied Singh was remorseful and had already experienced an "acceptable level of shame".

Australian gets jail term for attacking Indian taxi driver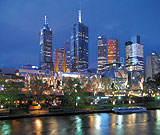 An Australian, who viciously assaulted an Indian taxi driver because he hated Indians, was on May 24 sentenced to a prison term by a court in Melbourne. The 23-year-old Indian victim was a student and part-time taxi driver. He suffered a fractured skull, nose and cheekbone in the attack early in the morning Feb 16 two years back, The Age reported.
The assailant, Murat Kilinc, 22, told a psychologist that he and his family hated Indians due to their apparent lack of concern for others. Witnesses first heard screams and cries and then spotted two people running away, prosecutor Jim Bessell told the County Court last week. Rachael Freeland, a psychologist, had stated that Kilinc's anger issues, alcohol abuse and hatred towards Indians may have contributed to the incident. But she added that while subconsciously Kilinc's offence may have been racially inspired, it was not consciously so. Judge Joe Gullaci said that he was not satisfied beyond reasonable doubt that the victim was attacked because he was Indian. Gullaci said he was also unable to be satisfied whether the attack was pre-planned. He ordered Kilinc to serve a minimum of 18 months.
The judge said that vulnerable people going about their normal business must be allowed to work without fear of being attacked and left unconscious in deserted back streets.

Student attacked at Flinders Station
Another Indian student was attacked in Australia in the third week of May. He was beaten on a platform at Flinders St station in Melbourne. A commuter in the darkened section of the station hit the Indian student around the head and upper body.
The Herald Sun quoted the student as saying that he was bashed after a man asked him "what are you looking at?" "I think he was drunk. He just said 'what are you looking at?' No one was nearby," the victim said. The student was found bleeding from several blows to the head and treated by paramedics for cuts and abrasions on platform 10 at Flinders.

Couple jailed in UK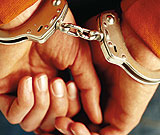 An Indian-origin couple who fled to India in 2001 after being arrested and questioned in a VAT scam worth nearly 700,000 pounds in 1998 and 1999, has been jailed after they returned to the UK recently. After profiting from the scam the couple upgraded their house, bought expensive cars and paid for expensive private schools for their children. Loughborough-based Rekha Parmar, 43, and her husband, Jiva Parmar, 43, have pleaded guilty for the fraud and have been banned from being company directors for 15 years. While Rekha has been jailed for three years and nine months, Jiva gets off with a slightly lesser term—three years and four months.
The scam described as "carousel fraud" is a complicated type of cross-border tax evasion that exploits loopholes within the European system. Countries such as Sweden do not levy the VAT and consignments are sold and resold between companies located in different countries to cause undue tax benefits.

---
APPOINTMENT

Khanna heads RBS' NRI wing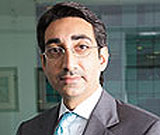 RBS Coutts, the international private banking arm of the Royal Bank of Scotland, has appointed Ranjit Khanna as market head for non-resident Indians (NRI) and South Asia, according to an announcement.
He will join in Singapore in June, tasked with driving the growth of the bank's NRI and South Asia business, and will report to Paul Davies, head of private banking for South Asia.
"We established the NRI business a decade ago; and over the years gained an in-depth understanding of the needs of our clients in this segment. That business has grown rapidly, and today the NRI and South Asian business is among the most established in the region," said Nick Pollard, Hong Kong-based chief executive officer at RBS Coutts Asia. "Ranjit will play an instrumental role in taking the business to the next level, reinforcing our leadership position in the NRI space in Asia."

Faleiro promises to take on illegal manpower agents
Complaints against illegal recruiting agents that have been gathering dust with the police department for years will be monitored by a high level committee, Goa's NRI Affairs Commissioner Eduardo Faleiro has said.
At a press conference in Panaji, Faleiro, a former union minister of state for external affairs, also said that an "emergency repatriation fund" was being set up to help people, who have been duped by such agents and are in distress in foreign countries.
"The committee headed by me will meet every two months to monitor progress in the complaints filed against such illegal recruiting agents," Faleiro said. "We at the NRI affairs cell receive many complaints about such agents every month. Many complaints are also filed by the police, but we do not know what happens. There are no convictions," Faleiro said.
The senior Congressman claimed that several semi-skilled labourers in Goa fall prey to such illegal recruiting agents, who promise jobs in the Middle East for a hefty fee. "But when the person reaches the destination country, he is either jobless or is given a job that is not of his choice or that pays a lot less than the one promised," Faleiro said.
The emergency repatriation fund will extend financial assistance in the most deserving cases of repatriation of Goan workers when they and their families are not in a position to meet the expenses. He indicated that a print and television media awareness campaign was also on the cards to warn job seekers about illegal recruiters.
Vice Admiral (retd) John C D'Silva, who heads the overseas employment agency that functions under the state Gvernment's NRI affairs cell, said that the department was also monitoring advertisements in newspaper released by fraudulent recruitment agents not registered with the Protector General of Emigrants. The Protector General of Emigrants is a central government agency which is the registering authority for overseas recruiters.
---
NOMINATED

Cameron nominates Popat to House of Lords
Dolar Amarshi Popat, who worked as a waiter after arrving in England from Uganda in 1971 and went on to a build a multi-million pound business empire, has been nominated by Prime Minister David Cameron to the House of Lords.
Popat has donated thousands of pounds to the Conservative party. He founded the TLC Group, which owns a string of hotels and care homes across Britain. Popat's name was included in the list of peerages confirmed by Queen Elizabeth on May 28. The list includes senior Labour leader John Prescott.
Born in Uganda, Popat, 55, was 17 years old when his family was forced to flee Idi Amin's regime. He arrived in England in 1971, with just 10 pounds in his pocket. Popat worked as a waiter at a Wimpy restaurant during the day to fund his business studies classes at night.
---
POLITICS

MIC turns the heat on Vellu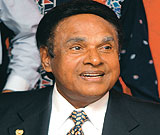 Even though senior leaders at the Malaysian Indian Congress have assured Prime Minister Najib Tun Razak that there is no major crisis within the party, not all is well. A group of dissidents have demanded that Vellu quit his post of president immediately to pave the way for reforms in the party, bring back confidence among people in the party, and help them recover from the embarrassing loss in the last general elections. Vellu has headed MIC since 1979.
Human Resource Minister and MIC vice-president S. Subramaniam assured Razak, who heads the ruling Barisan Nasional (BN) of which the MIC is a constituent, that the party "will emerge united, stronger and with greater energy to face the challenges ahead and to better serve the Indian community." Subramaniam issued a statement on May 24 after Razak and Deputy Prime Minister Muhyiddin Yassin expressed hope that the party would be able to resolve the problems triggered by the demand that party chief S. Samy Vellu bring forward his retirement. Subramaniam, has denied allegations that he was behind the latest call for Vellu to immediately step down.
Samy Vellu, who has headed the party since 1979 had last week announced that he would step down as party president "eight or nine months" before the expiry of his presidential term in May 2012. Senior party leaders, including MIC deputy president G. Palanivel, defended Vellu's retirement plan and urged the trio to respect his decision, Bernama, the official Malaysian news agency reported.
Pressure, meanwhile, is mounting on the legendary Vellu to quit. MIC deputy Youth leader V. Mugilan and MIC central working committee (CWC) members K.P. Samy and G. Kumar Aman have demanded that Vellu should quit immediately.
Mugilan has announced that a movement to overthrow Vellu will be launched on May 30. "We will explain to the people and conduct a signature campaign," The Star quoted Mugilan, as saying. "I have no personal agenda against Samy Vellu. My agenda is the poor Indians and MIC members who have been cheated." He added that the movement would exist as long as Samy held on to his office.
Earlier, the call for Vellu's resignation had further gained momentum with two high-ranking MIC leaders joining Mugilan in making a similar demand. MIC Central Working Committee (CWC) member K.P. Samy said Vellu had overstayed his tenure as party President and must leave for the MIC to recover from its current predicament. "We lost heavily in the last general election and have also lost the support of the community that we profess to represent. The MIC is in bad shape and to rejuvenate it, Samy Vellu has to leave," K.P. Samy said.

Antony meets Indian diaspora in Oman
Defence Minister A.K. Antony, on a two-day visit to Oman in May, said at a meeting with Indian expatriates that New Delhi was committed to consolidating bilateral ties with the Gulf nation. Shortly after his arrival in Muscat on May 17, Antony attended a dinner hosted for prominent members of Indian community by Indian ambassador Anil Wadhwa.
"India will expand its cooperation with Oman in all fields," Antony said, while addressing the Indian diaspora. "The bilateral relations between India and Oman are centuries old. We consolidate our relations on a regular basis while exploring newer avenues of mutual co-operation," he added.
Over 500,000 Indians, the largest expatriate community in Oman, are involved in a wide spectrum of professions in the Gulf country. Coming from all parts of India, they include skilled workers and technicians and professionals such as doctors, engineers, bankers, finance experts and senior management officers in the private sector.
Antony also called on Sultan of Oman Qaboos bin Said bin Thaimour Al Said who is also the supreme commander of the country's armed forces. He also held talks with his Omani counterpart Sayyid Badr bin Saud bin Harib Al Busaidi. They discussed ways to promote military cooperation between the two countries. This is the first high-level Indian delegation to visit Oman after Prime Minister Manmohan Singh's trip in 2008.

NRI tops polls after Palin endorsement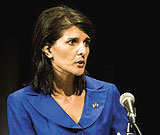 Days after being endorsed by Sarah Palin, Indian-American Nikki Haley surged ahead in polls for the Republican primary for the post of Governor of the US State of South Carolina. Haley, a poll on Thursday showed, had grabbed a double digit lead over her closest Republican rival while previous polls had shown her fourth in the field.
The 38-years-old Republican, born in Indian immigrants from Amritsar, led the poll conducted by Rasmussen Reports, with the backing of 30 per cent of the 900 South Carolina Republicans who were surveyed. After her were the State's Attorney General with 19 per cent and a sitting Congressman with 17 per cent. In an earlier poll in March, Haley was last in the four-person field with just 12 per cent support.
What changed was a ringing endorsement by Sarah Palin, who was John McCain running mate for the 2008 US Presidential elections and has since emerged as an iconic figure among American conservatives. During her endorsement speech last week, Palin described Haley as a "kindred spirit". Haley was born in Bamberg, South Carolina as Nimrata Randhawa, to a Sikh couple, Ajit and Raj Randhawa. She is married to Michael Haley and the couple has two children, Rena and Nalin.
---
BUSINESS

Steeling for the future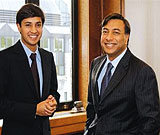 NRI billionaire Lakshmi Nivas Mittal who turns 60 this month cherishes a dream about his Wharton-educated son Aditya Mittal taking over the reins of Arcelor Mittal, the world's largest steel company spread across 60 countries. "I am very proud of Aditya. Whatever role he has got, he is doing it very well... clearly he has been groomed to be the leader in the company in the future," the CEO and Chairman of the US$ 65 billion Luxembourg-headquartered company said about his son, while speaking to an Indian news agency. Mittal said that the final decision about his successor would be taken up by the company board.
"We don't know. The board has to decide this," he said, when asked about the timing of pitch-forking his 34-year-old son into the limelight. Aditya, ArcelorMittal's CFO and a economics graduate from Wharton School at U-Penn in the USA, played a crucial role in its US$ 32 billion merger deal with Arcelor in 2006. He is also part of the group management board that is responsible for strategic decisions.
"Today he is doing a great job... He is responsible for the strategy, finance, M&As, all American business for the flat (steel) products. He is very well accepted, admired and respected in the organisation," the proud father said. Senior Mittal, born at Sadulpur village of Churu district in Rajasthan, founded Mittal Steel Company in 1976 and guided its strategic development, culminating in the US$ 32 billion takeover of Europe's leading steel-maker Arcelor.
Together, they are one of the most powerful father-son duos on the global business stage.

Vedanta buys out Anglo American
NRI billionaire Anil Agarwal-promoted Vedanta Resources plc has acquired the zinc assets of the USD 670 million global mining firm Anglo American plc for USD 1.34 billion (around Rs 6,030 crore). The all-cash deal, which will make Vedanta Resources plc the world's largest zinc producer, will increase its zinc and lead production capacity by 37%, from 1,064 ktpa to 1,462 ktpa.
The deal, being funded through Vedanta's USD 7.2 billion cash pile, will give it a 11% share of the global zinc market, increasing its total reserves and resources by 76%. "These high quality assets complement Vedanta's existing portfolio, creating the largest zinc and lead producer in the world," said Agarwal, Vedanta's chairman.
Vedanta will also buy Anglo American's other assets, including the Skorpion mine in Namibia, the Lisheen mine in Ireland and a 74% stake in Black Mountain Mining in South Africa. Vedanta intends to undertake the acquisition through its group company, Hindustan Zinc Ltd (HZL).

The Ravi Bajaj saree collection
Designer Ravi Bajaj launched his women's wear boutique at the DLF Emporio Mall in May. "The NRI footfalls are higher here, so it makes sense to launch a store here," said the designer, whose other stand-alone outlets are at N block market, Greater Kailash I. The DLF store carries a specialised line of couture sarees from his spring-summer 2010 collection. "I personally prefer my designs in black and white, with very limited sequin work," said Bajaj. The 50 odd sarees showcased here, ranging from Rs 40,000 and above, are embellished with Swarovski crystals, pearls and beads.
---
SAFETY

TANA Launches Campaign for NRI Safety
The Telugu Association of North America (TANA) has launched a massive public safety awareness campaign among the community members living in US, especially among the youths and students, in view of a series of murders and road accidents during the last one year. In the last year and a half as many as 30 deaths of Telugu people have been reported from various parts of the country, says the statistics compiled by TANA.
This includes 14 deaths in eight separate automobile accidents (two in May), five murders (three of them apparently by a family member), two suicides and two train accidents. In addition a fire accident destroyed the possessions of 17 students. "Today, TANA is launching a safety awareness campaign to prevent future incidents. A TANA Team is planning to visit various cities and universities in USA and Canada to conduct safety seminars for the NRIs, especially for the students and the youth," the organization said in a press statement.
Volunteers of TANA Emergency Assistance and Management Team (TEAM Square) that was formed in October 2008 and now has 200 members have prepared brochures in Telugu and English with guidelines for safety. "An ounce of prevention is worth a pound of cure," TANA president Jayaram Komati said.
"TANA will prominently promote the safety related information in our web site and through the media. We plan to distribute thousands of these brochures both in print and electronic mediums and make them widely available in US and India," he said.
Mohan Nannapaneni, secretary and Prasad Thotakura, executive vice-president, mentioned that TANA is also working with various insurance companies to make health, accident and life insurance available at low rates to Telugus, particularly students.
---
ENTERTAINMENT

Caminho das Indias in Kazakhstan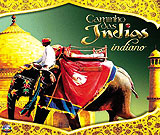 "Passage to India", a Brazilian-Indian soap that has successfully brought India into the living rooms of a large numbers of Brazilian homes for close to a year now, debuted in May on the premier Kazakh entertainment TV Channel 31.
The soap, or novella, as it is called in Brazil, is titled "Caminho das Indias" in Portuguese. It is a 50:50 mix between India and Brazil with beautiful Brazilian girls falling head over heels in love with Indians and vice-versa, leading to complicated love triangles and hilarious situations in the two countries.
The roles are performed by popular Brazilian stars, with the story being recounted in Portuguese and with a liberal sprinkling of colloquial Hindi phrases. The Indian embassy in capital Astana worked with Channel 31 to bring the serial to Kazakhstan. It will be telecast on prime time every working day in Russian and rebroadcast the next morning in the Kazakh language.
Speaking at the inaugural launch ceremony, Indian Ambassador Ashok Sajjanhar said the decision by a commercial channel to bring the soap to Kazakhstan was evidence of the growing and vibrant relations between the two countries. Referring to the keen interest amongst the people of Kazakhstan in Indian dance, music, culture, films, food, customs and traditions, he recalled the grand gala concerts organised by the Embassy in Almaty and Astana in November 2009 which were so popular that hundreds of viewers had to go back disappointed as they were not able to get admission to the auditorium. The embassy will continue to organise and bring new programmes to showcase both classical and mainstream contemporary Indian culture to the people of Kazakhstan, Sajjanhar added. He said that although several instances and portrayals in the soap might be cliched, stereotyped or somewhat inaccurate, they will go a significant way in raising curiosity and interest of the people of Kazakhstan to know more about developments and evolution of the Indian society.
Sajjanhar said that the embassy would shortly establish an India-Kazakhstan Cultural and Humanitarian Forum to promote greater understanding and appreciation of each other's heritage and legacy between the peoples of the two countries. The budget of the soap has exceeded $50 million. It has run successfully in Brazil for about a year and is now all set to take over the minds and thoughts of people in Kazakhstan.
The soap has been filmed in Rio de Janeiro and Dubai, as well as in Jaipur and Mumbai and won an Emmy Award in 2009. "The telecast of this serial will go a significant way in further promoting understanding and cooperation and strengthening relations between India and Kazakhstan," an embassy statement said.
---
GLOBAL SOCIAL RESPONSIBILITY

Sulabh Sauchalaya goes global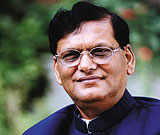 The low-cost Indian toilet system, popularly known as Sulabh Sauchalaya, will now be taken to 50 developing countries in Africa, Asia, Latin America and the Middle East regions. The movement's founder, Bindeshwar Pathak, announced his organisation's plans in a keynote address at the four day at World Environment and Water Resources Congress at Providence in Rhode Island in May. Addressing civil engineers and technical experts at the Congress, Pathak appealed to technical experts to join hands with his organization to achieve United Nations' Millennium Development Goal relating to sanitation and hygiene. Pathak and his team have developed an indigenous two-pit toilet technology that is not only cost-effective but can also be used in producing biogas. Recycling and reuse of human excreta for biogas generation is an important way to get rid of health hazards.
Sulabh would construct public toilets in developing countries to popularise the Indian toilet system to ensure proper sanitation, he said. The Indian NGO has already played a key role in construction of public toilets in several countries including Afghanistan, South Africa, China, Bhutan, Nepal, Laos, Ethiopia and 10 other countries of Africa.
---
SPIRITUALITY

Radha Mitchell to explore Hinduism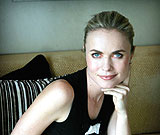 Hollywood actress Radha Mitchell of Silent Hill fame, who experiences a feeling of home in India, participated in recent Kumbh Mela. Born in Melbourne as Radha Rani Amber Indigo Anunda Mitchell, she reportedly had a spiritually inclined upbringing in Hindu-Vaishnavite tradition by her parents, and is a vegetarian and practices yoga. Her Italian model mother reportedly became infatuated with India in the early 1970s.
Mitchell's next film project will explore India's spirituality. She undertook a road trip of India when she was about 19. Her Australian film "The Waiting City" was shot in India in the recent past. Hindu statesman Rajan Zed has welcomed Mitchell's interest in spirituality of India. He has urged Mitchell to seriously study the rich philosophical thought and spirituality which Hinduism offered so that her depiction of Hinduism was authentic. If Mitchell needed any assistance in her exploration of Hinduism, he or other Hindu scholars would be glad to share their knowledge, Zed, who is president of Universal Society of Hinduism, said in a statement.