Delhi Chief Minister, Mrs Sheila Dikshit knows that her Government will deliver for the Commonwealth Games 2010. "Yes we can" is the motivating motto that is driving all projects.
One of the target areas for showcasing Delhi as a world class city is the roads. All out efforts are on to provide a fresh and modern look. The target areas of improvement are:
1. Road signages.
2. Street Scaping.
3. Street Lighting.
4. Bus Q Shelters.

ROAD SIGNAGES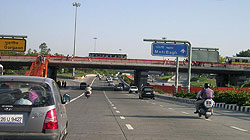 The most visible face of change is the Road Signages. No efforts have been spared in providing an international feel to these signages. The Public Works Department (PWD) of the Delhi Government has covered 410 km of the city roads at a cost of Rs 71.50 crore. All signages will be in place by the end of July.
The New Delhi Municipal Council (NDMC) too is revamping road signages at a cost of Rs 70 crore. All major roads that fall within the limits of this civic body, including those in the Lutyen's Bungalow Zone and the Delhi Imperial Zone will sport improved and modern road signages.
STREET SCAPING
As part of its obligations under the Host City Agreement, Delhi Government has undertaken comprehensive street scaping works on all roads around the Games venues. The project, once again, is being coordinated by the PWD and involves aesthetic development of roads and street furnishings with a range of utilities. It includes beautification of the area around the venues, and installation of several items of street furniture such as information kiosks, public toilets, PCO booths, garbage bins and bus Q shelters. Street scaping works also include provision of landscaping on available space, environmental works and pedestrian facilities. All these will bring in aesthetically improved looks. The estimated cost of this project is Rs 400 crore.
STREET LIGHTING
This is one of the major areas of attention. The Delhi Government has planned to change the street lighting by adopting modern design and efficient energy technologies. The expenditure planned is as follows:
1. PWD: Rs 197 crore (424 lane km).
2. NDMC: Rs 100 crore (150 lane km).
3. MCD: Rs 387 crore (960 lane km).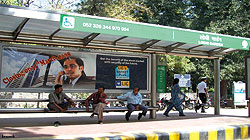 MODERN BUS Q SHELTERS
The Delhi Government is upgrading all Bus Q Shelters (BQSs) under the Private Public Partnership mode. The NDMC has completed and commissioned all 197 BQSs under its control. The modernization of another 1,425 BQS is underway. Of these, 250 BQSs have been completed by the Delhi Transport Corporation. All BQSs will be ready before the Commonwealth Games in October 2010.