CRIME AND PUNISHMENT

ICICI Bank Manager cheats NRI for Rs 33 lakh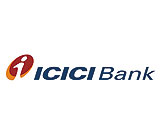 An assistant manager of ICICI Bank in Bhayander (West) in Mumbai has been arrested for cheating an NRI of Rs 33 lakh. The victim identified as Ajay Singh (44), a civil contractor based in Dubai, owns a house at the New Raviraj Complex in Bhayander (E). Singh met the assistant manager of ICICI Bank, Uttam Singh, 34, through an agent. The bank official convinced the NRI to invest in ICICI's Prudential insurance policies for NRIs. In January 2007, Singh bought a Rs 21 lakh policy and paid Rs 7 lakh each year as premium, for a period of three years.
Singh issued the first premium by cheque to Uttam and received photocopies, and not the original. More policies were purchased. "In all, Ajay Singh paid Rs 33 lakh to the accused, all in the name of ICICI Prudential Insurance," assistant police inspector Sudhir Kudalkar said. Meanwhile, the NRI kept asking for the original documents, and exasperated by the negative outcome lodged a complaint. Uttam's residence was raided, and police found Rs 7.5 lakh in cash.
As per rules, the account or policy number needs to be mentioned when a cheque is issued in favour of ICICI Prudential Insurance. This, however, was not done. Uttam, in turn, would deposit the cheques in an account held by a person called Shailendra Singh. "He has to pay Rs 35.50 lakh, including the interest on the principal amount," the police say.
---

Canada's fraud immigration dossier in Punjab soon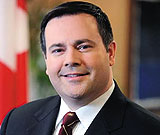 Canada will soon send a dossier on some of the worst fraudsters operating out of Punjab to the state government in order to curb immigration fraud, including fake NRI marriages, according to Immigration Minister Jason Kenney.
The Canadian government is also holding discussions with the Indo-Canadian community to bring in tougher measures to stop marriages of convenience by Canada-based NRIs.
Kenney, who has just returned from India after meeting federal and Punjab leaders, said Indian authorities have promised to co-operate with Canada.
The Canadian minister, who also met with Minister for Overseas Indian Affairs Vayalar Ravi, Minister of State for External Affairs Preneet Kaur, and Punjab Chief Minister Parkash Singh, said his trip was aimed at discussing these issues with them ahead of proposed legislative steps by India to address the problem.
"My message to the federal minister was that their citizens are being exploited by the industry of counterfeiters and bogus immigration consultants. We are taking steps from the Canadian side to deal with it and we will appreciate if India would bring in more forceful legal tools to address the problem,"' Kenney said.
"Badal, on his part, promised quick action on a couple of actors in Punjab who we know are the worst—there is one guy who we estimate took $250,000 from students to submit really bad applications filled with counterfeit documents. He would have known that these will be rejected by us. But he didn't care because he got his money from the students," Kenney pointed out.
He said, "We are putting together a dossier on this guy and will give it the Punjab police to basically test the commitment of the state government to get serious about cracking down on the problem." As for fake marriages, he said Canada was holding consultations with its Indo-Canadian community to "hear from them what steps they think we should take to crack down on marriages on convenience or fraudulent marriages."
But on the Indian side, he said, "This (fraud marriages) is part of the immigration fraud where you see people offering large amounts of money to get their son or daughter married in Canada. It is not a bona fide marriage, but a commercial transaction."
Highlighting the magnitude of the problem, Kenney said, "We are seeing some terrible cases where Canadian men will go to India for a few weeks to take what they call a summer bride and then leave her without actually sponsoring her."
---

NRI teacher copulates with students
British police filed a case against an Indian female teacher for allegedly having sex with two students under the age of 18.
The 37-year-old NRI teacher, Hena Patel, was teaching at a boys' school in Britain and engaged in sexual activity with two teenage students. She was charged with two counts of abusing her position of trust. She was arrested earlier in April 2010 and bailed out until September. Patel has to appear before North Sefton magistrates on October 11, 2010.
According to British law it is a criminal offence for a person to engage in any sexual activity with a person aged under 18 with whom they have a relationship of trust. Government guidance also warns teachers that sexual relationships between staff and pupils will be regarded as a grave breach of trust.
---

Mumbai taxi union wants to get rid of rogue operators
Taxis can leece easily in Mumbai
The airport taxi union has launched a drive against members of its own tribe—rogue drivers who fleece passengers using fake tariff cards. "This has become a major nuisance and the victims are mainly foreign nationals. We want to throw out these notorious drivers from international and domestic airports,'' said union leader Irshad Ali, who blames the police for allowing rogue drivers to flourish in the first place.
What's worrying is that the fake tariff cards look very much like the real McCoy. There are four to five different cards, and each is used depending on the passenger. An NRI, for instance, will be shown a fare chart where the tariff is hiked by 40-50%. For Indian tourists arriving at the domestic airport, the fake tariff card will reflect a 25% increase in fares. International tourists are taken for a jolly and expensive ride.
"If it is a foreign national, the driver will first try to win his / her confidence by speaking in broken English. He will then insist that the passenger pay in dollars. An international tourist recently ended up paying more than Rs 1,000 for a commute to Colaba,'' said Ali.
Mumbai Taximen's Union leader A L Quadros, said: "Passengers should avoid falling prey to touts and unscrupulous drivers. The best solution is to opt for prepaid taxis; there are counters at the airport. Even if it means standing in a long queue, it is still a safer option.'' According to Quadros, there are rarely any complaints against drivers plying on the prepaid system. It's not uncommon, however, for drivers to demand hefty tips especially from foreigners.
"We need to discipline drivers who think they can make a quick buck at the cost of tarnishing Mumbai's image world over,'' said Ali.
---

NRI jailed for stealing UK nursing home cash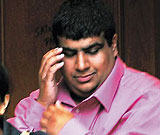 An Indian-origin care worker who abused his position in a nursing home to steal over 50,000 pounds from three old and infirm inmates has been jailed for 18 months.
Jaspal Sandhar, 25, stole the money from elderly residents to finance his cocaine habit and posh lifestyle that included splurging on expensive cars, buying designer clothes and gambling in casinos. His three victims lived at The Willows Nursing Home in Salford, which is owned by one of Sandhar's relatives, reports from Manchester said.
One victim was a 90-year-old woman who has since died, and the others were a 67-year-old woman and a man aged 57, both of whom have medical conditions.
Sandhar admitted three counts of fraud by false representation between October 28 and April this year. At the Salford magistrates' court, he was sentenced to 18 months in jail. He obtained 14,209 pounds from the account of the now deceased Marjorie Thorpe as well as 17,278 pounds from the account of Paula Nelson and 18,724 pounds from Brian Roy.
Sandhar's job at the nursing home included driving to the Post Office to withdraw money from the three residents' accounts. Councillor John Warmis-ham, Salford council's lead member for adult social care, called Sandhar's crimes despicable. He said: "If anyone has suspicions about the welfare of an elderly person they must report them. This man has preyed on some of the most vulnerable people and I am pleased the magistrates have seen fit to give him a substantial custodial sentence".
---

New Yorks pleads guilty in NRI burglaries case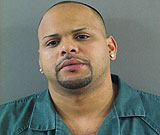 Dagoberto Soto-Ramirez
A New Yorker has pleaded guilty before a US court for conspiring to steal at least USD 500,000 worth of gold and other valuables, mostly from the homes of India-Americans living in Northern Virginia and transporting them to New York.
Dagoberto Soto-Ramirez, 27, of New York, who was indicted on July 15, by a federal grand jury for conspiracy, now faces a maximum penalty of five years in prison when he is sentenced on December 3.
According to court records, from January to November 2009, Soto-Ramirez and at least two others—his wife, Melinda Marie Soto, 34, and Francisco Gray, 40, both from New York—agreed to travel to Northern Virginia to burglarise residences belonging to Indian-Americans, whom they believed kept large amounts of gold in their homes.
In his guilty plea before a Virginia court, Soto-Ramirez admitted that he helped locate names and residences of potential victims, posed as a service man when approaching target residences, and would break into the home if no one answered to search the residence for gold, jewellery, computers, and other property.
Soto-Ramirez admitted in court today that he and his conspirators burglarised 37 residences in Fairfax and Loudoun Counties during 2009, stealing property worth more than USD 500,000. They then transported that property to New York, where they sold it. Soto pleaded guilty to conspiracy on September 17. Gray remains a fugitive at large. The Indian-American community of the area has expressed satisfaction over the progress of the court case.
---

"Buddy are you Indian?"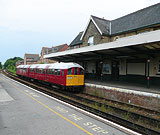 After a long lull in the racial attacks in Victoria, a 21-year-old man was reportedly bashed and bruised after being asked if he was an Indian.
According to a local newspaper Dandenong Leader, police said the man was walking to Sandown Park rail station about 6.40 a.m. when four teenage males on bikes approached him, three with baseball bats. One asked him "Buddy, are you Indian?" police official Jo Hayden said the man was hit from behind, fell and was kicked while lying on the ground.
Two passers-by took the man home, she said. He was bruised and had a large cut on his nose. He told police his attackers looked about 15-16 years old. Federation of Indian Association of Victoria (FIAV) president Vasan Srinivasan said he was surprised about the attack which took place in eastern suburb which is considered to be multicultural. "My only request to youngsters is, let's learn to respect each other, live with harmony and peace. What else we can say?", Srinivasan was quoted as saying by the paper.
The newspaper quoted Hayden as saying that another Indian was attacked last Tuesday night, but refused to comment if it was racially motivated. The 39-year-old was walking home about 6pm along Moncur Ave in Springvale. Police said he was punched to the ground from behind and kicked while on the ground. Police said there were witnesses, but no clear description of the attacker. Since 2006, the Indian population of Greater Dandenong has risen by 1200, with 3 per cent of Greater Dandenong residents from India.
---
BANKING

HC sets aside Rs 2 lakh penalty imposed on Standard Chartered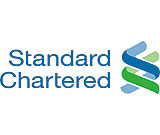 The Delhi High has set aside a fine of Rs 2 lakh imposed on Standard Chartered Bank by Enforcement Directorate for accepting deposit in NRI account through a person other than the account holder eighteen years ago.
While setting aside the order, Justice S N Dhingra said that law regarding whether a person other than the account holder was allowed to deposit in an NRI account was not clear at the time of the alleged offence in 1992-93. "I consider that the Show Cause Notice and the consequent adjudication proceedings were not tenable and the liability of the bank to insist that only NRI should appear in person to make the deposits was not clear. This liability was clarified to the bank only in 1995 i.e. after impugned transaction," the court said.
The decision of the court came on a petition filed by Standard Chartered Bank challenging the order of the foreign exchange tribunal which has upheld the decision of the adjudicating authority.
Adjudicating authority, after holding bank guilty of violating Foreign Exchange Regulation Act by accepting deposit in NRI account through a person other than account holder, imposed a fine of Rs 2 lakh. Standard Chartered Bank had accepted the deposit in NRI account from a person other than the account holder in 1992-93. The circular for not accepting deposit in such account came in 1995. In 2002 after serving a notice, adjudicating authority slapped a fine of Rs 2 lakh, which was upheld by the tribunal. Against this order bank had approached the high court.
---

ICICI Bank wins several awards at World Finance Awards 2010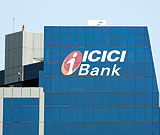 ICICI Bank Ltd was awarded the Excellence in NRI services – Worldwide, Excellence in Remittance Business – Worldwide and Excellence in Private Banking Business – Asia Pacific Region at the World Finance Awards, UK, 2010.
ICICI Bank has won the Private Banking and NRI services awards consecutively for three years and the Remittance Business award for the second year in a row. A spokesperson for the bank said, "we are privileged to receive the World Finance Awards which recognize the best teams across countries. The Bank has always been at the forefront of customer-centric innovations and services. The Excellence Awards in NRI Services and Remittance on a worldwide basis and Private Banking in the APAC region bear testament to our commitment to provide relevant solutions to our customers."
The World Finance Awards are a part of the World Finance Magazine, a leading financial publication from the UK. World Finance Awards are presented post detailed evaluation that the magazine conducts among various banks across the globe. The criteria for the selection of winners include business numbers, customer service, back office capabilities, delivery systems etc. These awards also recognize the institution for introducing innovative services and solutions during the year.
---

Dhanlaxmi targets Rs 1,000 crore NRI deposit base by end of FY 2011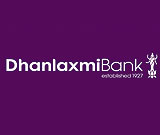 The Kerala-based Dhanlaxmi Bank is on a drive to ramp up its NRI (Non-resident Indian) deposit base and has devised some plans to more than double this business to Rs 1,000 crore by the end of this fiscal.
"We plan to take our NRI deposit base to around Rs 1,000 crore from the present Rs 400 crore by the end of FY11," Dhanlaxmi Bank Branch Banking & NRI Business Head Salil Datar said.
The lender's NRI deposit base was around 5 per cent last fiscal, and this year it wants to take this to around 10 per cent of the overall deposit base by mainly focussing on its core market of Kerala. Currently, it gets almost 95 per cent of its NRI business from the Gulf markets, he said.
India is the largest recipient of foreign remittances in the world with a whopping USD 47.9 billion flowing in as of March 2010. During the first quarter of this fiscal, the overall NRI deposit book touched USD 48.21 billion, while it stood at USD 41.55 billion in remittance as of March 2009, which had grown to USD 44.58 billion in first quarter of last fiscal.
Attributing this fall to the RBI move of reducing the FCNR interest rate, Datar said, to attract more customers, the bank has increased its deposit rates for NRIs to 8 per cent recently and that has been received well. He further said the bank is also planning to offer portfolio investment services (PIS) to NRIs.
---

Corporation Bank plans to increase business share in NRI segment
Mangalore-based Corporation Bank will make a strong bid to increase its share of business in Karnataka from the present 20% to 70%. Also on the anvil is the aggressive expansion of branches all over the country, at the rate of 200 per year, till 2015.
Ramnath Pradeep, the new chairman and MD of the bank told the Media that he'd give a pep talk to his officers about getting aggressive in marketing to capture market share. The Mangalore-headquartered bank has a very large presence in the state, especially the district. It is looking to increase its share of the retail, construction, housing and NRI businesses. "We also want Government funding to various schemes also to flow through this bank," he said.
Pointing out that the bank is being considered as a private bank in public sector, Pradeep said he would use his tenure to achieve excellence. "We have young blood. We need to excel and any training needed to achieve this will be given to the staff," he added.
---
BOOKS

US based NRI paints reality of life in foreign shores in his book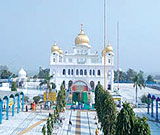 Fatehgarh Sahib Gurudwara
For Ajaypal Singh Bath the West did not hold out the promise. When he set off for the USA in 1986, then aged 20, after graduating from his native Fatehgarh Sahib in Punjab, Bath was expecting to see green pastures. He could sing, and he could pen poetry, so he believed that he would flourish in the land of opportunities. Things, however, turned out to be far different. He had to slog at odd jobs for 16 to 18 hours a day to make a living, as the going was tough. There were no funders. His hands became steely from the hard labour.
But he got a break, for which he is ever grateful. He presently owns a series of motels and hotels and employs over 300 people and lives in California with his family. The love for poetry has not been lost. His book in Punjabi called Yaadan Di Barsi was recently released at a function organized by the local literary sabha at Sirhind in Punjab. Among those present were some well known writers in the state. The book captures his journey and his search for a deeper meaning in life.
---
COOK SCHOOL

NRI scribe launches cook school for kids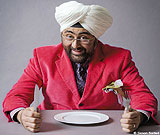 Hardeep Singh Kohli
This is going to be a cooking school with a difference. Journalist and ranconteur Hardeep Singh Kohli plans to run sessions at his new Cook School for Kids in south Glasgow starting October. The Indian origin celebrity broadcaster who was runner-up in Celebrity Masterchef intends to teach children all about food and nutrition. "Food is central to my life and work and as a father myself I know all too well what fussy eaters kids can be," he says, adding, "but I also know the fun kids can have when allowed to get messy in the kitchen and the tremendous sense of achievement they get when something they've made comes out of the oven and tastes delicious." New cook off the block, shall we say?
---
SPIRITUALITY

Printing of Guru Granth Sahib to take place outside Indian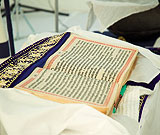 Guru Granth Sahib
Sikhs living in Western countries will no longer have to wait for the supply of the Guru Granth Sahib, as the Shiromani Gurdwara Parbandhak Committee (SGPC) has given its nod to the printing of the holy text in the US and Canada.
The SGPC, known as the mini-parliament of Sikhs with an annual budget of nearly Rs.500 crore (Rs. 5,000 million), has the exclusive and legal rights for publication of the Granth Sahib worldwide. It has now decided to allow its publication, along with other Gurmat literature, (philosophy of the Gurus) abroad.
The move is likely to come as a major relief for NRI Sikhs across the world who had to depend on the supply of the holy book from the SGPC's Golden Press at the Golden Temple complex here. The holy book is currently printed only in Amritsar.
Sikhs residing in California, the US, have already offered an eight-acre plot of land for setting up a printing press for publication of the holy book there. In Washington DC, Sikh residents have offered a piece of land in the vicinity of the White House.
"The SGPC had been getting requests for a long time from Sikhs settled abroad for allowing publication of the Guru Granth Sahib there. The decision to allow that has been taken. Talks are on for setting up printing presses there," SGPC secretary Dalmegh Singh has said.
The SGPC is preparing a project report for the exercise to allow printing of the holy book abroad. Trained SGPC personnel will be sent to the countries where the new printing presses are set up to train Sikhs there for publication of the holy book as per the Sikh religious code. The SGPC used to send the holy book to Sikhs residing abroad by air or sea. In certain instances, affluent Sikh NRIs had even sent chartered aircraft from other countries to get copies of the Granth Sahib. On each such flight, the holy scripture is kept separately on each seat of the aircraft after following the religious 'maryada' (decorum). SGPC-appointed sewadars (volunteers) accompany the scriptures on such flights. At times, Sikhs residing abroad had to wait for a long period to get their copy of the book due to limited publication as well as transportation hassles.
The clearance for publication of the holy book in other countries, subject to strict adherence to the 'Reyat Maryada' (Sikh religious code of conduct), has been given by the SGPC. 'We were open to the idea of allowing the printing of the holy scripture in other countries if the Sikh population in these countries could provide the land and resources required for proper printing,' SGPC president Avtar Singh Makkar said. The 1,430-page Granth Sahib contains Gurbani (Guru's teachings). It is seen by the Sikhs as the Guru incarnate.
The holy scripture was originally installed at the Harmandar Sahib (popularly known as the Golden Temple) in 1604 by the fifth Guru Arjan Dev. The 10th Sikh Guru, Gobind Singh, had installed the Granth Sahib as the timeless Guru. The Guru Granth Sahib is a sort of living Guru for Sikhs.
The Granth Sahib, also called Adi Granth, contains the compositions of the first five Gurus, the ninth Guru, 15 Bhagats (Jai Dev, Nam Dev, Trilochan, Parmanand, Sadna, Ramanand, Beni, Dhanna, Pipa, Sain, Kabir, Ravidas, Farid, Surday and Bhikhan) and 11 Bhattas (Mathra, Jalap, Harbans, Talya, Salya, Bhal, Kulh Sahar, Nal, Kirat, Gayand and Sadrang). The Guru Granth Sahib contains 5,894 hymns in 15,575 stanzas. Of these, 974 hymns are written by the first Guru Nanak Dev, 62 by the second Guru Angad Dev, 907 by the third Guru Amar Das, 679 by the fourth Guru Ram Dass (founder of Harmandar Sahib), 2,218 by the fifth Guru Arjan Dev, and 115 by the ninth Guru Tegh Bahadur. Among the remaining 922 hymns of Bhagats, the highest number of hymns - 541 - is by Kabir.
---

Hindus praise Pope for highlighting Family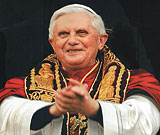 Pope Benedict XVI
Hindus have praised His Holiness Pope Benedict XVI for his message pointing to the need of spending more time together with families.
In a letter released on September 24 at Vatican City for the Seventh World Meeting of Families 2012 to be held at Milan, Italy from May 30 to June 2 on the theme "The Family: Work and Rest", Pope reportedly said: "In our own time, unfortunately, the organisation of work, which is planned and implemented as a function of market competition and maximising profit, and the concept of rest as a time for evasion and consumption, contribute to the break-up of families and communities, and to the spread of an individualistic lifestyle".
Hindu statesman Rajan Zed, in a statement in Nevada (USA) today, said that consumerism had led to the neglect of spiritual and family values.
---
ROOTS AND CULTURE

AKKA sets up USD 2 million fund

The Kannadiga diaspora in the USA is showing the way to insulate their children from the American culture and strengthen cultural bonds with their home state back in India.
Setting an example to other Indian diasporas abroad, the Associations of Kannada Kootas of America (AKKA), have for the first time signed a pact with the United Land Bank (ULB) for setting up a $2 million fund. This fund will support activities to strengthen cultural bonds of the Kannadiga diaspora with their mother land, and also facilitate Kannadigas seeking to head back to Karnataka. The pact was signed on September 3 during AKKA's sixth conference held in New Jersey.
The ULB will play the role of a facilitator for expatriate Kannadigas to settle down in Karnataka and set up new ventures as part of the state government's plan to attract Rs10,000 crore investment from NRI Kannadigas in the next five years. The fund, with a lion's share from ULB, will also finance Kannada classes in places with large concentration of Kannadiga families in USA, Canada and UK.
"Most Kannadigas in US feel the need to insulate their children from the influence of American culture and ensure that they retain their roots. The expanding opportunities in Karnataka inspired AKKA towards this plan," chairman of AKKA Amaranath Gowda told DNA. "We will have cultural programmes showcasing Karnataka's rich tradition like Yakshagana, Veeragase, Dollu Kunitha and folk dances. All leading artistes will be contacted to enable their troupes to visit USA, Canada and UK to perform," says chairman of ULB, S Pradeep Kumar.
An expert committee of artistes and litterateurs would be constituted soon to empanel the best artistes in various disciplines. They would be invited to perform in various cities of USA, Canada and UK at frequent intervals. The initiative will not only help the expatriate Kannadigas to strengthen the roots of their children, but would also benefit the artistes, says Gowda.
---
DIAMONDS ARE NOT FOR EVER

NRI who collects slices from history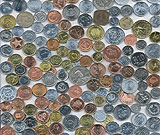 Dubai-based businessman Ram Tolani has claimed to have invested USD 1 million in collection of coins and currency notes in a span of a year. Every coin is a throwback into history.
For example, there is always something intriguing in being able to hold an artefact that could have traded hands in an Indian street bazaar during the time of Shah Jahan, the Mughal emperor. Or, it could have been carried in the pocket of a settler who arrived in the Jordanian port city of Aqaba in the early days of industry. It is this imaginative storyline accompanying a coin that fascinates Tolani.
"Coin collecting has been my childhood dream, but then whenever I had the time, I didn't have the money, and when I had the money, I didn't have the time," said Tolani.
In the past one year Tolani has collected more than 250,000 coins and 60,000 currency notes. "I have invested so much of myself into this hobby that it is more than just a pastime — it's my passion," he added. "I have collected more in a year than most collectors do in decades."
"Two years ago, during my daughter's wedding, I had a stroke and had to give up my work which was my passion. Not being able to do anything made me miserable," Tolani said. That was when his son advised him to pursue his childhood hobby — coin collection. And since, Tolani has seen a sharp improvement in his health. "My passion for coin collection cured me. The benefit of such an engaging hobby is evident in my story."
Tolani has converted the conference room in his BurJuman office into an exhibition area to accommodate his extensive collection preserved in custom-made coin cases. "The oldest coin I own is one struck by emperor Jahangir of his empress Noor Jahan from the Mughal era," Tolani said. "My favourite collection remains the Australian diamond wedding anniversary coins of Queen Elizabeth and Prince Phillip," he confessed.
---
Profile: Sudipta Chattopadhyay
BENGAL'S MELODY IN OHIO
"I feel like painting the song in the air with the tune"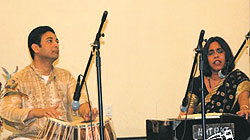 Sudipta Chattopadhyay (right)

Sudipta Chattopadhyay, a current resident of Cleveland, Ohio, is a doctorate in chemical engineering and a scientist by profession. On top of all these she is a passionate aficionado of Indian music. Sudipta is a professional, versatile singer, actress, reciter, creative writer, anchor, and music teacher. Her passion for music has taken her all over the world as an invited singer-performer-anchor. She took her lessons in Indian classical music, Rabindra Sangeet and Nazrulgeeti from several maestros, including Tripti Mukherjee, Swastika Mukhopadhyay, Sumitra Sen, Bani Ghosh of Dakshini, Prabhas Ghosh, Sukumar Mitra and Pundit Ajoy Chakraborty at various stages of her life, since when she was four.

She spoke to Washington Bangla Radio recently:

On her childhood…
I was born in the late 1970s in Asansol in West Bengal. My maternal grandfather had a humongous abode in that town near Raha Lane. My mom gave birth at around 3 o'clock in the early morning on February. Next day my mom found me frozen, my body temperature had dropped. In the evening the doctors realized that the nurse on duty had fed me two sleeping pills instead of giving it to my mother. That good start to my life has encouraged me to sleep as much as possible.

About her parents and close family members…
My childhood was spent with paternal grandmother, my parents, my uncle-aunt, and my cousins—who were over 20 years older than me. My father Mr Swadhin Chatterji was a professor of chemistry and spent his life teaching thousands of students, before he retired in 2008. I believe it is because of his strong principles that I've got a very good foundation in life. He has been actively involved in recitation, acting and directing Bengali dramas since his younger day. My beloved mother Mrs Laxmisree, a homemaker, has been greatly influenced by him. I learnt the seven notes of Indian music—SaReGaMaPaDaNi—from her. I do not have siblings, hence I was the apple of everyone's eyes.

About her Mother initiating her into the world of music…
Yes, when I was three years old, my Mother noticed that I could easily sing a song that I'd heard. My father took over and taught me the basics of music. That's where it all started.

About her current family…
It revolves around me and my beloved husband Subhendu Goswami. He is a portfolio manager by profession, and is extremely passionate about Indian music of any kind. His colossal encouragement helps me to keep my passion for music alive.

About her tutors…
My tutor in my younger days was Prabhas Ghosh of Bishnupur Gharana. Simultaneously
I started learning Rabindrasangeet from Swastika Mukhopadhyay. As soon as I graduated from school, I was trained on Najrulgeeti and light classical music from Pandit Sukumar Mitra, Rabindrasangeet from Sumitra Sen and Bani Ghosh of Dakshini. During my eight years in the USA, I've taken lessons from Pta. Tripti Mukherjee of Pandit Jasraj School of Music, and have been very fortunate to receive a novel training on classical music by Pandit Ajoy Chakrabarty. This long story talks about my wide range of musical talims, which nurtured my inner sense to connect with the environment.

On what she tries to convey through her songs and music…
I love to sing, and whenever I sing I feel like painting the song in the air with the tune. My mind floats in the air, and I feel very spiritual then.
Antagonism and power are taking over mankind, which requires to be stopped by any means to make a peaceful world. I imagine an ideal world which will be full of joy and peace, and that is possible to achieve through music.

Her advice to young singers…
Learn properly, practise and then sing. Regular practicing is indispensable to become a true performer, irrespective of the cultural wing that the person wants to be involved in.
---