TRINIDAD PM IN NYC ON AUGUST 15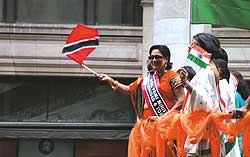 Bissessar of Indian origin meets up with the Indian community in NYC on August 15 and waves the TnT flag
The Prime Minister of Trinidad and Tobago Kamla Persad-Bissessar was in New York on her inaugural visit following her victory at the Parliamentary polls earlier this year.

The purpose of her NYC visit was to reach out to the people of her community and letting them know that positive change is coming to Trinidad and Tobago and she will ensure that occurs over the next five years.

Over the last decade the Caribbean nation has witnessed an upsurge of violent crimes, human trafficking, tourist kidnappings and drug trafficking.

On August 15, 2010 Bissessar was the guest of honour standing alongside Indian actress Preity Zinta at the Indian independence day parade at Madison Avenue, New York City.

For Trinidad and Tobago, this honour bestowed on Bissessar sheds some positive light on the twin island republic since India is one of the fastest growing nations for industry, trade and technology. As an ambassador for her country, this honour could possibly open the gates to stronger bilateral ties between the twin-island nation and the eastern giant.

The year 2010 marks the 30th anniversary for one of the largest public gatherings outside of India celebrating the India's independence from British rule.
---
Bissessar meets with GOPIO's Ramsaran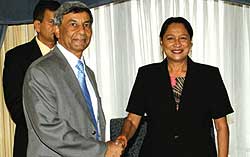 Ramsaran and Bissessar are forging a powerful partnership between diaspora and India
Prime Minister Kamla Persad-Bissessar met up with the Global Organization of People of Indian Origin (GOPIO) during her visit to NYC, even as she continued to ingore the media. Her trip cost TT$ 380,000.

Surrounded by secret service agents she arrived at the Marriott Marquis Hotel in New York City for a meeting with Ashook Ramsaran, executive vice president of the GOPIO. This diaspora body aims to pool resources, both financial and professional, for the benefit of PIOs (People of Indian Origin) in the countries they come from, and from India.

The meeting between Bissessar and Ramsaran was held on August 16, a day after she marched in the Indian independence day parade in Manhattan. On August 15 she had meetings with diaspora groups that were clearly ethnically divided. Bissessar, however, declined to grant interviews to the media. Clearly upset at being blacked out, she was slammed in a popular Caribbean radio show in New York for her refusal to grant media interviews during her inaugural visit as head of state to the Big Apple.

WWRL 1600 AM's Caribbean Corner hosts Rennie Bishop and Felicia Persaud along with regular contributor Tony Best criticized the head of state for wasting a major opportunity by her refusal to speak to the media. They said given the historic election of Bissessar to the post, it was mind boggling that she would make a 10-day visit to the media capital of the world but refuse to speak to the media.