Ah! Memories....what does an overseas Indian do with all the memories collected over many years, so precious, so emotional, so wonderful and so useful to the next generations? The new generations are so involved in their daily grind and struggle that they have no time to sit down with the wise old grandfathers and grandmothers and listen to the heart rending stories. These inspiring tales of migration to new lands, the massive hurdles faced and surmounted and the personal successes and achievements are the foundation on which their lives stand high today. When the old timers pass away, most of these memories vanish for ever from their family history.
Kept in old shoe boxes in the attic, the early family photos get yellowish and fade away over time. The albums gather dust and dirt and when looking for something else in a hurry, they come up only to be thrown away in the dustbin. As middle age creeps on the new generation, and they also have no one to share their memories with, they become sentimental and dig up the old family albums and recall 'the good old days' as they flip through the yellow photos.

A LEGACY VOLUME
One successful businessman, Dev Raj Sirpal, decided to preserve his long struggle to settle in Birmingham and bring up a large family that today has his children, grand children, great grand children and great great grandchildren. Sirpal arrived in Birmingham in the mid-1950s with just a few Sterling pounds in his pocket and went on to set up a major garment and textile manufacturing units and bought many properties. All this struggle and success is presented to international publishing standards in the 'legacy volume' entitled 'Eternal Memories of Dev Raj Sirpal' by a noted journalist and editor, Kul Bhushan. This volume contains the family history, the historic moments of his life and rare photos of his parents and his life over eight decades. It has become a valuable record for seven generations. It is a 'visual' book with a family tree, time line, memories of major family events and lots of photos.
The full colour, hard bound volume was launched at a grand dinner party on his 82nd birthday with over 150 of his family members and friends. Dressed in a pink turban ,a long Nehru jacket with a gold chain and pocket watch, Sirpal looked every inch a maharaja.
The Indian Consul General in Birmingham Jordana Pavel, and Birmingham Councillor Alan Rudge, Cabinet Member for Equalities and Human Resources of Birmingham City Council, jointly launched this unique book about the challenges faced by Sirpal. The launch was conducted by a well-known UK broadcaster and poet, Chaman Lal Chaman and attended by the author of the book, who especially came from India for this event at Mirage Banqueting Suites, Birmingham.
| | |
| --- | --- |
| | Bhangra time for Sirpal as he joins his admiring family on the dance floor to the lusty tunes of Punjabi folk music. Despite his 80 years, he drives his Mercedes to his office every day and takes part in phone-in programmes making valuable comments and telling jokes and Urdu poetry |
SAGA OF SUCCESS
Pavel said that when Sirpal came to Birmingham, it was a different time – both for India and the UK and his hard work and persistence were the basis of his success. Councillor Rudge said that family, faith and friends were the foundation of our society and Sirpal had shown plenty of evidence of his commitment to all three as over 150 family members and friends were present to congratulate him and his faith in his religion was well founded.
Kul Bhushan, said the theme of the book is 'Those who forget the past have no future'. Thus, the book presented the saga of Sirpal as a challenge to his future generations to excel his achievements. Not only a treasured family heirloom, 'Eternal Memories' will provide first hand information for researchers on migration. Sirpal presented a copy to the main guests and each member of his family while the cameras clicked for more happy memories.
Recording over eight decades of his momentous career, this 'legacy volume' gives the saga of his travel from a small village in Punjab to Birmingham in the 1950s, his struggles to establish a leading textile manufacturing unit and his contributions to his family, community and spirituality. Four generations of the Sirpal family attended the glittering launch and lavish banquet with his friends and local dignitaries who were regaled by a popular recording artiste, Shaheen Khan. After the speeches, came the music and bhangra that went on well past midnight. More than his wealth, Sirpal has created a priceless legacy of his eternal memories that many other overseas Indians would envy.

—A bureau report
---
NEW RELEASES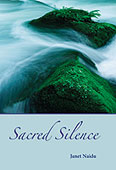 Sacred Silence
Author Janet Naidu

Sacred Silence is Janet Naidu's third collection of poetry. This collection traces past and present in one's journey, exploring the mysteries of love, despair and endurance, attachment and departure, longing and fulfillment. In spite of life's baffling moments, the presence of peace and healing dwell at the core of one's being, bringing new reflections and a wisdom in our connection with the world.
High praise for the book comes from Ramabai Espient, poet, educator and author of The Swinging Bridge who reflects thus: ""Deeply meditative, full of sorrow, reflection and hope, these poems echo the sounds of Guyana's sonorous past – rivers and creeks, riot, thunder and bloodshed, the perils of the backdam. Memory deepens the wounds and refuge is found only in solitude and a sacred silence. This collection is a thoughtful and bittersweet dilemma – the past continually blotting out the present – and a notable contribution to the evolving literature of The Americas."
Vibert C Cambridge, chair of the department of African American Studies at the Ohio University puts it equally vibrantly: "This collection is choral. The poems ride on the grand waterways of her heritage. These poems are situated within the scent of the rainforest of Guyana and the delicate snows of Canada, permeated with the flavours of Janet Naidu's homeland. Naidu sensitively engages her multiple consciousness to examine universal themes. Sacred Silence is the artful juxtaposition of past and present to create new futures. It blossoms again and again."
Born in Covent Garden, East Bank Demerara, south of the Guyanese capital, Georgetown, author and poet, Janet Naidu immigrated to Canada in 1975.
---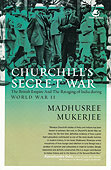 CHURCHILL'S SECRET WAR
Author Madhusree Mukerjee
Publisher: Tranquebar

Journalist Madhusree Mukerjee reveals that at the same time that Winston Churchill brilliantly opposed the barbarism of the Nazis, he governed India with a fierce resolve to crush its freedom movement and displayed a profound contempt for native lives. A series of Churchill's decisions between 1940 and 1944 directly and inevitably led to the deaths of some three million Indians. The streets of eastern Indian cities were lined with corpses, yet instead of sending emergency food shipments, Churchill used the wheat and ships at his disposal to build stockpiles for feeding postwar Britain.
Historian Ramachandra Guha says, "Winston Churchill's dislike of India and Indians has been known to scholars. But now, in Churchill's Secret War, we have, for the first time, definitive evidence of how a great man's prejudices contributed to one of the most deadly famines in modern history. In her book, Madhusree Mukerjee writes evocatively of how hunger and rebellion in rural Bengal was a product of cynicism and callousness in imperial London. Deeply researched and skillfully constructed, this is a major contribution to Indian history and to the history of the Second World War."