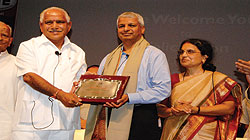 Technology is his middle name, but philanthropic urges run through this man's heart. Gururaj "Desh" Deshpande is the co-founder and chairman of the iconic Sycamore Networks, Inc. A dedicated communitarian, he is an influential technology entrepreneur whose companies and ideas have often reshaped industries and mindsets.

Sycamore has brought about a paradigm shift in the role and architecture of the optical network – transforming a once static optical infrastructure into an intelligent and dynamic network foundation for the delivery of new services. Sycamore's equipment currently carry voice and dta traffic on the networks of the world's largest service providers.

MISSION
Dr. Deshpande is widely respected for his contributions to education and community work. The Deshpande Foundation is the family Foundation of Gururaj and Jaishree Deshpande. Founded in 1996, the Deshpande Foundation is a leading philanthropic body in the United States and India, working to promote innovation, entrepreneurship and socio-economic development.

Through its grants, the Foundation seeks to foster innovative companies and helps NGOs to develop a global presence. The Foundation also forges alliances with some of the "most remarkable change agenst in the world today". The Foundation also seeks to engage with "a transformational idea and passionate leader" (who) comes along with the potential to drastically change the world".

Central to its philosophy of venture philanthropy is the idea of helping the organization build capacity, replicate and scale up oerations and find the right partners for proper growth. The Foundation, therefore, provides multi-year funding to the grantee organization, often takes a seat on its Board of Directors, and works closely with the organization's leadership to achieve their goals.

Dr. Deshpande's philanthropic projects include:

Akshaya Patra Foundation: Akshaya Patra is the world's largest NGO-run school lunch programme, addressing two of the India's most pressing social problems: hunger and access to education. Its activities include:

i. Providing school lunches to over 814,000 children in the states of Karnataka, Gujarat, Orrisa, Uttar Pradesh and Rajasthan through the centralized kitchen model

ii. Implementing a rural school lunch model in tribal areas of Rajasthan with smaller kitchens adjacent to schools, and employing local women to cook meals

iii. Enhancing value by:

a. Inviting pregnant and nursing mothers to receive meals in certain areas to improve prenatal health in mothers and reduce infant mortality

b. Exploring environmentally-friendly solutions such as rain-harvesting, and carrying out impact assessments for the school meals programme.

Public Health Foundation of India (PHFI): The PHFI seeks to address the limitations of institutional capacity and bolster training, research and policy development in the area of public health. PHFI has fostered an integrative approach to public health, focusing on conditions specific to India and developing preventive and therapeutic services.

The Deshpande Center for Social Entrepreneurship (DCSE): The DCSE encourages "social entrepreneurship by hosting, supporting and guiding dynamic individuals dedicated to generating innovative, scalable ideas, specifically in the Hubli-Dharwad region". Aspiring social entrepreneurs, both in the private and non-profit sectors, are encouraged to develop pilot projects and build the critical mass necessary to bring about positive change.

Recognition
In March 2003, the Massachusetts Telecommunications Council (MTC) honoured Dr. Deshpande, by inducting him into its 'Telecom Hall of Fame'. Dr. Deshpande was chosen for his "distinguished history of achievement and contribution to the telecommunications industry and the Commonwealth of Massachusetts". Numerous business and industry publications in both the U.S. and India have conferred awards on Dr. Deshpande. Dr. Deshpande is frequently invited to deliver keynote addresses at business, technology, education and government conferences.

Contact:
Deshpande Center for Technological Innovation
Massachusetts Institute of Technology
77 Massachusetts Avenue,
Room 1-229 Cambridge,
MA 02139
Telephone: 617-253-0943
E-mail: deshpandecenter@mit.edu

—This piece has been taken from the book, The Idea of Giving, published by the India Development Foundation of Overseas Indians.