About The City
Bhopal City was founded by Raja Bhoj in 11th century and is also considered "Heart of India" because of its geographical location. Besides being the capital of the state of Madhya Pradesh it is also known as the city of lakes. The two lakes dominate the city. Bhopal possesses a distinct feature of being a happy blend of scenic beauty and historicity, aptly coated with modern urban planning. Due to the famous heritage monuments in close vicinity of Bhopal, it has great potential of tourism especially since it also forms part of the tourist triangular circuit of Sanchi, National Park and Khajuraho. The city, therefore, attracts both domestic and international tourists in big chunks. Bhopal today presents a multi-faceted profile—the old city with fine old mosques, historical and market places still bears the aristocratic imprints of its former rulers.

The new city is a happening place and equally impressive with beautiful parks, gardens, broad avenues and modern facilities. It is one of major hubs for education. India's Bharat Heavy Electricals Ltd (BHEL) and other large industrial corporations are located at Bhopal. Various cultural, poetic, artistic events are regularly organized in the city which has the world's second largest Jama Masjid, Bharat Bhawan (unique national institute and centre for performing and visual art), Indira Gandhi Rashtriya Manav Sangrahalaya, State Museum, Van Vihar, Regional Science Centre, Islam Nagar. The Upper and Lower lakes are few attractive points for tourists.

About the Airport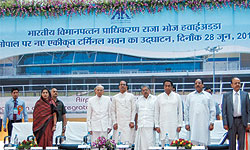 Bhopal airport is named after King Raja Bhoj and thus, popularly, known as Raja Bhoj Airport. Upholding the well-established traditions set by AAI to preserve the local heritage, the new terminal building has been designed on the patterns of waves of a lake which undoubtedly is an unique design. The airport is spread over an area of 1013 acres and its main runway 12/30 is 2744 x 45 m. The runway is suitable for landing of B 747- 400 series aircraft. It has an apron of size 518 x 141.5 m with 13 parking bays which can accommodate 1 Code E, 6 Code AB-321 and 6 Code C – ATR types of Aircraft.
Features and Facilities of New Terminal Building
AAI having witnessed the exponential growth in civil aviation has carried out an in-depth analytical study of the available infrastructure vis-a-vis the need of infrastructure to meet the anticipated growth. The study has drawn up plans for expansion and modernization of around 60 airports across the length and breath of the country which includes Bhopal as well. As regards infrastructure at Bhopal airport is concerned, it was a foregone conclusion that it would fall well short of not only the requirements but also the expectations of the air travelling populace which consisted of a big chunk of tourists—both international and domestic. To accord total compatibility to the airport, so as to make it commensurate with the changing times the basket containing assorted package of plans for Bhopal airport included development works, such as strengthening and extension of runway and construction of new apron and a new integrated terminal building.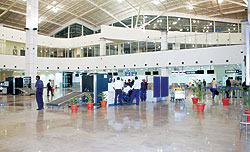 The new integrated terminal building is a glass and steel structure with an area of 26,936.00 sq mtrs and the concept meeting all world-class norms based on the latest state of the art, user-friendly facilities and amenities. The integrated terminal building is capable of handling a capacity of 700 passengers which is inclusive of 200 international passengers. The terminal has 14 check-in counters, 10 immigration counters and 4 customs counters. There are two baggage conveyer belts for the domestic terminal and one for the international terminal. 7 lifts of 16 passengers capacity and 4 escalators of capacity of 9,000 persons/hour are installed in the terminal building based on latest technology.
Adequate numbers of LCD of different sizes have been installed, both within and outside the terminal building for displaying flight information for the convenience of the passengers. To be precise there are 27 of 40" and 13 of 46" size LCD monitors with10 line 2 no's. and 2 line 3 no's LCD monitor. Fixed and PTZ cameras are installed inside and outside the building for continuous monitoring by the CISF personnel's. PA system of BOSCH-make with matrix controller complying with international standards has been installed in the building for passenger's facilitation. Multi-channel amplifiers with digital call stations, programmable active line array loud speakers, column and ceiling mounted loud speakers are installed for better announcement.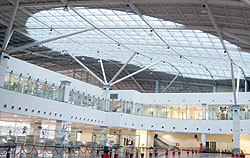 In line compatible departure conveyor system with the check in counters and 3 Nos. arrival conveyors with microprocessor based control panel consisting of PLC unit are installed in the terminal building. These conveyors conform to international standards, and work with less noise.
Entire building has been covered with intelligent addressable smoke/heat/beam detectors and all detectors are connected to fire alarm control panel. Internal fire hydrants, external fire hydrants and sprinklers systems are provided in the terminal building for fire fighting.
A year round HVAC system is installed for various identified areas for summer and Monsoon cooling and Winter Heating.
CNS Equipments
Raja Bhoj airport is equipped with modern Voice Communication System (VCS), Advanced VHF Txs/Rxs, a Digital Airport Terminal Information System(DATIS), Remote Control Air to Ground (RCAG) with Nagpur, a Dedicated Satellite Communication Network (DSCN), Digital Voice Tape Recorders (DVTR) and a Remote Work Station (RWS) system for Aeronautical Fixed Tele communication Network (AFTN) messaging. Very stable modern Instrument Landing System (ILS) – CAT 1, Doppler VHF Omni Range (DVOR), High Power Distance measuring Equipments (HPDMDE), modern LPDME, Outer marker, Outer Locator (OL) are navigational aids utilized at Bhopal for safe/smooth air traffic flow and control. Recently modern Mono Pulse Secondary Radar (MSSR) system has been installed at airport, which will assist the air traffic controller to co-ordinate for better and regulated air traffic control with the neighbouring / adjacent controllers at Nagpur/Mumbai/Delhi especially at a radius of 250 NM from Bhopal. This system / arrangement is bound to get manifested in better and safe reduced separation between aircraft which in turn will result in national saving of a resource of enormous importance i.e. avgas, aviation fuel. Modernization of ATS automation is in process.