IN QUEST FOR FREEDOM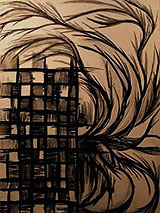 Charcoal on canvas
Anjali Sinha's latest exhibition—An Epilogue and we start again—took place at the India Habitat Centre on January 19 and 20. With no formal training in art, Anjali has been constantly experimenting with her style for over a decade. Her mediums are oil, acrylic and charcoal which she uses on paper and canvas. The theme for our January exhibition takes a look at the beginning of a journey into a new chapter, following the epilogue of the last.

The journey is into the lives of humans and their relationships to their spaces. The research has been developed across jungles with a difference, on one hand the urban concrete jungles and on the other, the green, pastured ones. It takes a look at the structured urban human, and the more free-willed tribal human. One hankers for the progression through power and acquisitions, but also lives with greed, expectations, limitless wants and strained human emotions. The other struggles to get a basic roof, and yet remains uncomplicated and free, and expectations that are low.

Anjali Sinha currently lives in Delhi, but as she likes to put it, her soul travels the world. Having spent her early years in Africa, Europe and India, she believes that art indeed more than anything else must be global.
---