The Meaning Of Pravasi For Me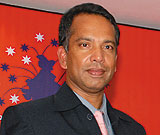 A meeting of businessmen, of wealthy men, tycoons or even wheeler-dealers. A powerful Indo-Indian lobby. Hindustani is the only language spoken. I must confess that those clichés have also crossed my mind. And yet, after a full and deep association with the Pravasi Bharatiya Divas, one realizes that there is more to it than that. The Pravâsi also depends on us. In short, the Pravâsi will be what the overseas Indians will make of it. I am candid enough to believe that there is still room for the French speakers who are not only willing to trade, but who are also interested in the cultural and humanistic links that the PIO, the People of Indian Origin, can create with Bhârat, the Indian land
By Jean Regis Ramsamy
A great turmoil always precedes the Pravasi Bharatiya Divas, also known as PBD. It does not mean that the organization needs to be improved; the spirit of the event in itself blows a wind of restlessness a couple of hours before the festivities start in New Delhi. A meeting of 1500 representatives, talking in three or four different languages, bears no resemblance with a local general meeting. It is all the more so as each representative needs to get a badge bearing their own name. It is often done the day before or very early in the morning, in a great agitation. At the break of day, the VIP district of New Delhi is under tight security. Vigyan Bhavan, the prestigious place where the ceremony is held, becomes a no man's land, a place where the comings and goings of the pedestrians are under close supervision.

The notables of the Indian Republic are to show up any time soon. The soldiers throw their last cigarette butts. The temperature, on this month of January does not get above 18 degrees—too cold according to the taste of some Reunioneses. This morning, those who will not be careful enough, the latecomers, will have to remain outside of the main building. When Prime Minister Manmohan Singh starts his speech, the doors are locked. Nobody is allowed to come in or to walk out of this bunker.

At PBD, except for the hard core of organizers, nobody knows anyone else, the diaspora being so important. It is true that Facebook, Twitter or the official website of the Gopio helps the PIO and OCI (Overseas Citizen of India) to unite, but, most certainly, the 1500 representatives do not have enough time to get to know each other better. That is why Valayar Ravi, the Minister of Overseas Indian Affairs, advises participants not to only attend official meetings exclusively, as "living one's diaspora means visiting villages, meeting those who contribute to the construction of this country". Every year, the ministry and its collaborators offer to the representatives to discover some region in India, picked up among others on account of its dynamism. In 2010, more than 70 Reunioneses attended the Indian high mass, some for the very first time - they can be spotted as a shadow of anxiety passes over their face. In this human tide, people look the same, but they look strange. This particular man has come in traditional clothes, proudly wearing the colours of his region. The language he speaks, some Indian dialect, differs from hindi. Another man, Americanized, speaks loudly—after all, he is also in his country and does not hesitate to claim that he also comes from Utah, whereas his ancestors are from the Uttar... from Pradesh!

—The author is a very well known print and TV journalist in ReUnion Island. He received an INDIA EMPIRE NRI Award for being the Most Outstanding Overseas Indian in the male category in 2010 (the next part will appear in the March 2011 issue)