You could call him a man for all ­seasons. If you bump into him, chances are you'd want to be friends with him at the very first meeting. Little wonder that his eclectic circle of friends includes statesmen, diplomats, bureaucrats, industrialists and media persons across the globe. Indeed, with this uncanny ability to win friends and influence people, the Kerala-born Sunny Kulathakal has played a key role in making the Indian diaspora in the Gulf a tightly knit family. Considering that ­Indians abroad tend to proudly wear their ethnicities on their sleeves, that is no small achievement.
His exhaustive Gulf Who's Who, a directory of gulf business leaders and Indian expatriates, is a celebration of the great Indian success story in the Middle East as it is a tribute to his own desire to acknowledge the triumph of Indians living and working in the desert sheikdoms.
Those close to Kulathakal say even as a boy he exhibited leadership. In 1962, as a 17-year-old, Kulathakal wanted to host a reception for former Indian Prime Minister Indira Gandhi in Maramon, Kerala. But Mrs Gandhi was in the middle of a heated election campaign and the Congress candidate Raveendra Varma wouldn't allow it. The boy persisted and threatened to block the PM's motorcade all by himself—by standing in the middle of the road. Varma had to relent. Impressed by his teenage exuberance, C.M. Stephen, former Union Minister, who was in the entourage, introduced him to Mrs Gandhi.
Based in Bahrain, Kulathakal is the International Coordinator (Middle-East) of the Global Organization of People of Indian Origin (GOPIO). In that capacity, Kulathakal is actively involved in improving the lot of expatriates, and it is his firm conviction that India has to do more for the rehabilitation of Gulf returnees.
| | |
| --- | --- |
| | |
| Kulathakal is honoured by former Prime Minister I.K. Gujaral | With former Prime Minister Indira Gandhi and P.V. Narasimha Rao at the Dubai airport in 1981 |

Young and Restless
In his early teens, Kulathakal became associated with the All Kerala Balajana Sakhyam, a widely networked children's organization that focused on grooming future leaders in a secular environment. At 15, he was a member of its Central Working Committee and soon succeeded former Kerala Chief Minister Oommen Chandy as the president of the organization. While Balajana Sakhyam was seen as a stepping stone to a career in politics by many, Kulathakal had other ideas. Politics never appealed to him and he was always clear that he wanted to chart his own course.
After completing post-graduation in Economics from St Berchmans' College, Changanacherry, Kerala, Kulathakal joined the editorial team of a leading Malayalam daily. But the restless soul in him soon sought greener pastures. The penchant for social work took him to the YMCA where he had an eventful stint as Secretary. In 1969 he joined the United Theological College, Bangalore, as Director, Development Department, in charge of publicity and finance, and managing all its publications.

Eye-Opening Arabian Trip
Kulathakal reached the Arabian shores in 1977 on an assignment with the now defunct Illustrated Weekly of India. As it turned out, the trip was a life-changer for Kulathakal as he chose to stay back on completion of the assignment. His brief was to feature the living conditions of expatriate Indians in the region, and on that trail Kulathakal was exposed to the grim reality of the painful struggle of expatriates for sheer survival.
| | |
| --- | --- |
| | |
| Small talk with Indian Finance Minister Pranab Mukherjee | Interviewing Field Marshal K.M. Cariappa in Bangalore in the 1970s |
Though many Indian expatriates were occupying key positions in the Gulf, the general perception of Indian expatriates in those days was not an encouraging one—they were seen as ill-paid folk doing menial jobs.
Wondering how to change that perception, Kulathakal stumbled on the idea of networking the Indian diaspora, and thus was born the Gulf Who's Who Directory. There was no looking back for Kulathakal after that.
Battling tall odds, and in the absence of even telephone directories, Kulathakal put together the first Gulf Who's Who Directory in 1978, which was a collectors item and a comprehensive record of contacts in the Gulf. Says Kulathakal: "Our concept is to have a few individuals and companies from different areas of activities and interests. For getting additional information on a particular area or business, these individuals or companies can come forward and help others."
Kulathakal then launched Gulf Who's Who, Bahrain, which is more comprehensive, gives an overview of all businesses in Bahrain and gives in-depth coverage of who needs to be contacted in each organization. His plan is to have similar directories for each country in the Gulf region, and trusts his business model's relevance even in this electronic age.
Kulathakal isn't confined to just directories. His Malayalam works, World of Drugs and World of Fallen Women, were the result of painstaking research, and the former was inspired by his artist friend Peter Mark who had been a drug addict. He also has to his credit a biography of Martin Luther King, whose commitment to uplift the downtrodden was a source of inspiration for Kulathakal. His latest work, Kalpadukal (Footprints) comprises interviews published in various newspapers.
| | |
| --- | --- |
| | |
| Meeting with J.R.D Tata in Bombay in the 1990s | Presenting the Directory to Defence Minister A.K. Antony |
Bangalore Beckons
Kulathakal first came to Bangalore in 1967 for training at the YMCA. In 1984 when the Dubai sheikdon banned all English language publications he moved back to Bangalore, where he could provide his children with a good education. Kulathakal's all-consuming passion now is to render all possible help in the rehabilitation of Gulf returnees who have enriched the nation's coffers but are presently looking for sustenance. He tries his best to project Bangalore among Arabs as the right place for investment, travel, education and health tourism, and part of the proceeds from the Gulf Who's Who Directory is earmarked for scholarships for Arab students to study in Bangalore.
At heart a Central Travancore farmer, Kulathakal's latest dream project is to build a top class health resort on his 21 acre farm near Bangalore's international airport to cater to the needs of global health tourists.
| | |
| --- | --- |
| | With the Prime Minister of Bahrain |
But for the unflinching support from his wife Elizabeth and three children, Kulathakal would not have reached where he is today. Their Sunliz Publication is a perfect partnership, with Elizabeth coordinating and taking care of inputs while Kulathakal concentrates on editing and marketing the directory. His two sons Biju and Binu with wife Ranjani and children Maya and Pranav are well settled in the US, and daughter Bindu with husband Aditya Apu are in London. Spending time with children and grandchildren, the Kulathakals are prone to be ­globetrotters.
However, Kulathakal isn't complaining, as wanderlust engulfed him at a young age and he derives pleasure in exploring new realms—like Ulysses. Indeed, Kulathakal's voyage of true grit and perseverance reminds one of the last lines of Alfred Lord Tennyson's Ulysses:

"One equal temper of heroic hearts,
Made weak by time and fate, but strong in will
To strive, to seek, to find, and not to yield."

Like Ulysses, the unflappable Kulathakal's spirit constantly yearns for new experiences, sustained by a resolve to push ­forward relentlessly. It's reassuring to know that the Indian diaspora in the Gulf has a voice that is heard far and loud.

—Chandra Bose with Empire Bureau
ROLL CALL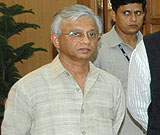 T K A Nair
The GOPIO has inducted top bureaucrat T K A Nair into its Honour Roll. Nair is presently principal secretary to Prime Minister Manmohan Singh, and is known to support diaspora causes. Including his present boss, Nair has served three Indian PMs in all. The other two are A.B. Vajpayee and I.K. Gujral. He was secretary to both the former PMs. He is a career bureaucrat who retired from the IAS in 1997. Prior to taking up his current assignment, Nair was chairman of the Public Enterprises Selection Board (PESB). Previous inductees to the honour roll include late President K R Narayanan, Gujral, the late L.M. Singhvi, former Fiji PM Mahendra Chaudhry (see article on Kolkata), former Trinidad and Tobago PM Basdeo Pandey, Lord Bhikhu Parekh, and Lord Navneet Dholakia. As a key functionary at the PMO, Nair has been regularly providing support to several new initiatives of the MOIA. He has also been interacting with GOPIO officials as well as other NRI / PIO groups.