Trumpets sound and curtains part, as gentlemen in tuxedos and women in gowns walk into the atrium of Washington, D.C.'s National Building Museum. A team of waiters escort 700 guests to sparkling tables set before a glowing, blue-lit stage. The room takes a collective, deep breath, ready for the start of the gala awards ceremony of the annual Intel Science Talent Search. Clearly, this is not your typical science fair.

On March 15, 40 high school seniors, ages 15 to 18, were recognized for individual projects submitted to what is one of America's most prestigious science competitions. Started in 1942, the Intel Science Talent Search is administered by the Society for Science & the Public. Past participants have gone on to win honors in math and science, including seven Nobel prizes.

The winner receives $100,000. Second and third place winners receive $75,000 and $50,000 respectively. This year, topics covered behavioral and social sciences, computer science, bioinformatics and genomics, mathematics, physics and space science, and microbiology. Over 1,700 students entered the contest from around the United States. Sixteen of the finalists were women, and 10 were of Indian descent.

For the last stage of the competition, the finalists gathered in Washington, D.C. for five days. They met leading scientists, toured sites of historical interest, visited political leaders from their respective states and areas of interest, and participated in a public exhibit where they described their research—often to curious, younger students thinking about entering the contest in the future. The finalists were also invited to the White House to meet President Barack Obama, who congratulated them on their achievements and spoke about America's renewed focus on science and math education.

Although the stakes of this science contest are high, for many the opportunity to come to the capital and interact with the other finalists is a reward in itself. In their limited free time, the finalists played ultimate frisbee at a park near the White House, went bowling, and sang around the piano in the hotel lounge. As Shubhro Saha explains, "The weekend didn't actually feel so much like a 'competition' as it did a 'summit,' where 40 passionate high school students could thrive."

This year's winner, 17-year-old Evan O'Dorney of Danville, California, compared two ways to estimate the square root of an integer. O'Dorney discovered precisely when the faster way would work.

SPAN spoke with several Indian American finalists before the awards ceremony, including Prithwis Kumar Mukhopadhyay of Woodbury, Minnesota. He studied the relationship between carrageenan, a common food additive, and cancer.

"I've met many who may be future classmates, and I've learned a lot about different fields," Mukhopadhyay says. Born in Kolkata, he moved to Wisconsin as an infant, then later to Minnesota, and speaks Bengali at home with his parents. He hopes to study biomedical engineering and work in the research field.

Shubhangi "Nonie" Arora of Novi, Michigan studied the genetic basis of drug resistance in a common yeast. Candida albicans causes an opportunistic infection, candidiasis, which has a mortality rate of 40 percent in patients who are immunocompromised. "I became interested in the concept of superbugs in sixth grade when my teacher held a discussion about the real meaning of statistics. For example, that 99 percent effective still means 1 percent of the time it's not effective, and that number can be huge."

Fluent in Hindi, Arora was born in India and moved to Michigan at the age of 2. "After high school graduation, I'm headed to India for a month. I haven't been there for many years, and I'm so excited," she says. And how are the grandparents in New Delhi reacting? "They're excited I'm coming. Oh, and they're proud of me," she acknowledges with a big smile. Arora hopes to continue in the field of medical research.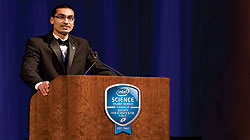 Shubhro Saha
Photograph courtesy Intel

Shubhro Saha of Avon, Connecticut, was nominated by his peers to receive the Glenn T. Seaborg Award for his commitment to scientific cooperation and communication. Nobel laureate Seaborg was a judge of the science talent search for four decades.In his address, Saha spoke, on behalf of all the students, in gratitude for the support and belief their parents, schools, communities and mentors provided over the years. "Together we stand tonight, after having made friendships and sharing the pure thrill of mathematics and science research," Saha said.
Eta Atolia of Tallahassee, Florida researched algae as a potential fuel source and for production of biological molecules. "Today, while we waited to meet the President, we were all rowdy and talking and then he stepped into the room and everyone became silent. We were awestruck," Atolia says. Born in India, Atolia moved to Indiana when she was 5 and on to Florida seven years later. She plans to continue her studies in bioengineering.
Kenneth Coleman (from left), Shubhangi Arora, Mary Sue Coleman, Ryan Li and Prithwis Kumar Mukhopadhyay at the award ceremony. Photographs courtesy Intel

Evan O'Dorney (center) with president of the Society for Science & the Public, Elizabeth Marincola (left), and Intel CEO Paul Otellini


Minnesota Senator Amy Klobuchar (left) and Prithwis Kumar Mukhopadhyay
For his project, Amol Aggarwal of Saratoga, California, compared and measured distances in a convex polygon, seeking patterns with applications for studying everything from stars to music theory. As he explains his project, his mother, Sangeeta, adds with a smile that Aggarwal was a student at the U.S. Embassy School in New Delhi for first and second grade. The family then spent some years in Chappaqua, New York before moving to California in 2005. "It's been interesting meeting the other talented students and seeing the passion they have for their work," says the young Aggarwal, who hopes someday to become a math professor and researcher.
With 25 percent of the finalists of Indian descent, the community has much to celebrate. Though as Sangeeta Aggarwal explains, "Of course, we're proud of all the Indian American finalists, but it goes beyond Indianness or being Asian. Most importantly, it's about them being scientists, and the U.S. needs more good scientists. And everyone's doing such great research that I'm sure it's hard to put one first."
—Courtesy SPAN