Hon'ble Minister of Overseas Indian Affairs & Civil Aviation, Shri Vayalar Ravi visited Trinidad & Tobago from 29 May – 1 June, 2011 at the invitation of Hon'ble Minister of Foreign Affairs T&T, Dr. Surujrattan Rambachan to attend Indian Arrival Day celebrations organized by National Council of Indian Culture at Diwali Nagar as the Guest of Honour. He also inaugurated the Business Forum on 31 May at Hyatt International in the morning and Academic Conference at the Learning Resource Centre, UWI in the afternoon the same day. Both these events were organized by the Mission with the support of MOIA and in collaboration with OIFC, CII and the University of West Indies in partnership with GOPIO and ITTCIC. Minister Ravi was accompanied by Shri G. Gurucharan, Joint Secretary & CEO, Indian Council of Overseas Employment and his Private Secretary Dr. Sadhna Shanker.

On 30 May the Minister attended a Luncheon Reception hosted by High Commissioner Shri Malay Mishra at his residence. More than 100 guests including dignitaries, Indian nationals, representatives of prominent socio-cultural organizations, Pravasi Bharatiya Samman Awardees such as former Prime Minister Mr. Basdeo Panday, former Minister Dr. Lenny Saith and President of NCIC Mr. Deokinanan Sharma attended the event.

In the evening Minister attended Indian Arrival Day Celebrations. On his arrival at the venue he was welcomed by President of NCIC Mr. Deokinanan Sharma and greeted by Foreign Minister Dr. Surujrattan Rambachan. He was introduced to the Cabinet Ministers present and later on to the Prime Minister Mrs. Kamla Persad Bissessar when she arrived. In her address PM welcomed the visiting Minister and spoke about the relevance and importance of celebrating Indian Arrival Day. She emphasized the need for having a Ramlila Centre in Trinidad and sought assistance from India.

The following morning, Minister Ravi jointly inaugurated the Business Forum at Hyatt International with Minister of Trade & Industry Hon'ble Stephen Cadiz. While addressing the gathering, Minister Ravi emphasized the need for increasing bilateral trade between the two countries. He stated that while India could play an important role in developing sectors such as IT-ITES infrastructure, wellness health care, T&T could increase the export of petroleum and petroleum products to India. Later in the afternoon, Minister Ravi jointly inaugurated the Academic Conference at Learning Resource Centre, University of West Indies with T&T Foreign Minister Hon'ble Dr. Surujrattan Rambachan.

The same evening Minister attended a dinner reception hosted by Foreign Minister Dr. Rambachan, where issues of bilateral nature were discussed. On 01 June, Minister Ravi held bilateral meetings with Minister of State in the Ministry of Works & Transport Ms. Stacy Roopnarine and called on Acting President Timothy Hamel Smith and Prime Minister of T&T Mrs. Kamla Persad-Bissessar, before emplaning for India.
| | |
| --- | --- |
| | |
| Finance Minister Winston Dookeran in conversation with Minister Vayalar Ravi and HC Malay Mishra at India House | Minister Ravi and PM Kamla Persad Bissessar with HC and members of his delegation at the Diplomatic Centre |
| | |
| | |
| Distinguished panel at the inaugural Session of the Business Forum (from L to R) Ashook Ramsaran,HC Malay Mishra, Minister Vayalar Ravi, Minister Stephen Cadiz, Dr. Nitin Thorve, Deo Gosine, President ITTCIC and Shefali Chaturvedi, CEO, OIFC | Minister Ravi flanked by HC and GOPIO International EVP Ashook Ramsaran at the Business Forum in Hyatt Hotel |
Business Forum
The High Commission of India organised a Business Forum at Hyatt Regency International, Port of-Spain on 31 May 2011. This was part of a 2-day Diaspora event planned by the High Commission in conjunction with the Ministry of Overseas Indian Affairs, New Delhi. The theme of the event was 'Building a new partnership between India and the Caribbean: Role of Diaspora'.
The Business Forum was co-sponsored by Overseas Indian Facilitation Centre (OIFC), Confederation of Indian Industry (CII), India – Trinidad and Tobago Chamber of Industry and Commerce (ITTCIC) and Global Organisation of People of Indian Origin (GOPIO) Trinidad and Tobago Chapter. For the purpose CII brought in a 26 member business delegation to Trinidad and Tobago, consisting of entrepreneurs from IT/ICT, Infrastructure, Medical Diagnostics, pharmaceuticals and trading sectors.
The Business Forum was jointly inaugurated by Minister of Overseas Indian Affairs & Civil Aviation Shri Vayalar Ravi and Minister for Trade and Industry Trinidad and Tobago, Mr. Stephen Cadiz. Welcoming the business delegates and the participants of the Business Seminar, Mr. Ashook Ramsaran Global Executive Vice President, GOPIO, stated that Trinidad and Tobago had come to be established as a viable platform for business interaction. India was presently a formidable economic power and companies in both countries could derive substantial benefits from collaboration with each other. He mentioned about GOPIO's activities supporting such interaction among the Diaspora people which he termed as part of the same 'big tree'. Ms. Shefali Chaturvedi CEO, OIFC, talked about OIFC's role in facilitation of business exchanges between entrepreneurs and the Diaspora. Mr. Dev Gosine, Chairman of the India-Trinidad and Tobago Camber of Industry and Commerce, stated that we needed to take a close look at contemporary India and advocated opening of a T&T trade office in Mumbai, India. He talked of the economic strength and stable political structure which offered huge opportunities for entrepreneurs in India as well as for Indian entrepreneurs in Trinidad and Tobago. He called upon the government of Trinidad and Tobago for granting residence status to investors bringing in $5 million dollars. Dr. Nitin Thorve, leader of the business delegation, stated that CII had been active in Latin America for a long time. He talked of bauxite reserves in Guyana, Jamaica, Suriname and investments in Timber and wood by Indian entrepreneurs. He talked of the rising status of India as an economic power and the strong cultural links between the two countries.
High Commissioner Shri Malay Mishra mentioned about the initiatives taken by the High Commission in furthering trade links between the two countries. Business Facilitation Centre had been set up at the High Commission premises, which imparts information on all trade and investment matters. The High Commission had been instrumental in setting up the India - Trinidad and Tobago Chamber of Commerce in October 2009. The High Commission had also facilitated CII and FIEO delegations and organised a number of business to business meetings. Several business seminars were held to provide information on various sectors of Indian and T&T economies and on how to set up business in India and Trinidad and Tobago. He mentioned about the declining trend in trade figures between the two countries and spoke of the need to regulate activities of Indian retail traders participating in roadside Trade Shows in various parts of Trinidad and Tobago which had given a bad name to Indian products. He lamented the sparse media reporting on Indian business. He talked of Trinidad and Tobago as a regional leader in the CARICOM region and how it could be used for better connectivity. He thanked the government of Trinidad and Tobago for granting Visa waiver to Indian business persons.
Minister Cadiz termed the confidence in India 'most appropriate' which has been held at an opportune time. He reiterated the need to encourage South-South trade in the face of the global meltdown. BRICS nations had assumed a lot of importance in the last few years; the T&T government was right now giving a lot of thrust to sectors other than energy. He talked of the forthcoming Commonwealth Business Forum as part of the Trade and Investment Convention (TIC) on June 12, which would focus on a number of sectors such as ITC, tourism, food processing, beverages, construction, energy and infrastructure etc. He requested the Indian business delegation to attend the TIC and talked of the strengths of the T&T economy i.e. strong banking system, stable political climate and enormous opportunities available. He talked of incentives to business persons in terms of duties on imports and 100% ownership of business/establishments. He assured that the government was taking necessary steps to curb decline in India-T&T trade figures; He also stated that his government was considering attending the India International Trade Fair (IATF) in November 2011.
Minister Ravi underlined the role of Diaspora in building partnerships, rekindling old friendships and strengthening relationships. He stated that Trinidad and Tobago was an important country of the region. He mentioned that the business session always formed part of the PBD, through which India sought to build on Diaspora connectivity. He made a special mention of India's trade engagement with Latin America which had been growing faster than with other regions. He fixed a target of 100 % growth in trade with Latin America over the next three years. He underlined the role of OIFC for the Diaspora in the entire gamut of economic and trade activities. He talked of the potential for Trade and Investment for T&T and hoped that the political and economic relations within the two countries could expand further.
| | |
| --- | --- |
| | |
| PM Kamla Persad Bissessar attending the Business Forum with Minister Ravi (L) | Minister Ravi delivering inaugural address at Academic Conference |
| | |
| | |
| Ms. Sarup presents a set of books on Colonial Emigration to Prof. Sankat, Principal and Pro-VC, UWI | TT Foreign Minister Dr. Rambachan addressing during the Academic Conference |
| | |
| | |
| Minister Dr. Bhoendradatt Tewarie speaks during the Session chaired by him | Socio-cultural activist Raviji addressing the Conference |
Business Session 1
Business Session 1 was moderated by Vernon Ramessar, a well known local TV presenter. The session started with introduction of business delegates from India by Ms. Renuka Singh, who is the Head of External Relations in the International Division, Confederation of Indian Industry. This was followed by three sectoral presentations by the business delegates. Mr. Rajiv Gupta from Tata Consultancy Services, Mexico, made a presentation on the IT/ITES sector in India. A presentation on Pharmaceuticals was made by Mr. Pradeep Raman, Head of Rambaxy in Trinidad and Tobago followed by another presentation on Infrastructure in India by Dr. Nitin Thorve of Nidan Diagnostics.
Mr. Ved Seereeram from the India-Trinidad and Tobago Chamber of Industry and Commerce spoke on the business and investment opportunities in which he underlined opportunities in sectors like energy, agriculture, small manufacturing among others. He added that with its enormous experience India could be a valued partner of Trinidad and Tobago in these sectors. He cited the example of a solar energy company in Kerala which provided a record number of solar panels in the state.
A presentation on 'Doing Business' in Trinidad and Tobago was given by Director of Investment at the Ministry of Trade and Industry, Mr. Wayne Punette who touched upon various aspects of business including how to set up business, taxation and other laws. He also enumerated a number of incentives given by the Government of Trinidad and Tobago to International Investors.
This was followed by an insightful presentation on the services sector by President of the Trinidad and Tobago Coalition of Service Industries (TTCSI), Mr. Rabindra Jaggurnauth. He talked of possible collaboration with India in the energy services, renewable energy apart from possible tie-ups in the fabrication industry. He also mentioned about the creative service sector-Carnival, films etc.
Prime Minister's Speech
Despite her very busy schedule, Hon'ble Prime Minister of Trinidad and Tobago, Mrs Kamla Persad Bissessar graced the Business Forum to deliver the feature address. She termed the visit of the Indian Business Delegation and holding of the Business Forum as 'very opportune' which would nurture sustainable business relationships. She welcomed the business delegates and assured that her government fully supported the initiative. She called for greater South-South cooperation and applauded India and China and the greater role being played by BRICS countries in economic governance, specially mentioning India as a shining light in economic development. She lauded India's progress in IT and telecommunication sectors and reiterated the excellent bonds between the two countries in political, economic and cultural fields. Among the possible areas of cooperation of Trinidad and Tobago she highlighted ICT, Pharmaceuticals, Sports, Agricultural/Food Processing, Film production, printing and production, shipping and yachting, She presented T&T as an attractive destination for resources – asphalt, teak wood, world class financial institutions, stable democracy, incentives to business etc.
She talked about TTBiz link, a single point of entry which was launched in the February 2011. She invited the Business Forum participants to attend the forthcoming Caribbean Business Forum. She specially mentioned the need to develop healing centres in Trinidad and Tobago for which she called on the Indian Ayurvedic system to participate.
Visit of Ms. Leela Gujadhur Sarup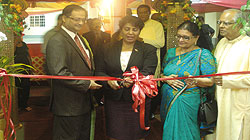 Permanent Secretary Nela Khan cutting the ribbon to inaugurate the Exhibition, Deokinanan Sharma, Leela Gujadhar Sarup on her right and HC on left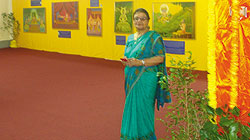 Artist Ms. Leela Gujadhar Sarup with 46 of her paintings

Ms. Leela Gujadhur Sarup, an eminent Diaspora researcher visited Trinidad & Tobago from 23 May-4 June 2011. Known for her prodigious volumes on colonial emigration, Ms. Sarup has also painted a series of 46 paintings which narrate the story of river Ganga, the journey undertaken by Ganga from Heaven to Earth. The paintings were exhibited in Diwali Nagar from 25 May to 4 June 2011and was hosted by NCIC. Ms. Sarup is also the founder President of the Global Indo-Diaspora Heritage Society (GIDHS) which has been set up in Kolkata recently on occasion of the installation of the commemorative site and plaque by the Ministry of Overseas Indian Affairs at Khiddirpore Docks (Demerara Clock Tower), Kolkata Port to commemorate the hundreds and thousands of Indian indentured workers who left the shores of India. Ms. Sarup also delivered talks on various occasions at different venues all over Trinidad. She subsequently visited Suriname and Guyana and made several successful presentations.
Business Session II
Business Session II was also moderated by Mr. Vernon Ramessar who introduced with a brief description of each individual, business persons from the Diaspora who all had success stories to narrate. They included Ms. Vindra Amar from Trinidad and Tobago, Mr. Yesu Persaud from Guyana, Mr. Jai Benie from Suriname, Mr. Lokesh Singh from St. Lucia and Mr. Kawall Samroo from the French Guiana. They each had inspiring stories that illustrated their struggles and achievements and further highlighted the advantages in doing business with the particular region to which they belonged.
2-Day Academic Conference
A 2 Day Academic Conference was organized by the High Commission of India with the support of the Ministry of Overseas Indian Affairs from 31 May – 1 June 2011 and in collaboration with the University of West Indies and Global Organisation of People of Indian Origin (GOPIO) at Learning Resource Centre, UWI on the theme of "Building A New Partnership Between India and the Caribbean: Role of Diaspora.
The Conference was divided in four sessions having different themes. 17 Panelists, which included Diaspora experts from Trinidad & Tobago, Guyana, French Guyana, Suriname, Guadeloupe, Belize, Barbados, Grenada and St. Lucia, were invited to address the delegates in different sessions. Each session had one Chair and one Moderator to conduct the proceedings.
The Conference was well attended by eminent persons from public life, academia, members of Diplomatic Corps, representatives from various socio-cultural organizations, Diaspora experts and youth not only from T&T but also from other countries of the Caribbean region.
The need to have such a Conference was felt as India takes centre stage in offering immense opportunities for collaboration in the fields of economy, IT, infrastructure, trade & commerce, health care, culture etc. and seeks to engage the Diaspora which spans over 130 countries and numbers over 28 million people. The Diaspora looks to India for guidance and support in the new global environment in an interdependent world.
—In arrangement with YATRA