Campaign for reduction of fees for passport surrender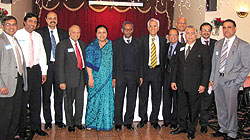 GOPIO officials with MEA delegation in San Jose, California. From left to right: Niraj Baxi; Rajeev Awasty; AshokSinha; Inder Singh; Consul General Sushmita Thomas; Ajai Choudhry; Basant Gupta; Haresh Panchal; Jeevan Zutshi; Ashok Madan; Cherian Thomas and Gursharan Nat
High ranking officials of Ministry of External Affairs (MEA) of the Govt. of India visited three US cities to get feedback from the community on a 'fact finding mission' on current issues and hardships relating to the surrender certificate requirements, OCI, PIO cards and to learn the grievances of NRIs about the VISA issuance. The delegation was headed by Dr. Ajai Choudhry, Secretary, and included Mr. B.K. Gupta, Additional Secretary and Cherian Thomas, Under Secretary. GOPIO representatives met the delegation members in all three U.S. cities they visited.

The team met the community activists and members from various organizations on May 22nd in New York, on May 24th in Houston and on May 26 in San Francisco area. The New York meeting was organized the Consul General of India while the meetings were organized by GOPIO in Houston and San Francisco where Consul Generals from both these places also attended.

GOPIO representatives who met the delegation included GOPIO Founder President Dr. Thomas Abraham, GOPIO-CT President Shailesh Naik and GOPIO Health Council Chair Sangeeta Ahuja in New York; GOPIO-Houston President Mahesh Shah and Immediate Past President Sam Kannappan in Houston; and GOPIO Chairman Inder Singh, Treasurer Haresh Panchal and GOPIO-San Francisco President Jeevan Zutshi in San Francisco.

The team leader, Mr. Choudhry heard complaints and took notes of input from the attendees. He promised to resolve several issues and streamline the visa process. GOPIO submitted the following memorandum to the delegation on the issues pertaining to surrender of Indian passport and issuance of Indian visa:

Problems relating to issuance of visa to visit India started in the third week of May, 2010. Indian Embassies/High Commissions and consulates started charging $175 USD fee for surrender of old Indian passport and additional penalties for various "violations". The visas to India were given only after the passport was surrendered and payment of fees and penalties was made.

Those people who had lost their passports or could not locate old passports long after obtaining US citizenship could not obtain visa no matter what emergency they had in India.

After massive petition initiated by GOPIO, the fee of $175 was reduced to $20 for those who had become US naturalized citizens before June 1st, 2010 and penalty fees were also waived. However, after a few months, the penalties were enforced for those who had become US naturalized citizens and citizens of other countries after June 1, 2005. It continues to be major source of unhappiness, frustration and irritation among the Indian community outside of India, in particular the USA, Canada and Europe.

GOPIO supports the GOI policy requirement that surrender certificate should be obtained; but only if the passport is valid. However, GOPIO does not see any justification in surrendering a passport which had expired decades ago.

GOPIO Houston Chapter arranged a community leaders meeting at India House on May 24th. Chapter President Mahesh Shah welcomed the gathering.


---
GOPIO fetes Lok Sabha Speaker Meira Kumar in Miami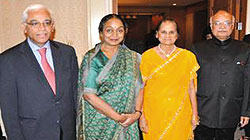 From Left to Right: Consul General Sanjiv Arora, Speaker Meira Kumar, Sudha Agrawal & Dr. Piyush C. Agrawal
The Speaker of the Indian Lok Sabha (House of Representatives) Mrs. Meira Kumar accompanied by members of the Rajya Sabha (Upper House) and the Lok Sabha (Lower House) attended a Dinner Reception hosted by Dr. Piyush C. Agrawal, GOPIO National Coordinator for USA at the Four Seasons Hotel in Miami.

In his welcoming remarks, Dr. Agrawal emphasized the need for a very balanced and positive relationship between the Indian Diaspora and the Government of India. This relationship, since 1947, has been precarious and needs to be placed on a very solid ground for the benefit of both.

The Pravasi Bharatiya Divas of 2003 was a great effort by the Government of India to woo the Indian Diaspora. But, certain recent knee jerk policies of Government of India, such as the issue of "Surrender Certificate" have antagonized the Diaspora unnecessarily

India has the good fortune of having an extremely vibrant Diaspora which always thinks to do something worthwhile for their motherland and the land of their ancestors. This unsolicited assistance is available to India at no cost.

The exemplary support provided by the Indian Community in USA for the passage of US-India Nuclear Treaty is just one illustration of how deeply the Diaspora loves India. Why does Government of India create irritants like the "Surrender Certificate" to alienate the Diaspora is beyond comprehension.

This reception in honor of the current Speaker Ms. Meira Kumar is a continuation of Miami's tradition of hosting Indian Speakers such as Dr. Balram Jhaker, Honorable Manohar Joshi, and Honorable Somnath Chatterjee.

Honorable Sanjiv Arora, Consul General of India in Houston defended the policies of the Indian Government in his sophisticated and diplomatic manner.
---
GOPIO Upper NY celebrates 3rd anniversary and Indian Arrival Day
The Upper New York Chapter of the Global Organization of People of Indian Origin (GOPIO) celebrated its Third Anniversary, and Indian Arrival Day, with a Grand Dinner and Dance at the World's Fair Marina, Flushing, on Saturday, 7th May, 2011.

The gala event was well attended by more than two hundred members and supporters of GOPIO, and included GOPIO International officials Mr. Ashook Ramsaran and Dr. Thomas Abraham. Both officials brought greetings from the parent Organization, and congratulated the Upper NY Chapter for its many achievements in just three short years. In his remarks, Dr Abraham also challenged the Chapter to develop programs and activities that will attract the participation of our society's next generation, and senior citizens.
---
GOPIO San Francisco holds health awareness seminar

GOPIO Health Council held Health Awareness Seminar on Thursday April 28, 2011 from 5:30 PM to 7:30 PM in Fremont Senior center (in the San Francisco Bay Area) in association with GOPIO-San Francisco chapter.

The speaker was Dr. Dalvir Pannu from Pannu Dental who discussed a variety of topics related to dental health and how it impacts the overall health of an individual. He also discussed dental diseases in depth and how those can be addressed.

Dr. Pannu also spoke about dental implant procedures and how effective those were compared to dentures and bridges. There was a Q & A from nearly 57 people and Dr. Pannu responded to all questions in depth.

GOPIO Health is a global initiative of GOPIO International's Health Council. The seminars have been started since October 2010 and are held on every Thursday at the Fremont Senior center in the San Francisco Bay area.

The first seminar was held at Fremont Resource center on October 16, 2010.