WEDDED TO A CAUSE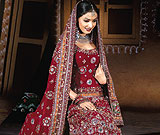 Close on the heels of the recent movie, Band, Baja and Baarat, comes the news that a wedding fair will be held in Hammersmith, London in July
"Ardhanginni- The Indian Wedding, Destination and Lifestyle Show" will bring together big names in Indian couture like Neeta Lulla, Rohit Kamra and Masaba Gupta along with jewellery brand Amrapali under one roof. "There is a lot of curiosity among people living abroad. I have a lot of clients in and around London. I get a lot of queries for saris, kurtis and more. People are also intrigued by Indian accessories and heena," Neeta, who will be displaying saris, tunics and kurtas at the exhibition, said.

"There's a lot of hard work that goes into organising such kind of an event. I think there is a branding that's already there, there is a clientele that's already there. It is a good approach to reach a larger spectrum of consumers in London," she added. Cicila Raj, the promoter of Ardhanginni spoke about how the idea evolved.

Romantic NRI Wedding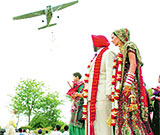 It was a dream-come-true for village girl Inderjit Kaur, who tied the knot with Harkomal Singh, an NRI, who has come from Spain. The aircraft hired by the bridegroom showered colourful slips of paper bearing the names of the couple during the marriage. Not only this, in an attempt to set an example for residents of village Lalton Kalan, this NRI has solemnized a dowry-free marriage.

The couple had to wait for over two hours for the aircraft as its arrival at the site was delayed owing to bad weather.

The aircraft Cessna 172 was hired by Harkomal for two hours for Rs 30,000 for showering coloured paper during the function. The aircraft was supposed to come at noon while it arrived at 2.30 pm. The couple had to sit in a room for 2 and a half hours to wait for the aircraft as they could not enter the hall before its arrival.

The villagers were excited as they kept on inquiring about the aircraft. The frenzy reached a crescendo as the multi-hued shower added a unique aura to the air of celebration for half an hour. The aircraft marked its arrival at 2.30 pm and went away at 3 pm. Not only the children but also friends, family and residents of both villages were so enamoured that they were chasing the aircraft, trying to get hold of the coloured paper.

Talking to the media, Inderjit Kaur, the bride, said it was a surprise for her- she had never expected it. "Not just we, the couple, but in fact, everybody in the village and the family would always remember the marriage," she said, adding she felt like she was on cloud nine.

Harkomal said, "Earlier in the day, I was happy to see the weather had turned pleasant. It had rained last night. However, I had no idea the weather conditions could affect my plans for the surprise planned for my beloved. I am happy, but the inclement weather has somewhat marred the charm of the surprise."

Rupinder Kaur, the bride's mother, said it was indeed a matter of pride for the entire family that their daughter was married to a boy who made it a point that the marriage was dowry-free. "Moreover, I do not recollect anyone in the family ever having received such a surprise," she stated.

Jagroop Singh, the bride's father, said it was a double whammy for them that on one hand, the bridegroom's family did not take a penny from them and secondly, they loved the bride very much. "I could see the glow on the face of my daughter when the aircraft showered coloured paper on the couple. I have never seen her so happy as she was on the occasion of her marriage," he said.
"In last couple of years, we have seen an increase in NRI movement in India. A lot of NRIs come to India either to shop or get married. A lot of people from other countries also come to India to get married. That is when it came to our minds to try and do something like this," Raj said

Last year, Hollywood couple Russell Brand and Katy Perry tied the knot in Indian style in Jodhpur and there are reports that even Angelina Jolie and Brad Pitt want to get married in the traditional Indian way.

At Ardhanginni, one will get a taste of various Indian products in terms of jewellery and clothes, as also a variety of accessories. Apart from that, people from the hospitality industry, wedding planners along with henna artists and invitation designers will be present their offerings.

Well-known invitation card maker Raveesh Kapoor and heena artist Geetanjali - who was roped in for Indian American entrepreneur Vikram Chatwal's wedding with Priya Sachdev - are among those who will showcase at the fair.
"I visited a couple of shows in India as well as in London and I saw that the wedding exhibitions in London are offering beautiful stuff but majorly by London-based vendors. I feel that there is an untapped market that has got a lot to offer and that is when the idea came to my mind to take the entire India and present it under one roof," said Raj who wants people to also venture into different parts of the country other than Delhi and Mumbai.

"When NRIs come to India to get married or to shop, they restrict themselves to Delhi and Mumbai. There is a lot of potential in Chennai, Hyderabad and Pune but people don't go there because they don't have the right database or right contacts. This exhibition is meant to create awareness and give exposure to what India has to offer," she added.

"The wedding industry in India is growing at nine per cent and is also increasing in size and splendour. The objective of the show is also to introduce India not only as preferred destination, but also a platform to network with Indians living in the UK and open the doors for potential business with the UK community," said Raj.

Minal Bhatnagar, CEO of Foreplay Events, which is handling the show, said, "the exhibition will help in making wedding arrangements simpler." "When a particular family comes to India hunting for the right location, wedding planner, fashion designer and jeweller, it's a huge process so the idea is to create a one-stop shop and make the process quicker and faster. Moreover, the chances of being cheated are less as you are in direct contact with the concerned people," said Bhatnagar.