Chandu K. Patel is a rare Indian in the US who has not given up his Indian passport. Having lived the American Dream for three decades, he now yearns to go back lock, stock and barrel and serve Mother India. "In fact, I have lived more in India than in America since 1997. Sometimes even my wife does not know whether I am here or in India, so frequent are my travels to New Delhi and Ahmedabad. Here today, gone tomorrow," he jokes, standing in front of his posh La Habra Heights residence in Los Angeles Country.

It is Diwali Day. His wife and children are away in India. And he is busy on the phone, swapping greetings with friends. "Aavo, aavo (welcome). It is considered auspicious to have guests on Diwali Day. Cha peeveeche (will you care for a cup of tea)?" asks Patel, who is affectionately known as CK.

As we sit sipping tea on his marble patio, CK goes back in time and says, "You may chalk out a thousand plans, but God's will prevails. I was destined to end up in California and become a businessman."


"The hostel, named after my wife, can accommodate about 160 college students who come from outlying areas" —Chandu K. Patel


CK came to Los Angeles as a student in 1974. Instead of, he ended up as a hotel builder-cum-operator who has made millions in the business. He was the first Indian in the world to build a full-service (five-star) Hilton Hotel at Dana Point in California in 1992. "Mind you, it was a prime land worth millions," he adds.

Before we proceed to discuss his US operations, he insists on clarifying why he wants to go back to India. "I have made like… okay kind of money, you know. But I have learnt a lot from the American system. After all these years away from India, I can now see what is wrong with our system. Indian politics is murky, dirty and polluted. I want to make a difference at two levels. One, I want to raise my voice in favour of a clean system. Two, I want to help the poor and the old, students and girls on whom India's future hinges. I have a two-fold mission going back to India," he says.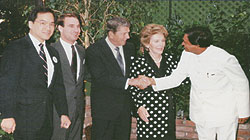 During the last parliament polls, CK was offered the Gandhinagar seat but he refused. Then he was offered the Mehsana seat. Again he said 'no'. "However, I campaigned for the Congress. We took an NRI team to canvass in Amethi and Rae Bareli where Rahulji and Sonia Gandhiji were the candidates. So impressed was Soniaji with our effort, she said 'apka kaam rang layega (your work will bring us success)'. Aur rang laya bhee (Yes, we did succeed)," he gushes, showing his pictures with the Indian Congress president.

Why did he refuse to contest? "My sights are set on Sabarkantha – politically and socially. I want to change the face of this backward area. I am already doing my groundwork," he explains. As part of this groundwork, he has set up the Sabarkantha Health and Research Foundation to take care of basic health and education in north Gujarat.

"This area (north Gujarat) has no medical college. Basic medicare is non-existent. Our foundation has donated toward setting up the Krishna General Hospital in Himatnagar, which is the district headquarters of Sabarkantha. It is a hospital with state-of-the-art facilities. We are in the process of acquiring 30 acres so this hospital is converted into a full fledged medical college. The whole project is likely to cost Rs. 50 crore (USD 12 million)," says CK.

The foundation has also donated Rs 51 lakh toward setting up the Geeta Girls' Hostel in Himatnagar. "The hostel, named after my wife, can accommodate about 160 college students who come from outlying areas. In India, the major problem is the lack of education of women. I want to see Sabarkantha fully literate. This is my goal," he promises.

Towards this goal, his foundation has set up the C.K. Patel Mahila Arts College in Himatnagar. And thanks to his donation, the city of Prantij in the district has also set up a home for seniors (Vridhashram). Further, as president for the Ahmedabad-based Care Centre for Delinquents, CK has donated liberally to help build the lives of abandoned kids. "I am priviledged to be associated with this center which was set up by former Prime Minister Morarji Desai in 1956. Three kids from the center also have been adopted in America," says the philanthropist.

So impressed was Soniaji with our effort, she said 'apka kaam rang layega (your work will bring us success)'. Aur rang laya bhee (Yes, we did succeed)," he gushes, showing his pictures with the Indian Congress president
Back in the early 1970s, this Ahmedabad lad wanted to become a doctor. I missed admission to the medical college by just two marks. And those two marks changed the course of my life. For better, I guess, he laughs.

A dejected CK decided to do an MBA degree. "The idea was to learn the ropes through an MBA programme and set up my own business in the mineral-rich Sabarkantha district of Gujarat. Someone told me about Pacific State university in Los Angeles. I applied and was on board. In February 1974, I landed in Lost Angeles," he says.

While still doing his two-year MBA course, CK partnered with a fellow Gujarati, Nitinbhai Trivedi, to run a Rockview Drive-in Dairy store — a sort of convenient store — in the city of Whittier. "Here in the US, you are allowed to adjust your study hours or days in case you are working. I used to work from 8:30 am to 2 pm. Then Trivedi would come so that I could go to school. I used to earn enough to pay my expenses and save," he says.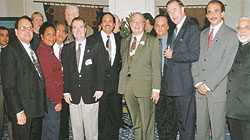 Within six months, they bought another Drive-in at Cudahy in LA Country. CK was moving very fast on the business ladder. So fast that before he could finish his MBA degree, he had bought his first motel in Duarte in February 1976 for $ 400,000. On the side, he pursued a course in real estate to get familiar with the property business. "Back then, you could apply for your green card if you invested $ 10,000 in the US. My idea of investing in the motel business was to get my green card. I never thought beyond that," he says.

But he went much beyond his own wildest dreams. "After clinching my first deal, I decided to add one hotel every six months. Being a broker, I knew which property to keep with myself and build it". In 1982, he hit the big time when he floated the Taj Development Corporation. "The Los Angeles Olympics were looming. I sensed a real-estate boom. Over the years, I built 18 hotels. Among the prestigious ones were the Angelina Hotel in Anaheim, the Shattuck Plaza in Berkeley and the Reeves Hotel in Beverly Hills," he says.

His face lights up when he recalls his fight against the city council during the construction of Hilton Hotel. "When I started work on the ocean-view Hilton, 500 residents of the area opposed its construction, saying it would block their view. They approached the city council, which heard both sides. Hearings used to take place at night. Night after night, these residents would throng the place and say they would not allow the construction. I told the city council that it has two options: allow the construction work or buy my land and let me go."

After hearing the arguments, the city council said 'no' to CK. "Prior to the hearings, I had met the mayor and sought his help. But he said how could he support me in the face of opposition from such a large number of people. I said, 'Mr. Mayor, you are not God. I will see you in the court'," laughs CK. Anyways, he appealed to the city court. The judge heard both sides and said he would send his verdict within 30 days. "The 30 days passed, but no verdict came. Agitated, I asked my attorney what I should do. He said I appealed, the judge's salary will be cut by half for failing to deliver the verdict on time. However, he warned me that if I appealed, the judge might give his verdict against me. I filed the appeal. The judge's salary was immediately cut by 50 per cent. What happened after this is what makes America truly great. When the verdict came, the judge wrote that I had won the case the day he heard the arguments. He said he sat on the verdict looking for ways to protect me from future harassment. That's
the beauty of this country. On my appeal, the judge's salary was cut by half, but this didn't affect his judgement. This can happen only in America," he says shaking his head in disbelief.

In 1997, he sold the flagship Hilton Hotel. Why? "For money," says CK. At what price? "Twenty million!" As if the conversation has veered off the track, he says. "Hay, hey! Wait a minute. I forgot to mention my flights for the rights of our people. Way back in 1980-81, some newspapers had written nasty stories about Indian hotels and motels, saying they harbored prostitutes and what not. Indian hotel and motel owners were not united at that time. To fight these scurrilous attacks, we formed the Indo-US Chamber of Commerce. I was its founder-president. Immediately after the birth of the Chamber, we floated the Southern California Hotel-Motel Association. I was its founder-member."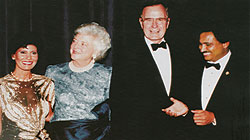 He was also founder-member of the Nav Gujarat Society and the Federation of Indo-American Association (FIAA). "As FIAA president, I brought its two factions together. Thereafter, I became executive director of the National Federation of Indian Associations (NFIA)," says the man who has been staunch Republican supporter since 1982.

CK wears his Republican affiliations on his sleeve. And he has reasons to. In 1994, he became the first Indian to be given the presidential award for his social and political services! "I was feted in the White House by the Republican Party Chairman," he beams, thumbing through a photo album. "Look, here I am with President Reagan who signed the citation. Then here I am with President Bush. I have not missed even a single Republican national convention and presidential inauguration since 1982. I am a hardcore Republican in America."

And he is a hardcore Congressman in his native India. "The Indian National Overseas Congress (INOC) has East Coast and West Coast wings here in the US. I am the president for the West Coast. Whenever any Congress leader from India comes to the US, we coordinate their programmes," explains CK whose office is littered with Congress paraphernalia.

As he immerses himself in politics, CK has passed on the business keys to his brothers. "I brought my brothers, Babubhai and Manubhai, to the US in the early 1980s. they take care of our 11 hotels, including the famous Bombay Club, the Reeves Hotel in Beverly Hills and the Shattuck Plaza in Berkeley," he says.

Rising from his chair, he points to a portrait of his wife and says, "I am dabbling in so many fields because Geeta always supports me to hilt. She is y lifeline and I would be lost without her." And he dotes on his two sons Neel and Sagar and daughter Payal. "I take them regularly to India so that they don't lose touch with their roots. In fact, Neel studied in India for many years before coming here," he says, ambling upstairs.

His Keshav Kunj residence looks as if an Indian palace has been transported bang in the middle of LA. Built over three acres, this domed beauty sits atop a cliff. Ethnic paintings adorn the walls and the dome. Murals, furniture, cots, bullock-cart scenes, doors, windows, swings and puja room and the rising stairs spin Indian tales. In the foyer, a fountain spews water into the air. In the backyard gleams a blue-water swimming pool.

What is its worth – in millions? "Well, it is a million-dollar question," he jokes. "Money does not matter, man. Good deeds do," he says, turning serious. True, of course.

—This article has been excerpted with permission from the book California Dreams by Gurmukh Singh.