Since 2001 and now, Pakistan has received a whopping USD 7.9 billion for purchasing military equipment from the USA. To what end is USA so dangerously arming our neighbours who've not known peace since they were created?
US needed an ally to fight Al Queda, and Pakistan was the closest country geographically to do that. However, tenuous, US and Pakistan have a relationship going back to 1952. In 2001, this was the best course of action for US, but they should have monitored the use of these funds much better.

A military academy in the USA has said in a report that Pakistan is funding the Haqqani network regularly, which is a violation of the terms of the aid money it is receiving. Your views on this…
Admiral Mullen had acknowledged in front of Congress that the Haqqani network is a Terrorist Organization. US needs to declare it so. Congressman Poe has introduced a bill to do just that.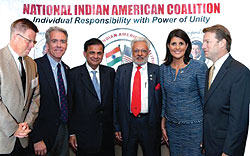 Members of the NIAC with Governor Nikki Haley whose parents are from Punjab
India has suddenly opened up trade with Pakistan, and has even cleared FDI as a route for Pakistan's investment into India. All this when Pakistan is yet to acknowledge that its state machinery was involved in the attack on India's financial capital, Mumbai, in November 2008. Your comments…
Current Administrations of both India and US need to, just like Dick Morris has said, not be like marshmallows and need to have some guts in their relationship with Pakistan. Both countries need to face reality. We do believe that a vast majority of the people of Pakistan want to follow the economic path pursued by India and contain the extremist elements currently controlling their destiny. Tougher negotiations with the current Pakistan administration can go a long way in solving the problem of global terrorism.

It is vital that pressure groups such as the NIAC lobby for stopping funding of Pakistan by the USA. How seriously is the US administration looking into your demands?
US Administration by itself does not have the power to sanction funds. It is the US Congress. NIAC has been quite successful in pursuading the US Congress to do just that. Republicans in Congress led by Illinois and Texas Congressmen were successful in passing Poe amendment to HR 5836 2013 appropriation bill to cut the aid from $1.3 Billion to $650 Million.

The USA and the UK are speaking in shrill tones when it comes to attacking Pakistan on the way the country has been misusing funds it has received to combat terror. When US and British top leaders visit India, they make it a point to raise the pitch on Pakistan's continuing support to banned networks. And yet, the funding continues. Pakistan has just received a USD 1.1 billion war reimbursement from the USA. Is this double speak?
I would not call it "double speak", it is a result of too much caution and good old politics.
NIAC started this work just 12 months ago, it is work in progress, and we are optimistic that this process of educating the US Congress will pay off dividends. Most US Congressmen want to establish a close relationship with Indian Americans and India. We are natural allies.

What is your overarching mission at the NIAC?
Create a powerful coalition of Indian Americans with Freedom loving, Pro-growth and fiscally responsible outlook, that advocates issues important to Indian Americans and India.

The USA has officially confirmed that Gujarat is a progressive state, and yet its chief minister cannot visit that country. As a lobbying organization what do you say to this?
Technically, we are not a lobbying organization, we are a not-for-profit educational organization. NIAC has elevated the issue of Modi visa in public and congressional conscience by pursuading Congressman Joe Walsh to demand an explanation from Secretary of State Hillary Clinton. At this point it is not a question of denial of visa, it is a question of US inviting CM Modi to visit US. It will happen at the right time.