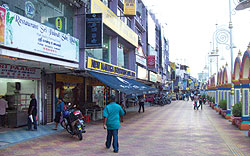 There is a lot of history to Brickfields as it is one of the pioneer settlements, located just outside central Kuala Lumpur. With a large Indian community, the area along Jalan Tun Sambanthan makes you feel you are in India. Apart from Indian food and culture you can also find Buddhist temples, mosque and churches in Brickfields. It becomes especially colourful in the weeks leading up to Deepavali in mid-October. The sidewalks on Jalan Tun Sambanthan turn into a street market sellings clothes, saris, Indian jewellery, flowers, and are overrun by henna artists and others.

There is an interesting history to the name. In 1881, a flood swept through Kuala Lumpur following a fire which had engulfed it earlier. These successive problems destroyed the town's structures of wood and atap (thatching). As a response, the authorities required that buildings be constructed of brick and tile. Kapitan Yap Ah Loy, regarded as the founding father of modern Kuala Lumpur, bought a sprawling piece of real estate for the setting up of a brick industry which would spur the rebuilding of the city. This place is the eponymous Brickfields.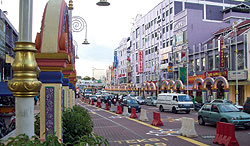 Along Jalan Tun Sambanthan is the century old YMCA, which has become an integral landmark in Brickfields. Further down is the Swami Vivekananda Ashram that was built in the early 20th century. The 100 railway quarters in Jalan Rozario are still there although modern buildings have cropped up all around. Brickfields is popular for its Indian food delights especially the unique banana leaf rice and dosai (Indian pancake made from fermented rice flour).

Brickfields is also tagged as a "Divine Location" as many religious structures, some over 100 years old, are concentrated in the area, particularly Jalan Berhala. The aptly named road ("Berhala" means shrine) houses the Buddhist Maha Vihara Temple, the Arulmigu Sree Veera Hanuman Temple, and the Sri Sakthi Karpaga Vinayagar Temple.

The Sri Kandaswamy Temple is one of the most prominent Sri Lankan Tamil temple located along Jalan Scott. It is huge and showcases rich Tamil architecture and has become a popular tourist attraction in Kuala Lumpur. This temple is 104 years old now. They provide religious services such as house warming ceremonies and child 31st day ceremony. The Kalamandapam hall which was officiated by the 2nd Prime Minister of Malaysia holds wedding ceremonies and is also owned by this temple.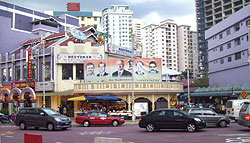 Both the Sri Kandaswamy Temple and Buddhist Maha Vihara (Sinhalese) stand testament to the influence of Sri Lankan influence on Brickfields.
Being the Little India of Kuala Lumpur, it has numerous shops that are owned by Indian businessmen. There are spice shops, grocery outlets, sweet and snacks shops, textile shops, goldsmiths, hotels, restaurants, food stalls, printers and even flower stalls.
Brickfields is rapidly evolving from being a residential to a very commercial extension of downtown Kuala Lumpur. The KL Sentral development project is one of Kuala Lumpur's largest development project encompassing an area of 290,000 square metres. It includes the KL Sentral transportation hub, two hotels, condominiums, shopping complexes, a clubhouse, office buildings, as well as a convention and entertainment centre. Much of it is built on the former Keretapi Tanah Melayu marshalling yard here in Brickfields. The overall project is expected to be completed in 2012
Sights:

Sri Kandaswamy Hindu Temple on Jalan Scott
Three Teachings Chinese Temple on Jalan Thambipillay
Swami Vivekananda Ashrama

How to get there:

It's almost impossible not to get there as Kuala Lumpur's main railway station "KL Sentral" is in Brickfields. Monorail (stops across KL Sentral right in the middle of the Brickfields area), LRT, Kommunter and the KLIA Express stop there. To get into the Little India area of Brickfields turn left when you get off the monorail and follow the road for about 5 minutes.