Baba Ramdev means many things to many people. To the quintessential Yogi, he is an embodiment of discipline, character and dedication. To those seeking to get healed, his words are balms, his postures and techniques forever breathing new life into their existence. To the Media, he is an enigma, a mystic who rises from time to time to raise his voice against black money, before withdrawing into his peaceful ashram at Haridwar. To the common Indian politician, he's just the kind of thorn that they do not want to encounter on way to elections, because Baba has the kind of pan-Indian appeal that most politicians will never ever muster.

And so, Baba continues to do what he's done well in the last two years—emphatically provoke the collective imagination of a nation. Now that Team Anna looks a bit in disarray, Baba has seized his moment with both hands. Back-to-back he's met up with all political leaders outside the Congress, ensuring that he wouldn't find himself politically isolated in his new campaign to get India's unaccounted money stashed in foreign banks back into the country.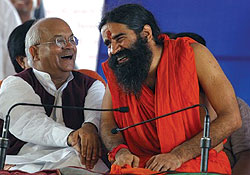 As he fasted at Delhi's Ambedkar stadium, the classes and the masses watched and heard, often with bated breath. Some of his speeches were so riveting, that you could not help admire the way he builds and presents his case. Indeed, if India is to find her lost glory, it is at the level of the Spirit that the nation must look to reestablish itself again. Corruption has become endemic, and while punishment is one remedial measure, the greater remedy lies in the cleansing of the mind. And that'll take some time, but the Baba has hope. And hope he's been infusing in millions.

On his way back from Delhi to Haridwar, Baba Ramdev stopped over at the house of Tijarawale, one of his close confidantes, at Rajendra Nagar. The Media swooped and swiveled to get close on his heels. And he did not disappoint: "saal 2013 me is sarkaar ki tehervee ho jaegi"("The year 2013 will mark the end teharvee, the the last day of mourning for the dead among the Hindus of this government".)

Yet at the airport, Baba twisted it when asked if he meant that this August 15 was Prime Minister Manmohan Singh's last flag-hoisting day at the Red Fort: "Look, we don't have any rancor or ill-will against Manmohan Singh. Let him eliminate corruption, bring back black money stashed abroad, give us a strong Lolpal and make CBI (Central Bureau of Investigation) autonomous… he can rule as long as he lives. We too would support him (in that case) and work for him in the society."

Ramdev finally reached Haridwar. But before he took a dip into the ever cool waters of the holy Ganga, he met his bosom friend Bal Krishna, who was behind bars. Back in Delhi, TV channels continued bringing grist to the rumour mill. One of the close followers of the Baba, Ved Pratap Vedik, a journalist, was doing his best while holding brief for the Yoga guru. He took pains to clarify, on behalf of the Baba, that he had never been unkind to President Pranab Mukherjee. Vedik took it upon himself to clarify that it was he who had said that the President held the highest post. "Yet the tradition has been that in the democratic setup of the country, the President's speech has never gone against the sentiment of the people".

Vedik said: "Rashrapati ka jo 15 August ka sandesh hota hai aur jo sansad ke shubharambh mein sandesh hota hai usmein anter ho sakta hai aur hona bhi chahiye. lekin rashtra ke naam diye gaye sandesh mein unhe sway;vivek ka prayog karna chahiye. Pranab-da maryadit vyakti hai wah ati varishth hai unka aisa kehna ki lagataar chalne wale jan aandolano se loktaantrik sansthaaon ka vinaash ho raha hai is se main sehmat nahi hoon. main toh kahoonga lagataar chalne wale bhrashtaachar se aisa ho raha hai".

(The President's message on August 15 and the one on the opening session of Parliament need not be identical. In fact, these have to be different. But the President must use his prudence and wisdom while addressing the nation. Pranab-da is a dignified man; he is the senior-most. However, I don't agree with him when he says that continuous, incessant public protests cause damage to the democratic values or institutions. I would rather say the situation has been allowed to come to this pass only because of the never-ending, persistent corruption).

About the incarceration of Bal Krishna, the close confidant of Ramdev, and his subsequent release on bail, Vedik said it could be possible that such an unthinkable calamity might befall Ramdev or him. aksar bhrashtachaar ke khilaaf awaz uthane walon ki awaz dabai jaati hai (the voice of those who rise against corruption is often suppressed). Vedik tried to reassure all that Ramdev's agitation would never be violent, and that all attempts would be made to maintain law and order in the country.

"yeh aandolan bhrashtachaar ke khilaaf hai. Congress ke khilaaf nahi hai. Behan sonia ko asliyat samajhni hogi aur bhrshtaachaariyon ko dhakelna hoga. (This agitation is against corruption, and not against the Congress. Sister Sonia will have to understand the reality and throw out the corrupt," said Vedik emphatically.

Another Baba supporter, noted lawyer Ram Jethmalani, too, pitched in with his characteristic penchant for publicity through statements. Hugging Ramdev just outside the Ambedkar Stadium, Jethmalani said he would ensure prison term for over half of the "corrupt" Congress leaders. He did not spare even Rahul Gandhi when he talked about black money. This prompted Congress leader Rajiv Shukla to say tongue-in-cheek in the corridors of Parliament: "Chacha ka dimaag hil gaya hai" (uncle seems to be out of his mind). "He blamed BJP also for being the most corrupt party when Vajpayee government was in the centre."

One cannot deny that the rise of Baba has been remarkable.