TIE UP
India Empire whose special publication on Reunion Island was launched by Minister Vayalar Ravi helped out in strengthening relations between the Overseas Indian Facilitation Centre and the Reunion Chamber of Commerce and Industry. The two organizations signed an MoU. Seen in the picture (bottom left) are Mr Serge Camatchy, Vice President, Region Reunion and Ms Sujata Sudarshan, CEO, OIFC (shaking hands), Mr Ibrahim Patel, president of the Reunion Chamber of Commerce (seated next to Mr Camatchy), Ms Debasmita Chakraborty of OIFC (left). The four-member MOIA team standing includes (from left) Mr Rajeev Wadhawan (Deputy Secretary, Financial Service Division), Mr Vinay Sahni (Joint Secretary, Diaspora Services Division), Mr Parvez Dewan (Secretary) and Mr Atul Kumar Tiwari (Joint Secretary, Financial Service Division). At right, Secretary, MOIA, Mr Parvez Dewan, with a copy of the special publication. India Empire is a Media Partner for the OIFC.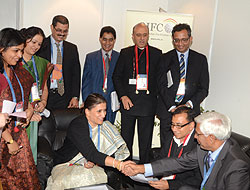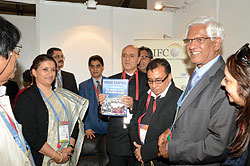 The Overseas Indian Facilitation Centre (hereafter referred to as OIFC) is a not for profit public private initiative of the Ministry of Overseas Indian Affairs (MOIA) and Confederation of Indian Industry (CII), established on 28th May 2007. With an intention to facilitate the economic engagement of the Overseas Indians with India, OIFC has a mandate to: promote Overseas Indian Investments into India and facilitate business partnerships; establish and maintain a diaspora knowledge network; function as a clearing house for all investment related information; assist Indian states to project investment opportunities; and, provide advisory services to PIO's and NRI's. The OIFC is governed by a Council of prominent Overseas Indians, Industry leaders and senior policy makers of the Government.

The Chamber of Commerce and Industry of la Réunion (hereafter referred to as CCI) is operating over the whole County Council. Situated in the Indian Ocean, the CCI Reunion operates over the "Département" of the Reunion Island. It counts 750 permanent members of staff. Its missions: representing 28000 companies of the economic sectors, and training.

Both OIFC and CCI believe that there is considerable scope for mutual cooperation in relation to information exchange and business opportunities to further their objectives and mandate. The OIFC and CCI agree as follows:
OIFC and CCI will cooperate to foster a closer networking between its members of Indian origin, and with people and organizations in India to expand their economic engagement with India.
To facilitate visits of delegations of both organizations and support in the organization of programs, meetings, conferences etc, as deemed appropriate.
To facilitate one-to-one interaction between representatives of business and Government in Reunion and India.
To support promotional activities of both organizations, on mutual consent.
To conduct joint studies/ surveys/ events in areas of mutual interest.
To disseminate information on economic opportunities in India.
The websites of both the organizations will be linked for wider dissemination of information for the benefit of Indian diaspora.
OIFC will support CCI in addressing the queries relating to economic engagement with India of Non-Resident Indians and Persons of Indian Origin who are members of CCI.
This agreement will be valid for the period of 3 years.