Please let us know about your new and upcoming campus?

Our new campus is a USD 90 million investment comprising of 3 phases. This purpose-built campus is housed in a 45-acre land overseeing a 60-acre lake. Adjoining the campus is a 18 hole golf course. The campus is just 45 minutes away from the capital city of Kuala Lumpur. The commuter train station is located within the vicinity of this beautiful campus which also has a 16 acre park and a river running into the campus grounds!!!!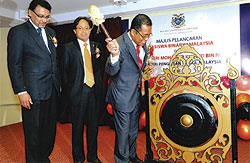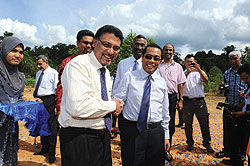 We are currently located in a building complex which can accommodate a maximum of 3000 students. By 2014, we would outgrow this place. Since 2010, we have expanded to offer our courses in Western Europe, Africa and Central Asia. This year we will be in the Middle East and Eastern Europe. This means we cannot remain as a small and specialized university anymore. After 28 years in this sector, the time has come for us to become a big and focused university which is why the campus expansion plan has been rolled out now.

We understand you are the only University College in Malaysia that has a 6 Star rating from the Ministry of Education. This is a unique position to acquire. Please take us through the journey of Binary's evolution…

The Ministry of Higher Education, over a 12-month period conducted a rating exercise covering all private institutions in Malaysia. Our Business School was accorded the highest possible rating of 6 Star. Hence, Binary Business School has become the ONLY 6 STAR Business School in MALAYSIA.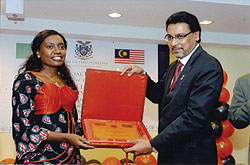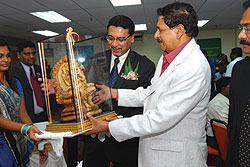 We started from a humble beginning in 1984.In the first 10 years, we were offering Undergraduate programmes from British and Australian universities. Then in 1994, we introduced Postgraduate courses namely MBAs and MSc programmes. Exactly 20 years later in 2004, we were upgraded to a University College which means we became a degree granting institution. Currently we have students from over 59 countries patronizing Binary University College. We offer PhDs, Masters and Bachelor degree courses. We are not just a teaching institution but also place emphasis on research.

Are you open to PIO investors for your expansion plans?

Due to a new ruling by the Malaysian government and as part of the CECA between India and Malaysia, it is now possible for investors to take up more than 50% stake in a private university. We are open to considering PIO investors. Approval for the building has been obtained and the building is expected to be completed by October 2013.

Another excellent piece of news is that last month, the Malaysian government has extended an invitation to us to be upgraded to a full-fledged university.

You are also in two important organizations of the Ministry of Higher Education. Please elaborate on both positions…

Yes, I have been appointed to the National Higher Education Council, which is the highest policy making body for higher education in Malaysia. I have also been appointed to the National Council for Entrepreneurship Education. In both this appointments, I happened to be the only PIO.

The ISP is your USP. It has positioned you where you are today. What are the new facets to this programme that you are bringing in the next academic year?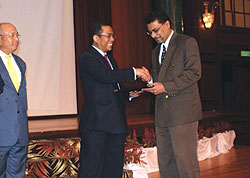 Producing ISP or Industry Specialist Professional graduates has been the key reason why students from over 59 countries are patronizing Binary. The ISP formula gives students exposure to industry throughout the degree programmes thus equipping them with industry-specific skills and enabling them "to walk and talk the language of the industry". In addition to completing a globally recognized degree, say in marketing, students also get to acquire intimate knowledge and skills in tourism, telecommunication or banking. ISP is able to provide students with something that no other university in the world does. To do this, we have focused on industries in which Malaysia is a global or regional player and over a period of 20 years created Intellectual Property (IPs) to drive this as a mandatory component in our entire studies programme at bachelor and masters level.

As you can see, we are unable to provide the ISP experience in all industries as Malaysia is not a leader in all of the industries. For this reason, we have now identified, global hubs to park our ISP formula to broaden the offerings to our ever increasing global students. So in 2012 and beyond, internationalization of our ISP will be one of our key strategies to differentiate ourselves further as a global niche market player.

Please tell us about your collaborative plans with universities and institutions in India…

With collaborations in Europe, Africa and Central Asia growing stronger, our next market entry is India and China. I am a firm believer in smart partnerships. I believe in finding ways to complement each other rather than competing with each other. Our first "smart partnership" in India will be with the Indian Institute of Management, Kozhikode or IIMK. Through this partnership, we aim to bring world-class postgraduate education to the Asean market. IIMK would use Binary University of Management & Entrepreneurship as a platform to tap into the 500k Asean market.

We also have a lot to offer India, particularly in providing the ISP experience to undergraduate students interested in acquiring industry-relevant skills and real-world entrepreneurship programmes to those keen in becoming entrepreneurs. Our JMW School of Entrepreneurship Education or SEED is the region's pioneer institution for focusing on producting entrepreneurs.

Education is India's next big goal. Do you have plans to enter India anytime in the future?
We would like to seek collaborations with universities and colleges in India but have no plans to set-up any branches for the moment.

Please also tell us why Malaysia is an attractive destination for global Indians to send their children to study…

Malaysia is Truly Asia in that you find people of Chinese, Indian and Malay origin all living harmoniously under one roof. Malaysia offers high quality education at an affordable cost. Apart from Europe and USA, it is one of the very few destinations where you could see students from all over the world studying. Equally important is that it is a safe country to send your children.