BRICK BY BRICK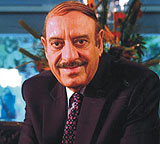 Sushil Ansal, Chairman, Ansal API: MAN WITH A MIDAS TOUCH
Review by Yogesh Sood
The name Sushil Ansal does not need any introduction in the field of Real estate and Infrastructure. He is an iconic figure of his field and has changed the face of Real Estate in India. The Chairman of Ansal Properties & Infrastructure LTD (Ansal API) is the driving force in establishing the brand Ansal API. Mr. Ansal has had an illustrious career spanning over 50 years, where he successfully transformed Ansal API from a contracting endeavorto its present stature and standing. His innings of over five decades now, has been chronicled in his recently launched Biography titled 'Brick By Brick'. The book is authored by a renowned Journalist & Writer Mr. Ashok Malik and is published by Roll Books.

'Brick By Brick' sketches Mr. Ansal's life in a series of snapshots of his real life moments and experiences. From the memories of his childhood to his growth into a Real Estate Tycoon, the Biography has beautifully portrayed the journey of his life. The book is a touching labyrinth of the highs and lows that shaped his life, told in a mix of free form of pictures bearing from his childhood, early days of his career, work and his current projects. The biography has successfully captured Mr. Ansal's fascination with 'Brick and Mortar' which started from his early childhood days and it was this fascination that helped him carve a niche in the field of Real estate and Infrastructure. The book inspires the readers to face their real life challenges and also motivates them to work towards achieving their dreams.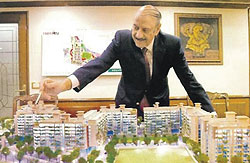 The biography 'Brick By Brick' is a perfect match for being a coffee table book, with an attractive cover and back page. The book is crafted forthose who love to keep books as souvenir for posterity. The biography is segregated into chapter heads, each chapter scripting the transformations of Mr. Ansal's life. The book also gives a glimpse of the Landmark buildings built by him and mentions his pivotal role in changing the skyline of Delhi NCR Region. From building the first high-rise of Delhi i.e. Ambadeep to establishing the first mall in Delhi NCR i.e. Ansal Plaza. The biography also captures Mr. Ansal's entrepreneurial journey of over four decades and showcases the way in which he earned the confidence of his customers, investors, and colleagues with his sheer hard work and business values.'

Brick By Brick' also reveals Mr. Ansal's philanthropic side and his underlying passion for promoting and expanding the field of education. The Ansals are also dedicatedly involved in a number of charitable activities being undertaken under the aegis of the three main charitable trusts run by Ansal API. All in all 'Brick By Brick' will prove to be a guiding force for students pursuing careers in Architecture and Design, and also for those who are genuinely fascinated with 'Brick and Mortar'. The biography will surely prove to be a case study for all who want to enter this industry.