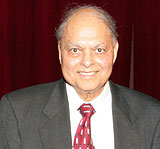 Inder Singh, Chairman, GOPIO International
At the GOPIO New Jersey convention, in November 2011, Mr Ashook Ramsaran was elected president and along with members of his core team, took oath of office in the presence of Nirupma Rao, India's Ambassador to the US.

Flashback to 2004, when Mr Inder Singh took over as President. He did not have enough GOPIO members to fill in the positions in the Executive Committee. Mr Ramsaran accepted the position of Secretary General. It was a challenge to persuade someone to accept the position and then convince him to pay a sizeable amount to become a life member before he is given the title. The appointment also entailed a lot of volunteer work to rebuild the organization. It was a daunting task to revitalize GOPIO and Mr Singh had the determination to achieve it.

In 2000, when Mr Singh accepted the position of President-Elect of GOPIO, it was a delegate based organization; one country, one delegate, like the United Nations. The interest of delegates who became part of the governing body of the organization at the time of GOPIO formation in 1989, appeared to have waned substantially over a period of time. The number of active delegates in 2000 had gone down to fewer than 10, less than half of the original and the organization was on a decline.

Mr Singh convinced the GOPIO governing body to change the organizational structure from delegate based to chapter based. In 2001, the procedure for initiating chapters in various countries was developed with the primary objective of service to the local community. The chapter presidents, in addition to active life members, were also made members of the governing body.

In the new chapter based GOPIO, Mr Singh started building the organization one chapter at a time. For him and his small group of committed colleagues, it was a major effort to find volunteers, motivate them to initiate GOPIO chapters and nurture them. Besides starting chapters in the US where GOPIO had its headquarters, it was important to globalize it, make it a multinational body.

Towards this goal, one or two members of GOPIO team visited several countries and encouraged people in Europe, the Caribbean, North America and the Oceanic region to initiate GOPIO chapters. During the five year he headed GOPIO, he and his committed colleagues established 60 chapters in many parts of the world making GOPIO a more representative global body.

GOPIO also created several departments, called Councils to serve the diverse interests of the global Indian community. With the increase in the number of chapters and Councils and with the involvement of more volunteers from around the globe, GOPIO widened its outreach and enlarged its activities manifold.

GOPIO organized several conferences which provided respected platform for dialogue and discussion to the worldwide Indian diaspora. The annual conferences in India in conjunction with Pravasi Bhartiya Divas afforded good opportunity for networking with people around the globe. The GOPIO conferences provided excellent occasion for sharing the experiences of international Indian communities and helped foster a feeling of "Indianness" and fellowship among the NRIs/PIOs. They also helped bring the Indian diaspora closer to mother India and strengthened the inherent bonds of history, heritage, culture and tradition.

GOPIO, since its inception, has been taking up issues of the NRI/PIO communities and lobbies for their resolution. GOPIO was the first organization to ask for dual citizenship. Instead, the Government of India first gave the PIO card and then the Overseas Indian Citizenship card.

GOPIO also demanded the creation of the Ministry for Overseas Indians by passing resolutions and persistently pursuing the matter with the Government of India.

Mr Singh regularly writes and speaks on Indian Diaspora. He is Chairman of Global Organization of People of Indian Origin (GOPIO). He was president of GOPIO from 2004-2009, president of National Federation of Indian American Associations (NFIA) from 1988-92 and was the founding president of Federation of Indian Associations in Southern California. He can be reached at indersingh-usa@hotmail.com.
---
TOP PERFORMER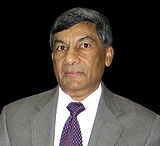 Ashook K. Ramsaran, President, GOPIO International

A shook Ramsaran is third generation of Indian indentured laborers who came to Guyana (1853 and 1860 respectively). He emigrated in 1968 to the United States of America and graduated from Polytechnic University in New York, USA. He progressed rapidly in an international communications company before establishing his own electronics manufacturing enterprise in New York where he resides with his family. Ramsaran was unanimously elected President of GOPIO International on November 19, 2011 at GOPIO's Convention 2011. He was previously GOPIO's Executive Vice President and Secretary General successively. He is also the Co-Founder of the Guyanese East Indian Civic Association (GEICA).

Ramsaran is very active in his local New York community's civic, political and cultural groups, contributes generously to causes on behalf of the needy, and has written extensively on issues of interest and concern affecting people of Indian origin in the global Indian Diaspora. He is prominently featured in the Global Indian 2010 publication of "Top 25 Indian Luminaries of the World" and several local, national, regional and international publications.

He collaborated closely with the Government of India to construct and dedicate the Kolkata Memorial which was unveiled on January 11, 2011 in Kolkata, based on his initiative and his words on the inscription in recognition and remembrance of Indian laborers who were sent to British colonies from 1834 thru' 1920. For his many notable contributions and exemplary service to the global Indian diaspora, Ramsaran was accorded the prestigious Government of India's Pravasi Samman Award by the President of India on January 9, 2011 in New Delhi.

Ramsaran has instituted several innovative ideas and programs to address issues of interest, benefit and concern of the global Indian Diaspora, and is an ardent advocate of universal human rights, observance of due process and rule of law in the Indian Diaspora. In 2004, Ramsaran organized the highly acclaimed conference on Human Rights in the Indian Diaspora held at St John's University in New York. Subsequently, he coordinated the very successful July 2006 protest rally at the United Nations against the violation of due process by the Government of Trinidad targeted at persons of Indian origin, in particular then Chief Justice Sharma.

Ramsaran is very active in his local New York community's civic, political and cultural groups, contributes generously to needy causes, and writes extensively on issues affecting persons of Indian origin and non-resident Indians globally. Ramsaran has been honored as the "Outstanding Immigrant" by New York City Council and serves annually as "Principal For The Day" in the New York Public School system. In August 2011, he was honored in Toronto, Canada as one of the most influential Indians in North America. On November 21, 2011 in London, UK, he was accorded the prestigious award for International Leadership for Promoting Global Harmony by the Asian Who's Who.

Ramsaran collaborates extensively with India's Ministry of Overseas Indians Affairs (MOIA) on global Indian Diaspora matters and the annual Pravasi Bharatiya Divas events. He has participated at Pravasi Bharatiya Divas events from 2005 onwards as speaker, panelist and/or session coordinator. He was the convener of GOPIO's highly successful 20th Anniversary Convention 2009 in New York. Ramsaran was honored in 2009 by New York City Special Proclamation for outstanding services and contributions as an immigrant and recipient of the highly acclaimed 2010 "Asian Heritage Award" in New York.

Ramsaran was instrumental in GOPIO's successful, large scale global petition to the Government of India resulting in drastic reduction of excessive fees and procedures for surrender of Indian passports by Indians who become citizens of other countries.
---
LASTING LEGACY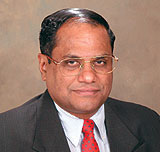 Dr Thomas Abraham, GOPIO Foundation, Executive Trustee


Dr Thomas Abraham is the Founder President and Chairman Emeritus of GOPIO, a worldwide organization founded in 1989 looking after the interests of Non-Resident Indians and People of Indian Origin living outside India. And he has many more groups to his credit.

He has helped build a solid base for the Indian American community as well as the Indian diaspora spread out in various countries. As a community activist, Dr Abraham has taken up several issues of the global Indian community for the last 35 years. A follower of Gandhian principles of peace and non-violence, he has taken several initiatives for organizing programmes of community harmony in the New York area since the 1970s.

Dr Abraham's public and Indian community involvement started in 1974 at Columbia University where he mobilized the Indian student group under India Club of Columbia University. He was elected as its president in 1975. Later he became the Chairman of the Joint Committee of India Organizations in 1976 which he transformed as the Federation of Indian Association (FIA) of New York.

He served as FIA president from 1976-81. It was one of the biggest achievements to bring all community groups spread around the New York Metropolitan area under one umbrella of FIA and simultaneously initiating FIA umbrella organizations in all major cities of the United States. The New York based FIA organizes the largest India Day parade outside India. Other FIAs initiated by Dr. Abraham organize Indian Day Parades and Festivals all over the US.

In 1980, Dr Abraham organized the first convention of Asian Indians in North America in New York City and subsequently formed the National Federation of Indian – American Associations (NFIA). Today, it is the largest Indian organization in America, and has over 200 Indian organizations as its members. He served as the NFIA President from 1980-86; and Chairman of its Board of Trustees in 1988 and '90. He continues to serve as an advisor to it.

As president of FIA and NFIA, Dr. Abraham has organized large community meetings for former Prime Ministers Morarji Desai, Indira Gandhi and Atal Bihari Vajpayee.

Dr Abraham took the initiative in organizing the first Indian American Hotel and Motel Conference at the NFIA's National Biennial Convention in 1986. The group has grown as a separate body of Asian Indian Hotel and Motel Association.

In addition, he also served as the National Coordinator for the American Committee for the Rehabilitation of Cyclone Victims in India in 1978, Chairman of the Committee to Honor the Prime Minister of India in 1978 and 1983, Vice-President of the Indo-American Council which was responsible for promoting the Festival of India in 1985-'87, and National Coordinator, Asian Indians for Liberty which collected substantial funds for the restoration of the Statue of Liberty and Ellis Island.

Dr Abraham's list of achievements runs endlessly. In early 1980, he was invited by the Select Commission on Immigration to testify on behalf of the Indian community on the various rules governing the new immigration law. This along with efforts by other organizations helped to preserve the family reunification clause of the new immigration laws ratified by the US Congress. In 1988, NFIA under the leadership Dr. Abraham testified in the US Senate to stop the supply of sophisticated military equipment including AWACS to Pakistan.

In 1989, this social entrepreneur initiated the First Global Convention of People of Indian Origin. He traveled extensively to reach out Indian communities in different countries. The convention resulted in the formation of Global Organization of People of Indian Origin (GOPIO). Dr Abraham served the organization as its Chief Executive from 1989-2004 and currently serves as its Chairman. Dr. Abraham also edits the publication "GOPIO News" which currently has the largest circulation among the Indian Diaspora online publications.
---
BRIDGING THE GULF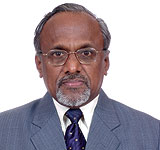 Sunny Kulathakal, Executive Vice President
Sunny Kulathakal is International Coordinator (Middle East) for GOPIO. He has been GOPIO Vice President (Middle East) for four years till August 2009. Mr Kulathakal is very involved with the issues and concerns of Indian community in the Middle East. Presently, he is trying to help rehabilitate the Indian workers from the Gulf countries who are stranded due to several reasons. He is a consummate fund raiser and has raised substantial amounts for philanthropic institutions.

Mr Kulathakal published a series of articles regarding the problems faced by overseas Indians in the Gulf region. He relentlessly pursued with the Government of India, State Governments, Indian Embassies and Consulates and other forums to find a solution. During 1977-78, he conducted a survey and did research on the lifestyle of Indians in the Gulf countries. A summary of the findings was serialized in The Illustrated Weekly of India as cover story articles in 1978. As Managing Editor of Gulf Asian Magazine, during 1980-84, championed the cause of NRIs in their problems regarding airfare, education of children and investment opportunities in India.

Since 1998, Mr Kulathakal has been working in Bahrain as Managing Editor of 'Gulf Who's Who Directory' which was first published in 1978. The mega publication is revised and published every two years by Sunliz Publications.

Mr Kulathakal is the author of four bestselling books in Malayalam – Story of a Martyr, a biography of Dr Martin Luther King; The World of Drugs; The World of Fallen Women; and The Footprints.
---
RARE TALENT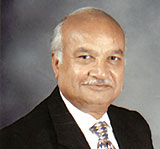 Dr Piyush Agrawal, Senior Vice President, GOPIO


Dr Piyush Agrawal represents a rare combination of a professional expert in education, a successful business entrepreneur, a well-respected community service activist and a humble philanthropist.

Dr Agrawal has been very active in the GOPIO since 2005. He is the Senior Vice President, and has the responsibility of creating new Chapters and monitoring existing chapters worldwide. Previously, he served as the National Coordinator for US and Regional Vice President for North America. He was twice elected as the National President of AIA - the oldest (Asian) Indian community organization in the US.

Dr Agrawal served the field of education from being a classroom teacher to a UN expert to a Superintendent of Schools. He has about two dozen publications and has received several honors and awards. In 1994 he was appointed to the U.S. 2000 Census Advisory Committee for Asian Population and led it as its Chairman for 5 years in his nine year tenure.
Currently, he owns two businesses.
In 2005, he built a degree college for girls in the name of his parents in his birthplace in rural India.
In 2003, Dr Agrawal had a personal meeting with President George Bush and asked him to start hosting Diwali festival at the White House. As a result, the first ever Diwali event was celebrated on October 23, 2003 and since then it is celebrated every year.
In 2006, Dr Agrawal spearheaded a major initiative with other leaders, to make US-India Nuclear Treaty a reality. Prime Minister Singh recognized his efforts by thanking him through a personal letter. Most recently, Dr Agrawal established US India Business Forum of Florida.

---
POINT MAN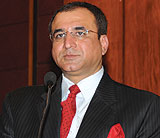 Munish Gupta, International Coordinator, Africa

Mr Munish Gupta is GOPIO's International Coordinator for Africa. He has been associated with GOPIO International since inception in 1989, and was media chairperson for GOPIO during the preceding four years.
Mr Gupta is a journalist-turned media entrepreneur with vast experience spanning 25 years in print, radio, television and new media in India, the US and other countries. Born to a journalist and trade unionist father, Mr Gupta grew up in a cosmopolitan New Delhi enclave of journalists. He turned to the media after securing his honours degree in physics and a diploma in mass communications and advertising. Passionate about media and communications, Mr Gupta uses his knowledge of technology and experience in journalism to deploy the media to empower communities and individuals, connect overseas Indians and the rest of the world to India. He strongly believes in the power of the modern media driving development and evolution of a new global order. He is a pioneer with many firsts in the media business.
---
LEADER DOWN UNDER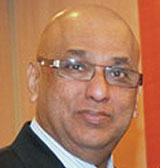 Umesh Chandra, International Coordinator, Oceania

Mr Umesh Chandra's involvement with the diaspora runs deep. He is International Coordinator, GOPIO Oceania. His leadership qualities were clear to all after he successfully organized the inaugural GOPIO Asia Pacific conference, with delegates attending from Sri Lanka, Mauritius, Singapore, Malaysia, South Africa, India and of course Australia, where he is based. He has been instrumental in providing guidance to newly formed chapters. In Queensland, as the Founder-President, he has attended many functions in that capacity. With a dedicated team, GOPIO in Queensland has organized many successful events including inter-university students' function. To demonstrate integration of international Indian students into the wider community, GOPIO Queensland has started a students' wing. As president of the Queensland Multicultural Council, he organizes multicultural events for better understanding of diverse cross cultural values, customs and traditions. Umesh Chandra has been a founding member and was in-charge of incorporating the body in the first year.
---
BALM IN THE DESERT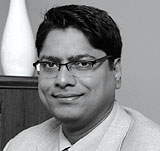 Sai Giridhar Nalamaru, International Coordinator, Middle East


Dr Sai Giridhar Nalamaru is based in the Kingdom of Bahrain, where the Indian community is the largest single group of expats, comprising close to 40% of the total population. He began his career as a dental surgeon in a charitable hospital in Whitefield, Bangalore, his home town. He later practiced medicine at Sagar Apollo Hospital, an Apollo and Sagar Group Joint venture in Jayanagar, Bangalore.
After 5 years of intense experience in practice as well as gaining hospital administration qualification and actively involving in the hospital management, Dr Nalamaru was referred to take up a new assignment to manage a multi-specialty hospital in Bahrain. This was possible only due to the trust placed in him by his well wishers and good will angels.
He is currently working as chief executive officer of a multi specialty hospital for the past four and a half years. This hospital has grown in strength each year and has made a huge name as one of the best hospitals in Bahrain. Dr Nalamuru continues to pursue development and continual improvement tasks to keep it growing ever stronger.
---
CRUISING CARIBBEAN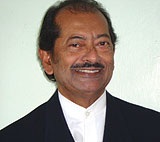 Dr Arnold Norman Thomas, International Coordinator, Caribbean Region


Dr Arnold Thomas was Co-Chair of the GOPIO Academic Council prior to his elevation to the position of International Coordinator (Caribbean) for GOPIO.
Dr Arnold Thomas is currently Executive Director of the St. Vincent and the Grenadines Chamber of Industry and Commerce. Prior to taking up this position he was a diplomat for 11 years at the Mission of the Organisation of Eastern Caribbean States based in Brussels, Belgium.
Dr Thomas has more than 30 years professional experience in diplomacy, development administration, teaching, research, and international business and development consulting. The institutions and organizations with whom he worked include: Embassies and Mission of the Organisation Eastern Caribbean States (OECS), Brussels, Belgium; CARICOM Secretariat, Guyana; Caribbean Association of Industry and Commerce (CAIC) Barbados; CARICOM Export Development Agency, Barbados; OECS Secretariat, St. Lucia; Brooklyn College, City University of New York (CUNY); Medgar Evers College, CUNY; Manhattan Community College, CUNY; North London University, London; Thames Valley University, London.
Dr Thomas is a founding member of the St. Vincent and the Grenadines Indian Heritage Foundation (SVGIHF) which was established in 2006. He has carried out extensive research on the history of Indians in St. Vincent, beginning at the Public Record office in London in 1992 followed by field trips to St. Vincent and other countries. Following lobbying efforts by the SVGIHF the Government of St. Vincent and the Grenadines passed an act in 2007 establishing June 1 as Indian Arrival Day and October 7 as Indian Heritage Day.
---
DUTCH NAVIGATOR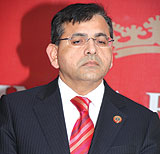 Drs Rajindre Tewari, International Coordinator, Europe

Drs Rajindre Tewari is the Managing Director of Mahler Group, active in Fund Management (Emerging Markets Investments) & Corporate Finance. He is Country President for the Global Organisation of People of Indian Origin (GOPIO) in The Netherlands. Rajindre is the Chairman of the India Steering Committee of the Holland Financial Centre (HFC), a public-­private partnership set up by organizations from throughout the financial sector, including the Dutch Ministry of Finance, the financial regulators, Pension funds and Dutch Banks. He also serves as Secretary-­General of the Foundation for Indian Disapora in the Netherlands.
Rajindre Tewari is the Former CIO/Board member of Achmea Pensions & Asset Management, Former Group Executive of the Achmea/Eureko group (Zeist/Lisbon/London) & Achmea (Amsterdam). Former director of Delta Lloyd Group (AVIVA), Former Managing Director /CEO of Cordares Capital Services, the 4th largest asset manager for institutional funds in The Netherlands with EUR 24 billion AUM (now part of APG).
He has studied at the universities of New Delhi (Hindu College), Antwerpen (UFSIA) and Leiden (MA in Organization Studies). He pursued postgraduate education in Technology, Real Estate, Management Accounting, Fund Management, Corporate Finance at Amsterdam, Fontainebleau and London.
He is a member of the Board of Recommendation for the Seva Network Foundation, and member of the financial supervisory committee of the Netherlands India Chamber of Commerce (NICCT).