What is the position of AP in implementation of the Right to Education Act (RTE Act)?
The RTE Act has come into effect from 1st April, 2010 all over the country. The Act envisages providing free and compulsory education for all children between 6-14 years by the Government. Andhra Pradesh is the first state in South India to have issued the State rules for implementation of the act. The Government has also taken earnest steps for ensuring availability of neighborhood schools in all the habitations and adequate teacher-pupil ratio through the appointment of new teachers as well as re-deployment of teachers wherever necessary. Orders were issued banning screening tests and a collection of capitation fee by any school. Over 52 lakh children attending Government schools were supplied with two pairs of uniforms. A massive year-long campaign was launched on 11th November, 2011 to create awareness about the provisions of the RTE Act among the community members and other stakeholders to bring in accountability of the education system to the community and vice-versa.
Are you able to fill up infrastructure gaps like requirement of additional class rooms, toilets, etc., in Government schools?
As per the RTE Act, all the schools shall be provided with required infrastructure within a period of 3 years i.e., by 2012-13. Out of the gap of 37,000 additional classrooms, 20,000 additional classrooms are being constructed during the current year and the remaining classrooms will be constructed by the end of 2012-13. With regard to other facilities like toilets, drinking water etc steps are being taken to saturate the facilities by the end of this academic year itself.
What is being done to stop dropouts especially girl child dropout at the primary and elementary levels?
The attendance of girls where the dropout is high is being monitored regularly by Mandal Resource Persons and the girls belonging to marginalized groups who are likely to drop out are being enrolled in dedicated Residential Schools for Girls (Kasturba Gandhi Balika Vidyalayas). It is also proposed to supply hygiene products to the girls of 7th and 8th standards in the present academic year itself to ensure health and hygiene among girls and improve the attendance as it is one of the main reasons for dropout among girls.
What are the initiatives being taken in the field of inclusive education i.e. for children with special needs?
The policy of the Government is that it integrates the children with special needs into the educational mainstream by providing various facilities for inclusive education:
• 1332 Resource Teachers (Special Educators) have been engaged to provide on-job support to regular teachers and implement home-based education.
• Nearly 17,250 children have been covered under the home-based education programme.
• So far, 10,998 children have been covered under physiotherapy. Nearly 6,876 children are being provided escort allowance @ Rs 150 per month.
• Minor corrective surgeries were done to 1,849 children through Life Line Express camp (hospital on wheels) in collaboration with Impact India Foundation, Mumbai.
• 36 Residential Special Training Centres (RSTCs) are being run covering 906 children.


What about involving private partnership for management of schools and also the residential schools for girls (KGBVs)?
Vidyanidhi (School Adoption Scheme) was launched by the Government of A.P. which envisages adoption of Government schools by corporate/philanthropists/Institutions/NRIs etc, by donating an amount of Rs 5 lakh, Rs 7.5 lakh and Rs 10 lakh respectively for providing infrastructural facilities / civil works in primary / upper primary / high schools. The school will be re-named as per the choice of the donor. Huge response has been received from NRIs, Philanthropists & Corporates for the scheme. In Hyderabad and Ranga Reddy districts, schools have been constructed by CSR wings of corporates such as Naandi Foundation, HSBC, Lions Club, Rotary Club etc through 20% contribution of the construction cost. Interested persons can contact the Right to Education Cell, Andhra Pradesh on rtecell.govt@gmail.com or mobile 09949993725.
It is proposed to run the Kasturba Gandhi Balika Vidyalayas (KGBVs) which are dedicated residential schools from 6th to 10th classes for dropout girls with a capacity of 200 girls through reputed Non-Governmental organizations or civil society organizations/CSR wings.
Are you paying any attention to the phenomenon of urban deprived children?
Yes, I can say that Andhra Pradesh is the pioneer in implementing various initiatives like transit homes, worksite schools, seasonal hostels, urban residential schools, residential and non-residential special training centers, mobile schools, child help desks etc, for the education of street children, rag pickers and other children without adult protection. Four residential schools have been started for urban deprived children in Hyderabad, Vijayawada, Khammam and Visakhapatnam. From 2012-13, it is proposed to start at least one residential school in all districts for these children.
What is your target year for achieving the provisions of the RTE Act?
All the provisions of the RTE Act are being implemented as per the time schedule indicated. According to the requirement of neighbourhood schools, infrastructure facilities will be fulfilled by the end of the 2012-13. Steps are also being taken to enroll all the out-of-school children in regular schools by initiating special programmes in convergence with stakeholder departments. Further, certain activities like introduction of preprimary section in primary schools, revision of textbooks in accordance with state curriculum framework, online monitoring of teachers and pupil attendance, activity based approach in classroom teaching are proposed in the ensuring academic year to improve retention and quality so as to ensure compulsory quality education to all the children in the age group of 6-14 years with all these measures. I am sure that Andhra Pradesh will be in the forefront in implementation of the RTE Act and will fulfill the constitutional mandate of universalization of elementary education in letter and spirit by the end of 2013.
---

Sarva Shiksha Abhiyan Towards free, compulsory Elementary education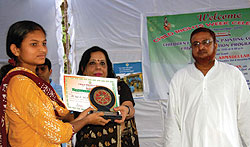 Sarva Shiksha Abhiyan has been implemented since 2001-02 in partnership with the Central and State Governments, to achieve universal elementary education by bridging social, regional and gender gaps, with the active participation of the community in the management of schools. The main intervention under Sarva Shiksha Abhiyan are: opening of schools, appointment of teachers, providing infrastructure facilities like, classrooms, compound walls, toilets, drinking water facilities etc, strengthening of monitoring institutes, release of various grants to schools, training of teachers, implementation of specific activities for the education of focus groups like girls, SC and STs, minority, urban deprived children, implementation of ICT in classroom teaching, support to children with special needs, training of community leaders, special training to out-of- school children, supply of uniforms to the children studying in Government schools, implementation of girls empowerment programmes and running Kasturba Gandhi Balika Vidyalayas (KGBVs) in 737 educationally backward mandals where the female literacy and gender gap is less than the national averages.

The Sarva Shiksha Abhiyan has notched up some major achievements. As many as 2295 Education Guarantee Centres (EGS) have been opened in school-less habitations covering 42,850 children, and 27,165 out-of-school children are being provided special training as per the RTE Act in 725 Residential/Non-Residential Training Centers, and 616 RSTC centres are operational covering 21,353 children.

Interestingly, 95,233 children studying in 1126 madarsas are being taught formal curriculum by engaging Vidya Volunteers, text books, TLM etc. Out of 47,000 migrant children identified, 13,999 have been covered by opening 139 seasonal hostels/worksite schools. Four special residential schools for the education of Urban Deprived Children have been started in Hyderabad, Vijayawada, Visakhapatnam and Khammam.

About 25,500 Urban Deprived Children have been identified by conducting a detailed survey. Out of them, 6500 children have been enrolled in 130 Residential Special Training Centers. Mobile Schools and Transit Homes have also been open in Hyderabad for enrollment of these children.

The healthcare needs of children are being attended to. Aids and appliances were distributed to about 13,919 children. Nearly 17,250 severely profound children with special needs have been provided home-based education. Minor corrective surgeries were done to 1849 children through Life Line Express camp (hospital on wheels) in collaboration with Impact India Foundation, Mumbai. So far, 21,337 schools have been provided with barrier-free modifications. As many as 382 Inclusive Education Resource Centers are being constructed at the rate of one per 3 mandals for providing all types of facilities to CwSN. In-service training was provided to 248,873 teachers in latest pedagogy and other classroom practices to build up the capacity of teachers and also improve the achievement levels of children.

Self Learning Instructional Material Cards are being used in classes I to III to address the issue of multi-grade situation and ensure children learning at their own pace. Mobile science laboratories are being operationalized to develop scientific temper among children right from primary level. Text books are being revised based on the State Curriculum Framework developed in consonance with NCF-2005. English has been introduced from class-I onwards to develop required communication skills in English right from Primary stage. Mother tongue-based multi lingual education is being implemented in 8 Tribal dialects to ensure smooth transition from Mother tongue to Telugu.

Radio lessons are being broadcast every day from 11.15 am to 12 noon through all India Radio for the benefit of Children and Teachers in Primary and Upper Primary Schools. Computers were supplied to 920 schools to implement the CAL Programme to enhance the achievement levels among children. Child helplines have been started in railway stations and major bus stations to identify to enroll out- of-school children and address the grievances of stakeholders in the implementation of the RTE Act.

Vocational and life skill education programmes are being organized for girls under the National Programme for Education of Girls at Elementary Level (NPEGEL) for their empowerment. 874 ECE centres were started in the habitations where Anganwadi Centers are not available with an enrolment of 17,483 children to prepare them for Primary Education.

During the year, 20599 additional class rooms, 15,465 toilets, 1537 compound walls and 348 KGBV buildings are being constructed to ensure basic infrastructure facilities in schools as per RTE Act. Community Mobilization programmes are being organized regularly to sensitize community, parents and other stakeholders on the provisions of RTE Act.
Implementation of RTE Act
The Government of India has enacted the Right of Children to Free and Compulsory Education Act to provide free and compulsory elementary education to all children in the age group of 6-14 years. The Act has come into force from 1st April, 2010. Accordingly, the State Governments have notified rules for implementation of the provisions of the Act. The following steps have been taken for implementation of the Act.

A school mapping exercise was taken up through Geographical Information System (GIS) and Distance Matrix. Neighbourhood schools have been identified to all the habitations in the State as per the distance norms prescribed in the rules. Orders have already been issued notifying the State Council of Educational Research and Training (SCERT) as Academic Authority and prohibiting screening test and collection of capitation fee in all private schools.

Rationalization and redeployment of teachers was taken up to maintain TPR as specified in the Act. Declaring the Residential Schools functioning under APREIS, APSWREIS and APTWREIS including Minority Residential Schools and KGBVs, Sports Schools under SAAP, Ashram Schools under ITDAs as specified category of Schools.

School Management Committees were constituted in all the Government and aided schools to ensure active participation of community in school developmental activities. All the 743 Kasturba Gandhi Balika Vidyalayas which have been sanctioned were operationalized with an enrolment of 80,927 girls.