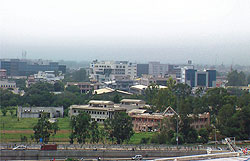 REDCO HARYANA
Real Estate Developers Council of Haryana (REDCOH) is the apex body of private developers like DLF, UNITECH, MGF Emaar and Ambience. With the CM as its chief patron, DC as the Patron and the local Administration of Gurgaon (Municipal Commissioner, Police Commissioner and Administrator HUDA on its panel) REDCOH combines residents, developers, government and public sector enterprises engaged in real estate development like land development, layout, planning and construction of residential, commercial buildings, complexes, townships and enhancement of infrastructure. REDCO provides a conduit between Developers in the private sector, Haryana Urban Development Authority in Public Sector as also Real Estate Marketing Consultancies like ACRI – Association of Certified Realtors of India, DGS, IMAX, Unique Associates etc. The Association works closely with Districts Administration as also citizen bodies, RWAs and NGOs

REDCO Haryana has completed two years of existence and is now poised to provide a dynamic platform for Transforming and Professionalizing Realty in Haryana in General and Gurgaon in particular. REDCO'S "Brand Vision" for Gurgaon is to make it one of the 10 best cities of the world in the next 10 years. The compass leads to a number of action steps to be implemented. Brand Compass Workshop also translates into Corporate Social Responsibilities of Stakeholders, including Government, Citizen Groups, Developers and Public Sector Agencies united under REDCO Haryana.

REDCO Haryana

Achievements – 2010-11

1. Developed Brand Vision 2020 with District Administration to make Gurgaon the business capital of the world in Feb 2010 and conducted an annual review in March 2011. Seven areas for improvement identified as follows:
• Infrastructure
• Public Transportation
• Traffic Congestion
• City Hygiene
• E Governance
• Law and order
• Environment Care Program

LICENSING AND TRAINING
• REDCO Haryana trains Real Estate consultants and marketing executives of developers
• REDCO Haryana promotes licensing of Real Estate agents and channel partners of developers
• REDCO Haryana becomes a Common Platform for Developers, Administration, Stakeholders and Elected Councilors
• Brand Vision 2020 to make Gurgaon a world city
• Gurgaon Shopping Festival – A month long festival in conjunction.
• Support MCG as its predecessor in private sector townships
• Providing legal and administrative framework based on Haryana Urban Development of Urban Areas Act, Haryana Apartment Ownership Act as also the recently introduced Haryana Property Consultants Act.
• Provide an alternative to central regulation of real estate industry by self regulation through licensing of marketing and hosting state approved real estate projects on its state web site.
• Launch Project Water for Gurgaon in conjunction with Ministry of Water Resources and US AID to find a solution to urbanization of Guragon and its impact on water. A road map for developing Gurgaon City State as a model of business and water efficiency in an integrated approach for a business community whose population rising to four million.