The Rock Star
China can be a difficult place to do business because of the layers of networking and personal ties that remain in place, making it difficult for an outsider to crack the market. However, Mr Nahata's willingness to move faster than regulations allow is typical of the success stories in China's diamond and jewellery industry
It may sound like fiction, or a movie screenplay, but it's a real life story. How would you think that a son of Rajasthan would take up a business of Gujarat and then conduct the business in China? No, this is not a recent story of investing in Chinese manufacturing industry. The story started back in the early 1980s. Young Vijay Nahata, a native of picturesque Sardarsahr located near the Thar Desert in Rajasthan, which is famous for colourfully painted havelis (large traditional house) with elegant carved woodwork. It started with his fortune in small time business to New York. He had a chance to visit China in 1983. He came to know that while India leads the world in diamond cutting and polishing, mostly concentrated in the Surat region of Gujarat, they were not into small diamonds. Nahata saw a great business opportunity in China and moved there with just $4000 in his pocket.

His business is located on the Pearl River delta with beautiful gardens in Guangdong province, which was once ruled by the Qin dynasty around 200 BCE. If the area becomes a world leader in the diamonds business, you can give credit to people like Mr Nahata.

Today, his company has two factories employing over 2000 skilled workers. His firm is one of the six leading diamond exporting firms in China. The reason for shifting shop from Surat to China is technology. Chinese workers are not necessarily better than Indian diamond workers but China certainly has the advantage in technology. That trend is visible in Nahata's factories. Diamonds are priced in dollars around the world, and a stronger yuan would make them more affordable for increasingly affluent Chinese consumers. Keeping that in view, Nahata is planning to open as many as 40 Lucky Eight stores across China. Public interest in diamonds already appears to be growing in China, even though they remain quite expensive. He feels increased demand in China could push up global diamond prices, potentially having an impact on consumers in the US, where almost half the world's polished diamonds are now sold.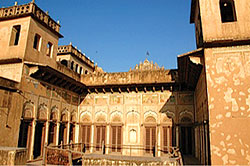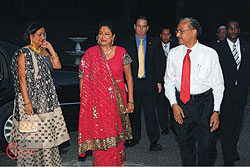 China can be a difficult place to do business because of the layers of networking and personal ties that remain in place, making it difficult for an outsider to crack the market. However, Mr Nahata's willingness to move faster than regulations allow is typical of the success stories in China's diamond and jewellery industry. He has been working with the Chinese people for almost 20 years and found out that they have tenacity to work in most adverse situations which many others lack. Though in the international discussions China and India are viewed as rivals, Mr Nahata not only was welcome, but also they have made him one of them because of his frank and open-minded management style.

Mr Nahata has mah-jongg tables for entertaining on the first and second floors of his three-story villa, keeps bottles of Jack Daniels with his name on them at two local bars and has learned Mandarin, China's official language, as well as Cantonese, the local dialect.

He predicts that China, as in many other light manufacturing industries, would quickly overrun all but the high end of the diamond market. "It is certain to top India in the diamond and jewellery industries in the next few years." With his network and factories already in place, Mr Nahata, more than any other player in the jewellery business, is poised to take advantage of that trend.

If you ask him about his success mantra – he will tell in one breath – 'be daring, be different and be first'. That's exactly what he did and has been doing. How else can you explain his businesses that literally span 'rags to riches' story and yet be successful. Mr Nahata is involved in the scrap metal business and also in the diamond and jewellery sector. He has factories in many countries in the world, especially throughout East Asia and the Caribbean countries.

If you ask him about his business philosophy, he says: Focus is the key to success. Don't lose, yet don't pay too much attention to save money, but one must pat full attention to create wealth and money.

As a matter of fact, his mantra and philosophy perfectly blend in with the ideas of many other successful business leaders or our times. It can definitely be a great message and inspiration for any new and upcoming entrepreneur of today.

Though he is fond of playing cards and the lazy addictive game of mahjong, now he wants to focus more on community service. His dream is to help out .Indians in Caribbean countries who were brought there as indentured labourers. They have not given up their identity, culture and dignity. Nahata wants to lend a hand to make the dreams of these people more successful and to keep their heads high as they have been for over a century.