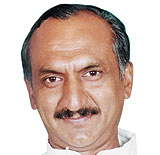 Mr Jai Prakash Agarwal, Congress MP, Chairman, House Committee, Lok Sabha, President, Delhi Pradesh Congress Committee
"Touch their heart and soul"
Mr J P Agarwal feels that the NRIs would happily invest in different sectors in India only if the country was able to touch their heart and soul. In an interview with India Empire's Anjay Sinha, he said Indians have to reach out to the NRIs emotionally. "We have to tell them, we care for you. This is your country. That's how we can attract NRI investments"
You have been a corporator. Also, you were nominated to the Rajya Sabha. Now you are in the Lok Sabha. How do you view the political climate of the country?
We have a very strong Government at the Centre. Under the able leadership of Mrs Sonia Gandhi and good governance of Dr Manmohan Singh, we have achieved many milestones in various social welfare sectors during the past eight years.

Your take on the country's economy…
The economic condition of any country cannot be seen in isolation. We have to look at the entire world. Many banks and firms have failed in the United States. The petrol prices have been fluctuating globally. Even in such a situation, we have managed to have a firm grip on our economy. Not a single bank in India has failed so far. But we are facing price rise because of inflation and low GDP. And we have been constantly taking measures to bring prices under control.

How you view the role of the opposition parties in the Parliament?
Our opposition does not believe in the democratic values of the country. Our Parliament is the biggest forum where members are elected by 100 crore people. In a healthy democracy, Parliament is a forum for debates and decisions. It is not a forum for demonstrations. Mature democracy has to have a healthy opposition.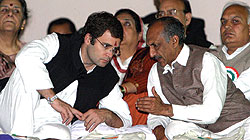 There is corruption at every level. Even some ministers are facing corruption charges…
Any anti-social act, including corruption, has no place in a matured democracy. Anyone found guilty should be given a severe punishment. We have ample laws to punish the corrupt. The latest formula given by our party general secretary, Mr Rahul Gandhi, that there should be a constitutional body like the Election Commission to deal with the corruption is the only way we can check this growing menace.

What you have to say about Team Anna…
They are simply playing with the sentiments of the people. They should answer my few questions. Do they really love this country? Can they show me any concrete step they have taken for the development of the country? Have they ever spoken a word against the terrorists who attacked Mumbai? Have Anna ji and Baba Ramdev ever uttered a word against Mr Narender Modi for killing thousands of Muslims in Gujarat? Why have they not spoken against those who attacked Biharis on the streets of Mumbai?

How you look at the poll results in the recent assembly elections in five states?
Every state has its own plus and minus points. The state elections are contested on the basis of the prevailing local atmosphere. They should not be linked to the performance of the Union Government.

Now let's talk about our NRIs. Why do they hesitate to invest in India?
A lot of measures have been taken to attract NRI investments. But we need to do a lot more in this direction. We should have a single window clearance system to cut down bureaucratic hurdles. Our opposition ruled states are opposing FDI for petty political interests. If we have more of foreign investments, it will boost our economy. There are many Indian organizations in foreign countries who want to reach out to us. But we have not been able to approach them directly. The Overseas Affairs ministry should play a pro-active role in reaching out to NRIs. We need to touch the heart and soul of NRIs. We should reach out to them emotionally. We need to tell them that we care for you. This is your country. You are welcome to invest in any sector.

Back to Delhi. Has trifurcation of the Municipal Corporation of Delhi helped you?
The trifurcation of the MCD is the biggest mistake we have done. This was the sole reason why we lost the municipal elections. Delhi is one unit. And the municipal corporation was a very powerful body. Now, each time a corporation will require funds, it will have to approach the Delhi Government. The three corporations will take a long time to settle down.