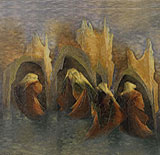 Jahangir Sabavala's stunning art fetches world record price at Bonhams
A stunning image by one of India's foremost modern artists Jehangir Sabavala led a strong selection of works by major South Asian artists at Bonhams annual summer sale of Modern and Contemporary South Asian art on 7th June in New Bond Street, London.
The highlight of the sale was a serene work by one of India's foremost modern artists Jehangir Sabavala, Vespers I which had been estimated to sell for £100,000-150,000, but after a saleroom tussle between two buyers in the room, was knocked down for £253,650. Illustrated on the cover of his monograph by Ranjit Hoskote, The Crucible of Painting: The Art of Jehangir Sabavala, Vespers I is one of Sabavala's most important works, representing a key period of transition in the artist's oeuvre. It was first exhibited at the Jehangir Art Gallery, Bombay and then at his solo exhibition at the Commonwealth Institute, London.
'Sabavala had a lifelong fascination with monastic life, and the figures of the monk and the hermit are central to his work. Indeed, he often compared his long, solitary and disciplined hours of work in the studio with a monk's routine of study, prayer, retreat and meditation,' says Ranjit Hoskote, an independent curator who was responsible for the Indian Pavilion at the Venice Biennale in 2011.
Mehreeen Rizvi, Head of Modern and Contemporary South Asian Art at Bonhams commenting after the sale, said: "We are delighted with this result for Sabavala. It is about time this artist achieved commercial success in the art market to mirror his artistic reputation."
The sale also included works by well-known Indian, Pakistani and Sri Lankan artists such as M.F. Husain, Jamini Roy, B. Prabha, Sadequain, Jamil Naqsh and A. R. Chughtai and Gulgee sourced from private collections in Europe and the USA.
The second highest price achieved in the sale was a work by the renowned Indian artist M.F. Husain titled The Blue Lady which made £97,250 against a pre-sale estimate of £70,000-90,000.
---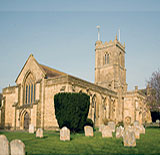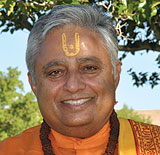 Rajan Zed
Hindu Day observed in a Church of England primary school in UK
St Mary's Church of England Primary School in Bridport in South West England (United Kingdom) celebrated "Hindu Day" recently complete with blowing a conch shell.
Dressed-up in Hindu costumes, students learnt about respect within Hindu religion, attended a sample Hindu wedding and participated in Indian dance on this Day in May. "The children are all now engaged in doing follow up work to find out more about Hinduism, having had an inspirational start", school website says.
Hindu statesman Rajan Zed, in a statement in Nevada (USA) today, described it as a "step in the right direction". He stressed the need of organizing Hindu Day in all the primary schools of United Kingdom (UK) where children should learn about basic concepts, symbols, art, music and traditions of Hinduism.Rajan Zed, who is President of Universal Society of Hinduism, pointed out that awareness about other religions thus created by organizing such days would make the UK pupils well-nurtured, well-balanced, and enlightened citizens of tomorrow. It also made a good business sense to know the beliefs of "others" in a global community. Moreover, students should have knowledge of the entire society to become full participants in the society.
Spiritual development is an important element of education in this St Mary's Church of England Primary School where Hinduism is also taught under Religious Education. Helen Farmer is the Headteacher while Janet Tolley and Chris Causon are Chair and Vice Chair respectively of its Governing Body, whose children are aged between 4-11 years. Stunning countryside and charming rolling hills surround Bridport, which is known for making hangman's rope.
---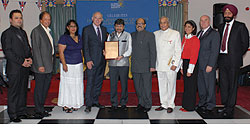 The Rt. Hon. Dr. Vince Cable MP, Secretary of State for Business, Innovation and Skills presenting Mr. Rajesh Satija of Sun & Sand Industries Ltd., Nigeria with an award for his contribution to society
Lunch by Global Punjabi Society
The Global Punjabi Society celebrated the Queen's Diamond Jubilee on Sunday 3rd June 2012 by hosting an impressive lunch at the Indian Gymkhana Club, Osterley, Middlesex TW7 4NQ.
The lunch was attended by prominent members of the Indian community and from both Houses of Parliament including Baroness Verma of Leicester, Minister for Women and Equalities, The Rt. Hon. Dr. Vince Cable MP, Secretary of State for Business, Innovation and Skills; Mr Virendra Sharma MP, Member of Parliament for Ealing-Southall; Mr Stephen Pound MP, Member of Parliament for Ealing North; Mrs Seema Malhotra, Member of Parliament for Heston and Feltham; Dr Onkar Sahota, Member of the London Assembly for Ealing and Hillingdon; Mr Amar Singh, Member of the Indian Rajya Sabha; Mr Sukhdev S. Sidhu, Minister of Coordination at the High Commission of India, London along with 200 guests attended the lunch.
Dr Rami Ranger, International Chairman of the Global Punjabi Society thanked dignitaries, parliamentarians and guests for their attendance. He said that he was proud of his Indian values that allow us to integrate into any society easily and quickly due to our upbringing. Indians become assets to every country where they choose to reside. He also thanked the British for their sense of tolerance and fair play. As a result ordinary immigrants like him can realise their ambitions and become assets for their families and adopted country.
Mr Ashok Verma, President of the Global Punjabi Society (U.K.) Chapter welcomed guests and spoke of the diversity and change the country has gone through during her Majesty's reign. He added that Her Majesty is a great unifying factor and everyone in the country holds her in the highest esteem regardless of their race or religion. He further said the Punjabis are a hardworking community and enrich Britain in more ways than one.
The Guest of Honour the Rt. Hon. Dr. Vince Cable MP, Secretary of State for Business, Innovation and Skills who came with his wife, Mrs Rachel Cable said he was delighted to be amongst the Indian community celebrating Her Majesty's 60th glorious year of reign. He further said that the Jubilee has brought everyone together in a festive mood. He praised the positive contribution of British Indian community in every aspect of British life. "We have shared history and links going back centuries," he mentioned.
---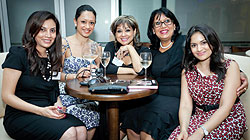 From L to R – Mona Remtulla, Tamanna Verma, Mayor of Amersham Cllr Mimi Harker OBE, Baroness Sandip Verma, Dr Amita Ranger
Sun Mark strides ahead once more
On Thursday, 24th May 2012 a very special women's group was launched by Baroness Verma, Minister for Women & Equality. The Women Empowered (W E), is a social initiative which aims to empower women to make the best of their individual skills and talents and help them achieve the personal and professional goals they have.
Under the high glass ceiling of the Sunny Atrium at the Bright Courtyard Club in Baker Street, 120 attendees came together to share inspirational stories of their lives and successes. The launch was attended by many high-profile guests, many of whom are WE's Champions, including Mayor of Amersham Cllr Mimi Harker OBE, Seema Malhotra MP, MOBO Awards Founder Kanya King MBE, Dr Kamel Hothi; Business & Community Director at Lloyds Bank Group, brand ambassador of Patak's food; Anjali Pathak, Mrs Nina Amin; Diversity Ambassador KPMG, Author; Alpesh B Patel, TV Presenter; Tasmin Lucia-Khan and London Mayor Boris Johnson's former Director of Environment and Digital London; Kulveer Ranger. WE's other champions include Pritti Patel MP, Kiran Sharma; Manager to PRINCE and managing director of KIKIT Ltd, Cllr Lurline Champagnie OBE and Ruby Mc Gregor-Smith CBE; Chief Executive MITIE Group PLC. Other notable guests included Baroness Shreela Flather, music producer Rishi Rich and Ch4 "The Family's" stars and radio presenters; Sunny & Shay Grewal.
The Key note speaker was Baroness Sandip Verma, Minister for Women and Equalities and Whip for the Cabinet Office. The other speakers were Ms Tasmin Lucia Khan, (TV Presenter and News Anchor) and Entrepreneur Geeta Sidhu-Robb (CEO and Founder of Nosh Detox).
Baroness Verma said the launch of WE shows that work still needs to be done to get a fair deal for women in society. No society can move forward whilst treating more than half of its population as unequal. She pledged her support to inspire those women who do not have easy access to professional networks.
Ms Tasmin Lucia-Khan narrated her own story and how she overheard her father talking of how he had wished she, his first child, had been born a boy. To date she felt this in her heart and tried her best to act as if she was a boy for her father. She was appalled by the violence against women in society and appealed to all to address the this burning issue in right earnest.
---

Harvard returns to cricket after 85 years, joins American College Cricket !
1885 Harvard Cricket Club, Howard Taylor in center
University of Pennsylvania's 1887 cricket team
Harvard alum Ratan Tata receiving a USC Cricket shirt from USC President Max Nikias
Ibrahim Khan - Harvard Cricket co-Captain
Cricket was being played on American universities campuses even in the 1700s and was known to be played at Harvard University in the early 1800s.
An official cricket club was established at Harvard by 1862 (University of Pennsylvania's started in 1842). There is a report by the "father of baseball" Henry Chadwick, in 1891 about a Harvard vs UPenn cricket match which Harvard lost, scoring 55 to University of Penn's 134.
Chadwick was a cricketer & journalist who brought cricket stats to baseball, and wrote the rules of baseball in 1868.
Harvard also played against local teams like Longwood established by the Wright Brothers, two cricketers who began major league baseball (the Cincinnati Reds then Boston Red Sox). Longwood Cricket Club is where tennis' Davis Cup was begun by 4 Harvard students, in 1900.
In 1874 Harvard University played McGill University in two "football" games that were pivotal in the creation of "American" football, leading to the adoption of "carrying" the ball and use of an "oblong" ball. Of course the Harvard-Yale football game became an annual tradition.
In 1887 Harvard challenged Yale to cricket, which had no team, though there had been informal cricket at Yale in the early 1800s. Then in 1891 and 1892 Harvard University won the inter-collegiate Championship, which included University of Pennsylvania, Haverford College, Princeton, Columbia & Cornell Universities.
So, with this storied tradition in American sports its great to have Harvard University become a part of American College Cricket's mission to bring back the original American & Canadian game.
Restarted 2011 by Ibrahim Khan, and approved as a club sport, the Harvard Cricket Club meets weekly either at Jordan Field or the Corporal Burns Courts next to Peabody Terrace. There has been intermittent cricket at Harvard, but the last Inter-Collegiate Cricket Association championship took place in 1924 – the last time Harvard competed in meaningful cricket.
In late 2008/early 2009 I was in communication with Varun Purandare at Yale, who was eager to play in the first American College Cricket Spring Break Championship and tried hard to, did not get a team together. So once again, Harvard is ahead in cricket.
Ibrhaim Khan said, "We look forward to being a part of American College Cricket, and are already preparing for next year's National Championship. We can't wait to begin playing competitively in this Fall's regionals."
This November two Harvard Law School grads, President Obama, and Mitt Romney will compete for the Presidency of the United States. Of any university, Harvard has had the most alumni, eight including President Obama, become President.
Many foreign heads of state attended Harvard, including Pakistan's Benazir Bhutto and Jamaica's Edward Seaga.
Harvard grad Bill Gates, once the world's richest man,is possibly the world's greatest humanitarian. Facebook's Mark Zuckerberg attended Harvard as did other recent newsmakers, NY Knicks Jeremy Lin & Buffalo Bills QB Ryan Fitzpatrick.
Tata Group Chairman Ratan Tata graduated from the Business School in 1975. This Fall they can all follow Harvard University as it resumes its rivalry with the University of Pennsylvania, in the American College Cricket Northeast Championship!